Sometimes it's all about the details. A nice little touch, here or there ,makes all the difference.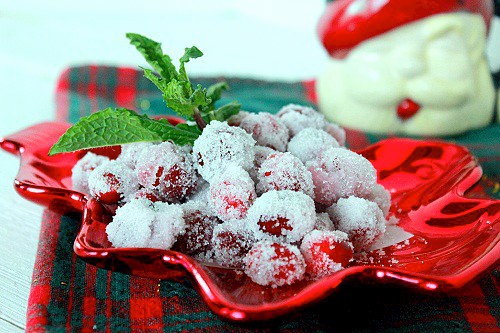 It's not that people don't appreciate a big effort. They do. But the little things get noticed. Sometimes it's little things that are done simply as an after thought. The things that you don't think will make that much of a difference but you do them just to add your special touch.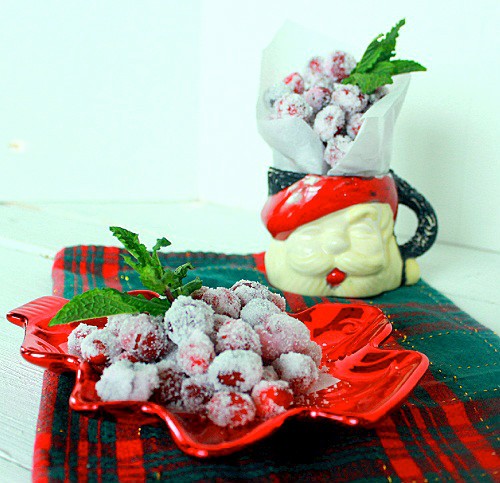 That's what frosted cranberries are all about. They're just a little ditty. A special touch. Add them to beverages. They make champagne "specialer" than it already is. Set them around in bowls and eat as a snack. The crunch of the sugar and the tartness of the berry is festive and fun. Or, display them in your favorite vintage Santa mug.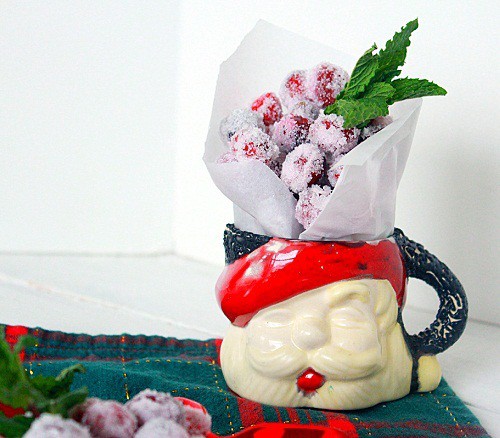 It's beginning to look a lot like Christmas!
Y'all come see us!
Frosted Cranberries
2 cups fresh whole cranberries, washed
2 3/4 cups sugar, divided
2 cups water
2 to 3 strips of orange peel
Simmer (don't bring to hard boil) water, 2 cups sugar and orange peel until sugar melts, stirring constantly. Remove from heat.
Pour over cranberries in a bowl and store in refrigerator overnight.
Next day, whirl remaining 3/4 cup sugar in a food processor for a few seconds to make the sugar grains finer. This will help the sugar adhere to the cranberries better. You can skip the "whirl remaining 3/4 cup sugar in a food processor" step and buy superfine sugar instead, but why bother. All you're doing is paying more money to have someone else whirl sugar in a food processor.
Line a baking sheet with foil.
Drain berries and remove orange peel. Pour your homemade superfine sugar on the foil lined pan. Add drained berries and coat with sugar. Grab the edge of the foil to help gently roll berries in sugar.
Remove berries carefully, one by one, and place on another lined baking sheet in a single layer. Sprinkle bare spots on the berries with a little sugar. Let dry for several hours until sugar has hardened.