Quite often, I play the game "What Can I Cook Without Going to the Store?" Feeling somewhat on the lazy side today, the game had a lot of appeal.
About the only fresh produce around were carrots and oranges. The carrots would be lovely with an orange glaze OR I could throw everything into a roasting pan together. While I've roasted just about every fruit and vegetable that didn't sprout legs and run away, I've never roasted citrus. I say it's high time I try it.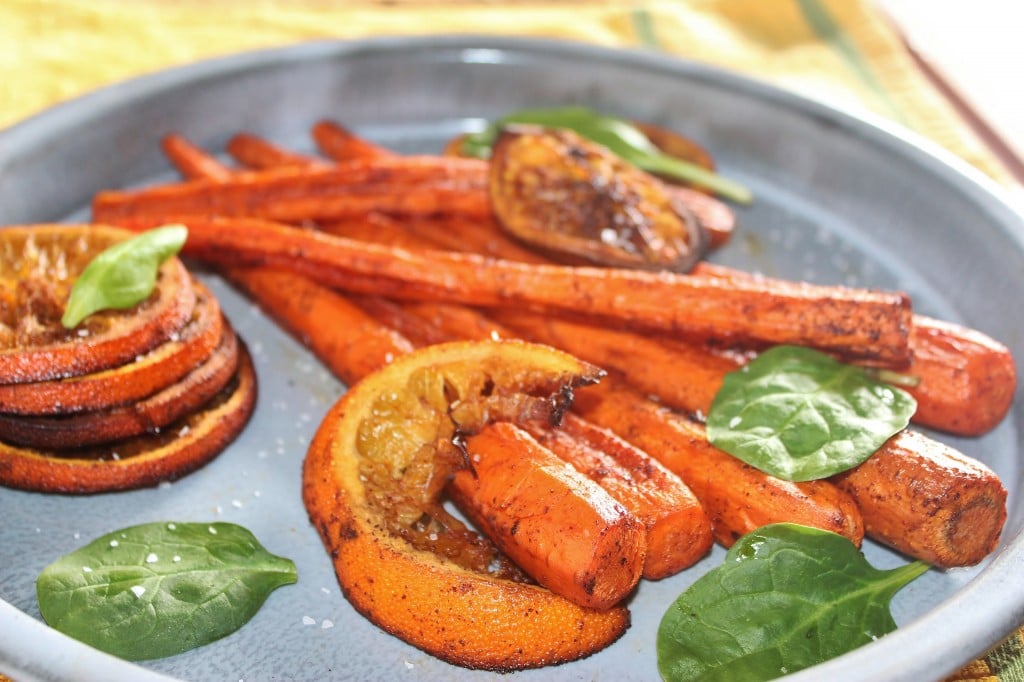 I thought the sweetness from both the carrots and oranges would balance out nicely with a savory spice or seasoning. Chili powder was my choice and it proved an excellent selection. The flavor isn't overwhelming. You won't ask yourself, "Am I eating carrots or chili?". It cuts through the sweetness and gives a pleasant little kick on the back of your tongue. Roasted oranges are really quite tasty. The skin becomes somewhat crispy if sliced thinly.
This little experiment worked very well and made an extraordinary lunch for me today. There's just one problem: I cooked all the carrots in my refrigerator. Now, the only produce I have left is oranges, oranges and oranges. A trip to Publix has just become a necessity.
Y'all come see us!
Roasted Chili Carrots and Oranges
yield: 4 side servings
Chili powder is a nice complement to the sweetness of carrots and oranges that are roasted until caramelized.
2 pounds of carrots, peeled
1 tablespoon cooking oil
1 teaspoon kosher salt
1 teaspoon chili powder
1 orange, sliced thinly
Place carrots in a large bowl and drizzle with oil. Add salt and chili powder. Toss carrots until well coated.
Add orange slices and gently toss being careful not to tear the oranges.
Place carrots and oranges in a single layer on a large sheet pan.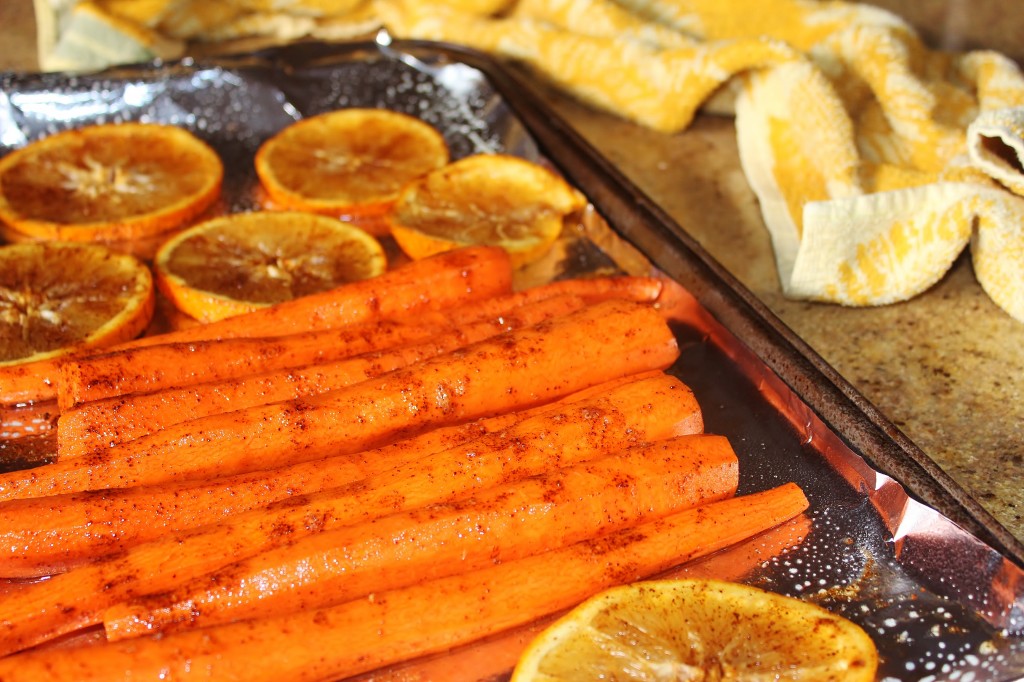 Drizzle juice from bowl over carrots.
Roast at 400 degrees for 30 minutes. Flip carrots and oranges over and continue cooking 30 minutes or until they've starting browning.
Remove from oven and serve warm.
You might also enjoy:
Red Velvet Brownies with Cream Cheese Icing