I love chicken thighs. For years, I refused them and ate only the skinless boneless breasts. Today, I boldly admit chicken thighs have more flavor than chicken breasts ever knew existed. Chicken thighs are what's happening. I wish chickens had four legs which would give them four thighs. Better yet, they could be classified as spiders and have eight legs which would give them eight thighs. That would make spiders taste like chicken. I could live with that.
My aunt Mary's backyard chickens were the star of the show in the post "A Chicken in Every Pot". In that story, I describe how I come from a long line of "growing chickens in the backyard" people. Ancestors just didn't have the conveniences , or the money, we do today. They had to be self-reliant and that included catching and butchering their food at times. I'm far removed from that and have become dependent on other sources for a lot of our food. I grow fruits, berries and vegetables and the idea of being completely self-reliant appeals to me. Homesteading is a fast growing trend that has adopted a sustainable, self-sufficient lifestyle that supports a back-to-the-land movement. While this movement may seem undesirable to some, it was a way of life only a few generations ago. Times have changed dramatically. Circumstances have never warranted me wringing a chicken's neck. I've been blessed by much good fortune and have never had to experience hard times like my grandparents when food was scarce. However, I do believe if a chicken's neck stood between me and starvation, the wringing would be inevitable. The first time would be traumatic for both me and the chicken's neck, I'm sure. But, the will to survive would give me the strength to do what's needed to feed my family.
There must be a lot of satisfaction that comes from living off the land. I tip my hat to all the homesteaders and self-reliant people where ever you may be.
Now back to my love of chicken thighs. I'm always trying to come up with different ways to cook chicken thighs. Lots of folks coat boneless, skinless chicken breasts with a breading and then bake. Quite often, that breading will contain a hard, grated cheese to add some fat which will help the skinless, dry, tasteless chicken breast crisp up and have a little bit of flavor. If breading can help chicken breast that much, I thought I wanted to try it on skin-on, bone-in, moist, juicy, tender chicken thighs. I couldn't find a thing wrong with that idea.
The thighs were delicious and the breading and skin did crisp up nicely. Instead of my usual buttermilk for the marinade and "glue" for the breading, I wanted something a little thicker that would grab on to more breading so I used sour cream with a beaten egg.
I formulated this recipe for 8 chicken thighs. If chickens were classified as spiders, we would have only needed one chicken for this meal. Instead, it took four. Just sayin'.
Y'all come see us!
******
Parmesan Crusted Chicken Thighs
8 skin-on, bone-in chicken thighs
1/2 cup sour cream
1 egg, slightly beaten
3/4 cup Italian-style bread crumbs
1/2 c up grated Parmesan cheese
1 tablespoon of your favorite seasoning (I used Lawry's Chicken and Poultry Seasoning)
salt and pepper to taste
Wash and pat dry chicken. Mix sour cream and egg together. Coat chicken with the sour cream mixture , cover and place in refrigerator for at least 30 minutes, up to 2 hours, to marinade. I didn't season the chicken with additional salt. Parmesan cheese is salty plus the seasoning that we are adding to the breading has a lot of salt.
Mix bread crumbs, cheese and seasoning in a shallow dish.
After the chicken has marinated, roll in the breading mixture. See how nice and thick the sour cream is? That's exactly what I was going for. Lots of the breading can grab on to it. We'll have a nice, sturdy breading which add flavor and crispness. Parmesan cheese will keep the breading from globbing up and getting gummy.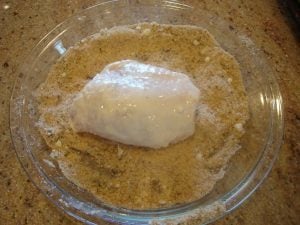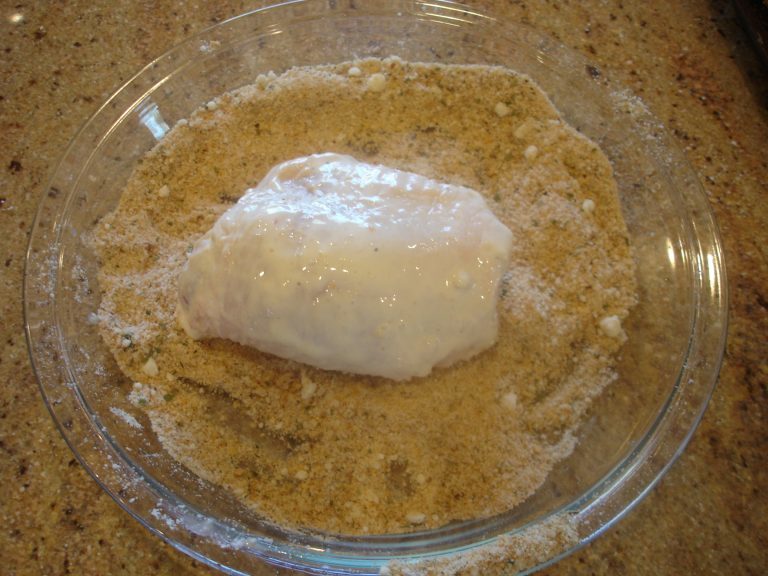 Place the breaded chicken on a large, prepared baking sheet. Don't crowd the chicken or it will steam and never get crisp. I sprinkled a little bit of the left over breading on top. Remember, we are going for a nice, sturdy breading.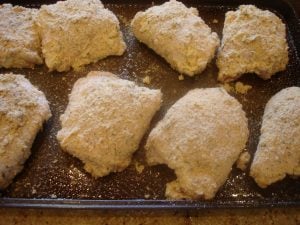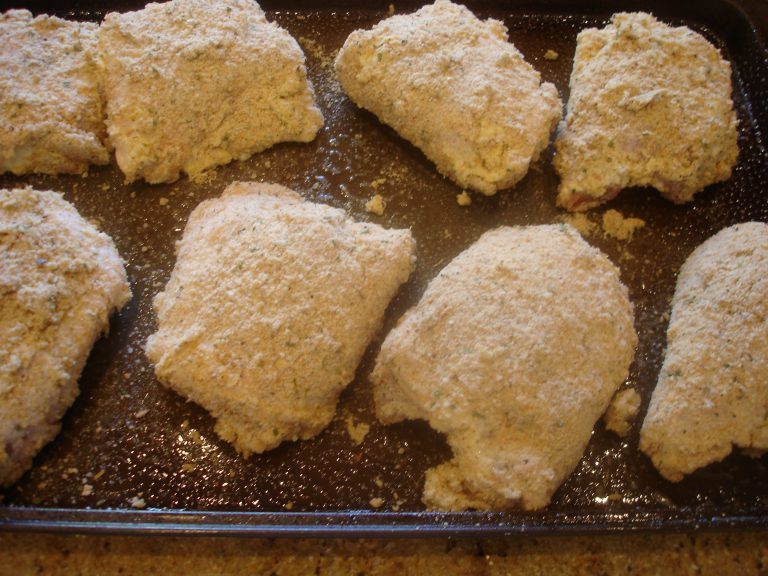 I drizzled a little olive oil over the thighs just for the heck of it and to make them crisp up even more.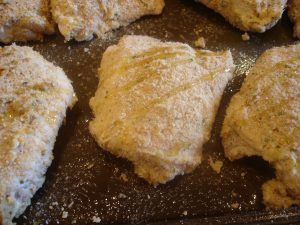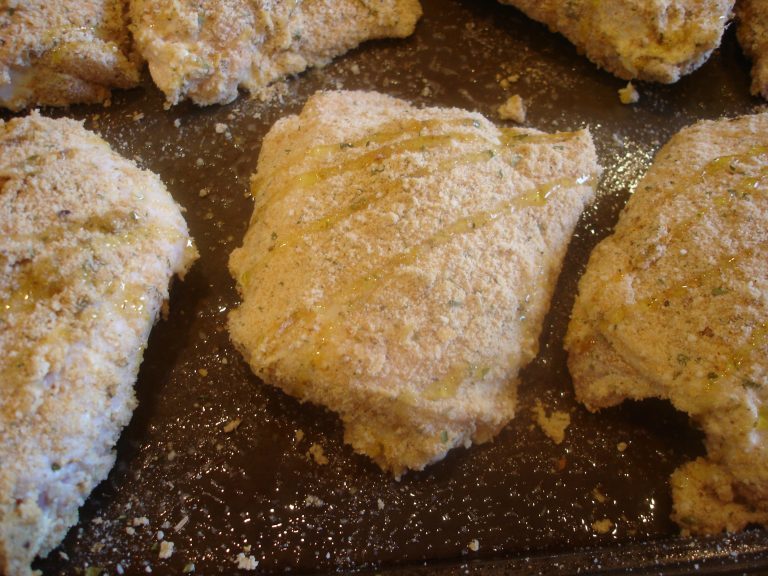 Bake at 350 degrees for 1 hour or until the thighs reach an internal temperature of 165 degrees.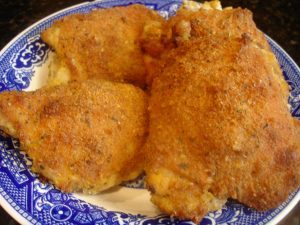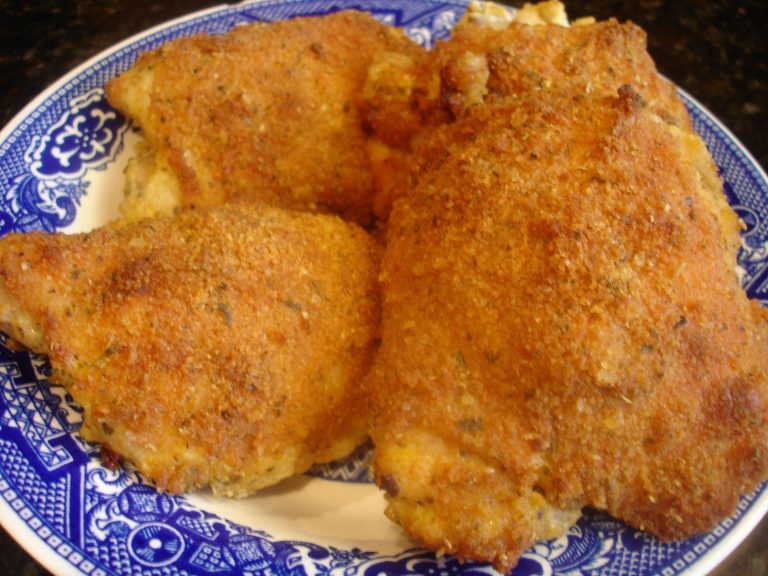 Other recipes you might enjoy: