Chances are great you've heard of this recipe.  It's been around forever and a day. So, for many of you, this will just be a reminder.  With only one perishable ingredient, sour cream, this little recipe is helpful and can add an easy side dish to most any meal.  I recommend that the salad chill overnight, but that's not entirely necessary.  You certainly can serve it sooner.
My mother was a fruit cocktail lover so, for her,  I would substitute two cups of fruit cocktail for mandarin oranges and pineapple.  Experiment with a variety of canned fruits. A whole bunch of combinations are possible.
This little fruit salad stands up well all on its own.  I think serving it in pretty teacups makes it especially nice. However, I've been known to stand at the refrigerator and scoop it right out of the bowl and eat it while standing up.  The salad doesn't mind how you serve it.  It's very friendly that way.
Y'all come see us!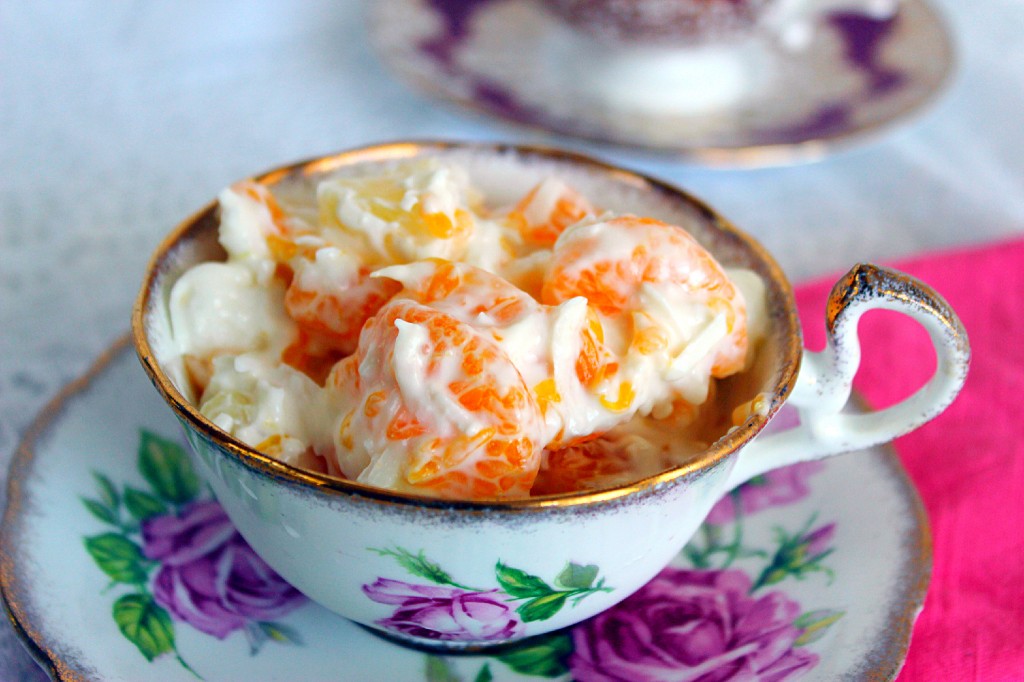 5 Cup Fruit Salad
Chill at least a couple of hours before serving, overnight is best.  Whether you use canned fruits in heavy syrup or fruit juice is a matter of taste preference.
1 cup canned mandarin oranges, drained
1 cup canned pineapple chunks, drained
1 cup miniature marshmallows
1 cup sweetened shredded coconut
1 cup sour cream
Mix all ingredients well.  Chill before serving.