National Burger Day is coming up May 28th. Backyards all over American will light up grills to cook our favorite sandwich: the hamburger. Johnsonville wants to inspire you to mix it up, get creative and use Johnsonville Grillers instead of ground beef burgers to celebrate. Johnsonville is well known for its quality sausage products. Now, they've created a product, using the same quality pork you expect from Johnsonville, that's shaped like a traditional burger.
Johnsonville Grillers bring the flavor of gourmet burgers to your bun. They're available in both fresh and frozen varieties and made with premium pork cuts only and special spice blends. The flavor is already in the patty.
You can find Johnsonville Grillers in the following varieties:
Cheddar Cheese and Bacon
Swiss Cheese and Mushroom
Original Bratwurst
Steakhouse Onion
I chose Steakhouse Onion and created a Roasted Garlic and Herb Sauce along with Grilled Corn and Jalapeno Relish topper to compliment the flavor of the seasoned pork patty. Garlic, herbs, corn, onion and jalapeno peppers are happy to play a supporting role for this flavorful premium pork patty.

Johnsonville believes in bringing the family together. Sharing family meals is just as important to Johnsonville as it is to you. Johnsonville, the number one brand of sausage in America, made this product easy and convenient to use. You're able to enjoy your friends and family while you enjoy an uncomplicated great meal.

Whether you're hosting a party for one or for the entire neighborhood, Johnsonville Grillers will get you started on the right foot. The patty is seasoned perfectly and shaped. All you have to do is grill it and make special sauces and toppings for the most flavorful burgers in celebration of National Burger Day. For more recipe inspiration visit the Johnsonville website.
Happy National Burger Day!
Steakhouse Onion Griller with Roasted Garlic and Herb Sauce and Corn Jalapeno Relish
The sauce and relish can be made ahead of time and stored in the refrigerator.
roast the garlic:
preheat oven to 400 degrees
yield: one head of garlic
1 head of garlic
cooking oil for drizzling
small sprig of fresh rosemary
Slice off top portion of garlic so part of all the garlic cloves are exposed. Place on aluminum foil. Drizzle with cooking oil. Lay the sprig of rosemary across the top of the garlic. Wrap up garlic in aluminum. Bake in a 400 degree preheat oven for 30 minutes or until the garlic cloves are soft.
Remove from oven. As soon as it's cool enough, squeeze all the pulp into a bowl. Set aside.
make the sauce:
pulp from roasted garlic (above)
1 cup Duke's mayonnaise
2 tablespoons fresh herbs, minced (use your favorite herbs. I used basil, parsley and chives)
1 teaspoon kosher salt
1 teaspoon ground black pepper
Stir all ingredients until mixed. Store in refrigerator until ready for use.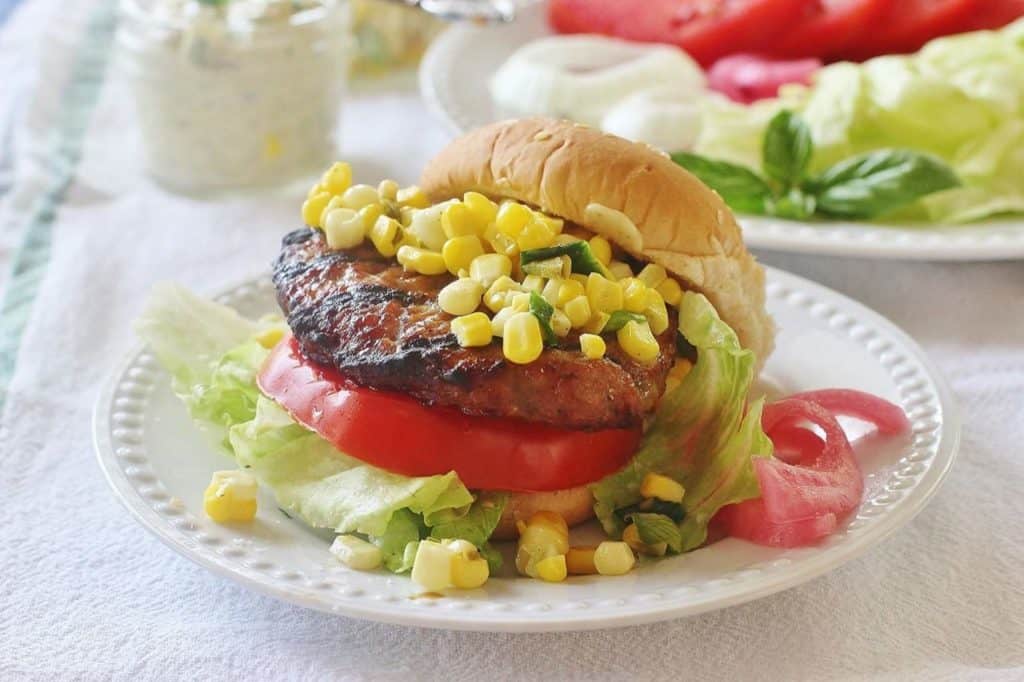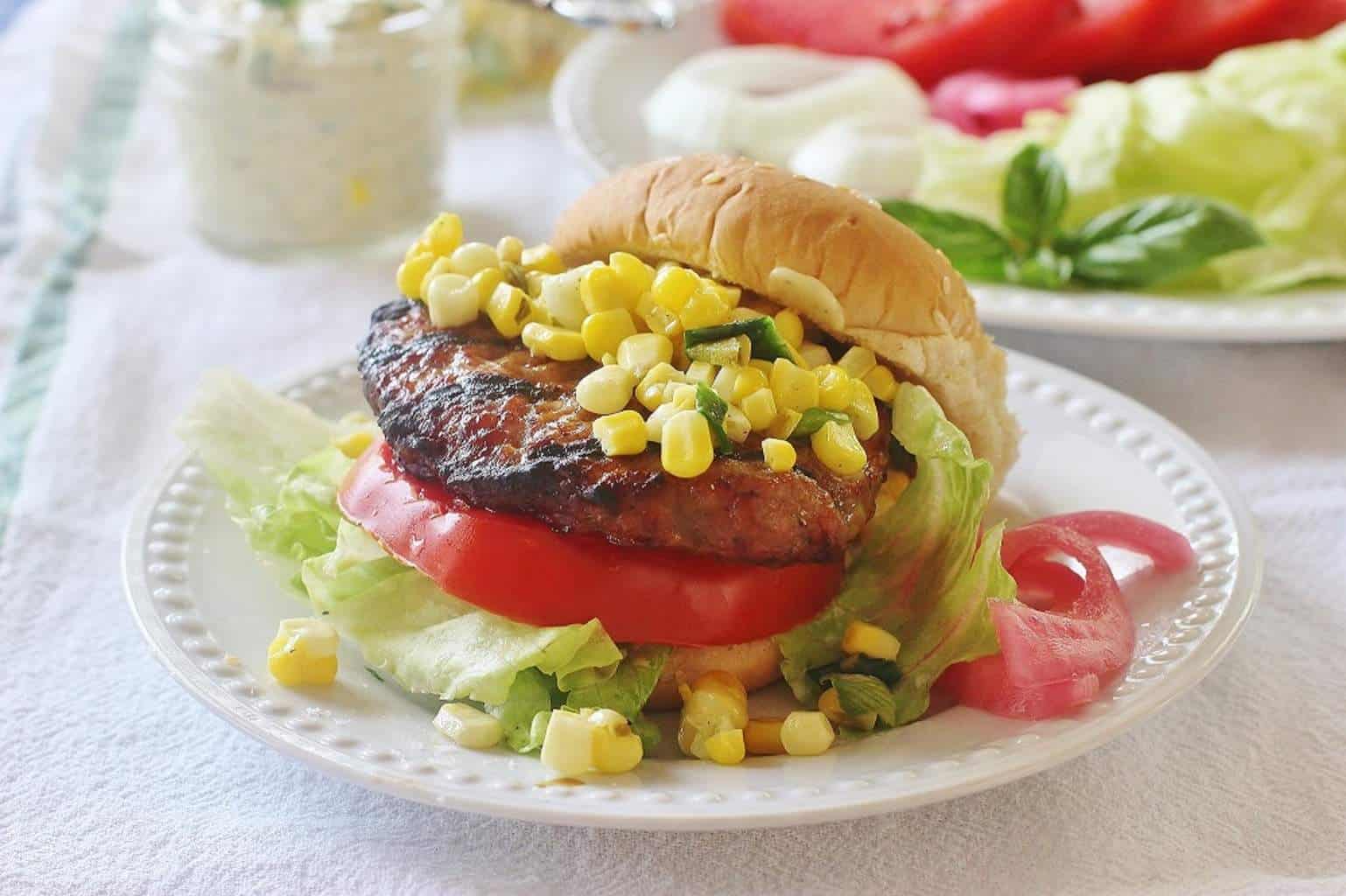 roast the corn:
preheat grill to medium hot
yield: 2 ears of corn
2 ears of fresh corn, shucked
2 tablespoon of roasted garlic sauce (recipe above)
Place ear of corn on a sheet of aluminum foil. Brush each ear with one tablespoon sauce. Wrap each ear securely in foil. Grill for a total of 12 minutes. Flip the corn over after 6 minutes and cook the opposite side.
When cool enough to handle, cut corn kernels from the cob into medium bowl.
make the relish:
roasted corn kernels (see above)
1 tablespoon minced pickled jalapeno peppers
1 green onion, white and green sliced
1 tablespoon cooking oil
1 teaspoon granulated sugar
salt and pepper to taste
Mix all ingredients together and store in refrigerator until ready for use.
grill the burger patties:
Place 4 frozen Johnsonville Grillers on a grill preheated to medium high. Cook for 12 to 14 minutes following the instructions on the package.
Note: the corn can be grilled at the same time as the patties. They require the same amount of cook time. Both should be flipped halfway through the cooking process. If you opt for this method, remove the patties when done , wrap in foil and keep warn in the oven until the relish is made.
assemble the burgers:
yield: 4 burgers
4 buns
roasted garlic sauce
4 cooked Johnsonville Grillers – Steakhouse Onion
lettuce
tomato
onions (fresh or pickled)
corn relish
Spread sauce on inside of both buns. On the bottom bun, layer lettuce, tomato, patty and onion. Top with corn relish. Add top bun.
This is a sponsored conversation written by me on behalf of Johnsonville . The opinions and text are all mine. #ad