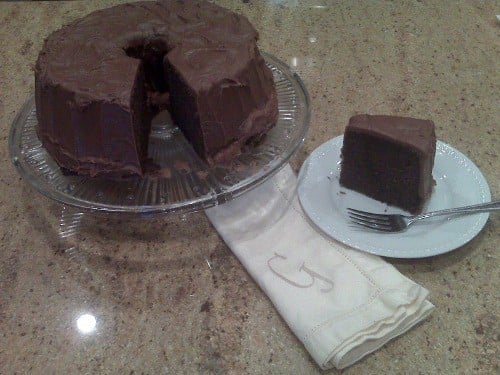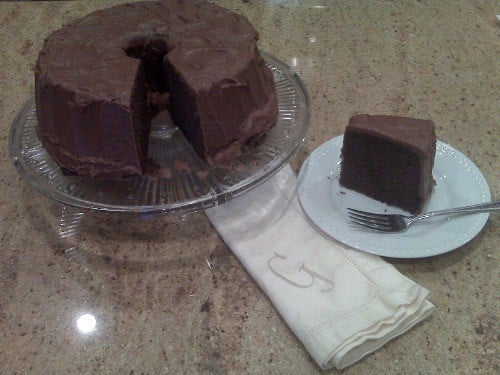 Sometimes you just need to eat something rich and fattening. That's all there is to it. Sometimes. Whatever your reason might be for craving some rich, sweet, delectable goody, I have the fix for that craving. And I'm giving it you. For free!
This is a family recipe that is no tellin' how old. My mother's cousin, Esther, made this cake for generations. I don't know how Esther came about the recipe.
Mama loved this cake more than she loved her luggage. She would beg Esther to make it for her.
Everybody needs to make this cake once in their lives. I'm serious. You need to plan a day to do this. But, there's one requirement. A piece of this cake MUST be served with a glass of ice cold milk in a canning jar. If you break that rule, we all will know about it. Don't embarrass yourself. Or me.
The recipe was give to me by Esther in a hand written note. She included some special notes which I've italicized. I'm writing this recipe in Esther's voice just as she wrote it for me.
For cake:
1/2 pound butter or 3 sticks oleo. I use oleo.
1/2 cup shortening. I use cooking oil.
3 cups sugar
5 eggs
3 cups plain flour (all-purpose)
1/2 teaspoon baking powder
1 teaspoon salt
4 tablespoons cocoa
1 cup sweet milk (NOTE: This is regular milk. They referred to it as sweet milk to differentiate from buttermilk)
1 tablespoon vanilla
Cream together butter and shortening. Add sugar and eggs. Sift dry ingredients together and add vanilla. Add alternately with cream mixture. Bake in a large pound cake pan (tube pan) 9 to 10 inches. Put wax paper in bottom. Spray sides and bottoms. Cook 325 degrees for 80 minutes. Let cool. Remove from pan and ice it.
I let it set a few minutes and run a knife around tube and it comes out good. My stove cooks it in 1 hour at 300 degrees. Don't overcook it. It will be dry. Some stoves cook different.
For icing:
3/4 stick oleo
2 squares of chocolate
1 pound of confectioners sugar
1 teaspoon vanilla
Cream as needed
Melt butter and chocolate together. Add sugar and vanilla. Cream well and spread. It should be firm. And spread good not runny.
……….Esther
REMINDER: THIS CAKE MUST BE CONSUMED WITH A GLASS OF COLD MILK SERVED FROM A CANNING JAR. IT'S THE LAW.
UPDATE: On Monday, February 12, 2012, I shared this post on Facebook and Twitter again as a suggestion for a good chocolate dessert for Valentine's Day. Esther, who had been failing for quite sometime, passed away the very next day. Rest in peace, Esther. You will be missed.
Please check out Syrup and Biscuits on Pinterest: Southern Food, Farmhouses, Special Occasion Menus