We never had apple butter growing up. For that matter, we didn't have any fruit butters. We did, however, have boatloads of jellies, jams and preserves. I have a long history with fruit condiments.
Fruit butters are easy to make. You don't have to worry about whether or not they will "set up" like you do jellies and jams. Additionally, the use of a slow-cooker adds such an ease to this recipe, it's practically fool-proof. The worse that can happen is that you forget about it and let it cook for several days. At that point, it's ruined. So is your slow-cooker. Unless you set up your crock-pot in the shed, the chances of that happening are slim. Spices in this recipe attach to your nostrils and will not let go. That's not a bad thing. Cinnamon, nutmeg and cloves are heavenly scents.
For a little girl who never knew squat about apple butter until she became an adult, I think I turn out a pretty mean batch. Mean as in good.
Y'all come see us!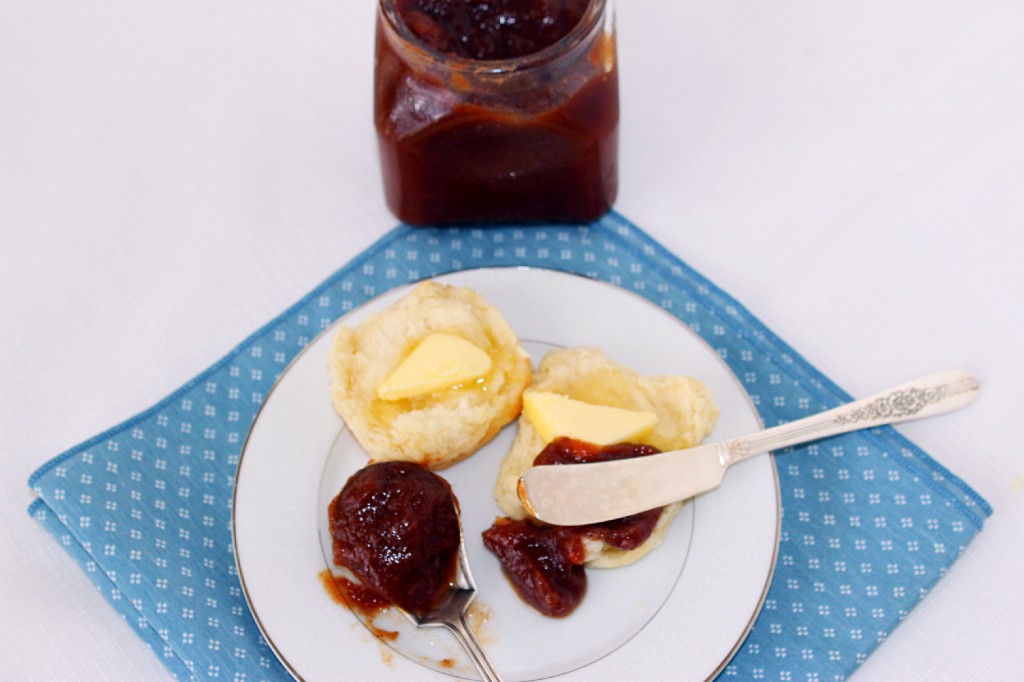 Slow-cooker Apple Butter
yield: 3 to 4 half pints
Many time-honored Apple Butter recipes start out with applesauce. I fail to see the point of that. It seems like an extra step. I find it easier to throw a bunch of fresh sliced apples in the slow-cooker, along with sweetening and spices, and let it cook down. Then, you're only a few whirls of an immersion blender or food processor away from pureed apple butter.
Use more than one variety of apples for the best flavor. Pick out your favorites. I used September Wonder and Gala. Six and half pounds of sliced apples filled my 5-quart slow cooker slap dab full.
6 to 6 1/2 pounds apples, peeled, cored and sliced
2 cups brown sugar
1 tablespoon ground cinnamon
1/2 teaspoon cloves
1/2 teaspoon nutmeg
1/2 teaspoon kosher salt
3/4 teaspoon vanilla extract
1/4 teaspoon lemon extract
Place apples in slow cooker. Cover top of apples with brown sugar. Sprinkle cinnamon, cloves, nutmeg and salt on top of sugar. Cover, cook on high for one hour.
Remove cover, stir. Replace cover and cook on low heat for 10 to 12 hours.
Remove cover and return slow-cooker to high. Stir and mix well. Continue cooking, uncovered, until desired consistency is obtained. Stir occasionally.
Puree with immersion blender or food processor.
Add extracts and stir well.
Store in refrigerator for up to three weeks. Freezes well.
You might also enjoy: