The giveaway contest is closed. Thanks to all who entered and congratulations to our winner!
It's always an exciting day at my house when a new Gooseberry Patch cookbook arrives. Just the name, Gooseberry Patch, is calming and friendly. Reviewing a Gooseberry Patch cookbook is a delightful pleasure.
101 Stovetop Suppers is filled with full color photos of each easy to make recipe. In true Gooseberry Patch fashion, the recipes invoke images of down home goodness. Whether you're planning suppers for a busy week or a special occasion, this cookbook will quickly become a favorite.
Quick and easy versions of Chicken Romano and So-Easy Pork Fritters will fill the ticket for a hearty weekday supper for a busy family. For occasions when there's time to simmer away for a little while, Hearty Sausage Soup will fill your house with an aroma that will have folks standing around the stove holding an empty bowl in their hands looking pitiful and hungry. Picture Perfect Paella takes the guess-work out of this popular Latin dish and helps you bring a masterpiece to the table.
If you find that you have enough time to support a dish that requires longer cook times, you will be justly rewarded with a fragrant aroma wafting throughout your home. Rosemary Chicken & Tomatoes, Super Simple Swiss Steak and Pork Chops Ole offer slow cooked versions of chicken, beef and pork that will convince your family you are a "Supah Stah"……as if they didn't know that already.
Of course, Gooseberry Patch didn't forget about our sweet tooth. Simple Skillet Peaches and Pineapple Pudding are not only sweet offerings, they serve a crowd. Talk about a win-win!.
101 Stovetop Suppers is certainly an addition you want to add to your Gooseberry Patch cookbook collection. If you've never owned a Gooseberry Patch cookbook, here's your chance to win one and start a collection.
The contest will run through Wednesday, September 4, 2013. On that day, the winner of the cookbook will be randomly selected and announced and another recipe from the cookbook will be shared on this site. To enter the contest, simply leave a comment here, not on Facebook, and let me know the next recipe you would like for me to share from 101 Stovetop Suppers.
Inside-Out Stuffed Pepper
Spicy Sausage and Rice
Ham and Potato Skillet Supper
For additional chances to win the cookbook, do any or all of the following. Each one will earn you an additional chance. You must leave a comment here telling me which ones you've done. Comments left on Facebook, or any other social media site will not be counted toward this contest.
Share this post on your Facebook page.
Share this post on Twitter.
Pin this post on Pinterest.
Best of luck to each of you! I hope you enjoy the recipe for Famous Corn Chip Pie that's one of the recipes in the cookbook and is contributed by Tiffani Schulte of Wyandotte, MI. My 4-year-old grandchildren thought this was big hit.
Y'all come see us!
The giveaway contest is closed. Thanks to all who entered and congratulations to our winner!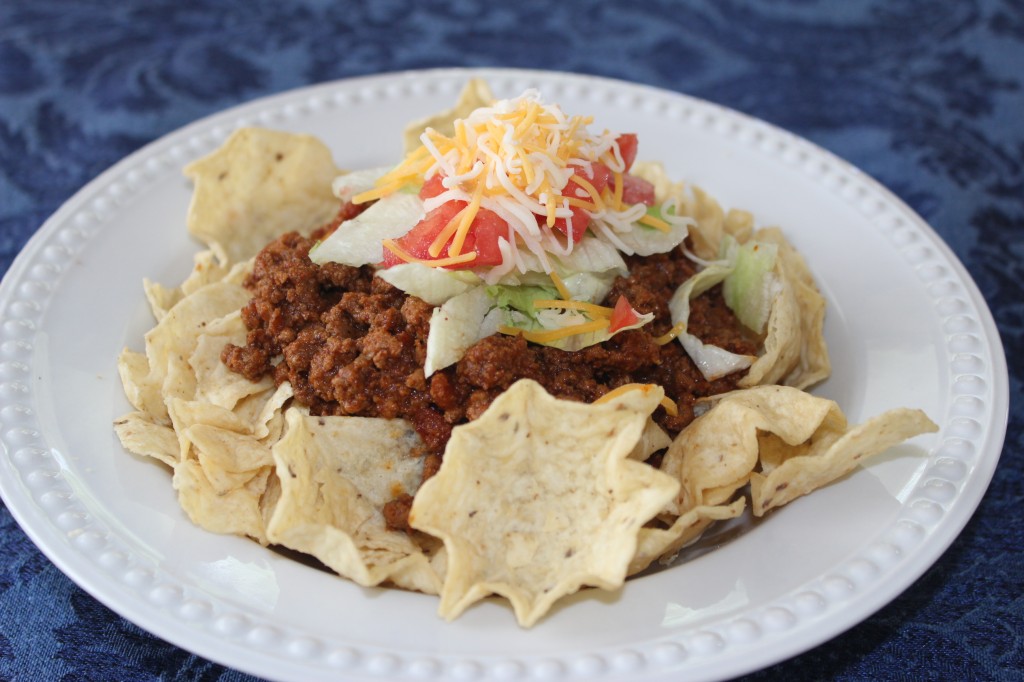 Famous Corn Chip Pie
yield: 6 to 8 servings
I made a few variations to Tiffani's recipe. Instead of regular corn chips, I used the scoop variety of tortilla chips. Garnish was lettuce, tomatoes and shredded cheese instead of onions, jalapeno peppers and shredded cheese.
4 slices bacon, cut into 1 -inch pieces
2 lbs. ground beef chuck
1 large sweet onion, diced
3 cloves garlic, finely minced
2 teaspoons salt
1/4 cup chili powder
1 teaspoon ground cumin
15 ounce can tomato sauce
6 ounce can tomato paste
3/4 cup water
14 ounce package corn chips
8 ounce package shredded sharp cheddar or Monterey Jack cheese
Garnish: finely diced red onion, diced jalapeño peppers
Cook bacon in large skillet until crisp. Remove to a plate and set aside. Reserve drippings in skillet
Brown beef, onion and garlic in skillet. Drain.
Stir in seasonings.
Add tomato sauce, tomato paste and water to beef mixture. Simmer, stirring occasionally, for 10 to 20 minutes or until mixture is thickened.
To serve, place a handful of chips in a bowl. Spoon beef mixture into bowl. Top with bacon bits. Sprinkle with cheese. Add onion and jalapeño.