If you grow up in the Deep South, as did I, you eat heaping gobs of deviled eggs. They are part of special occasions, church pot luck dinners, funeral receptions and just everyday life. Deviled eggs are such a big part of our culture that we have special serving dishes just for them. They are as Southern as okra.
At one time, there was a faction of our society that wouldn't refer to this iconic Southern dish as Deviled Eggs because they felt the name was glorifying the Devil himself. Recipes for Stuffed Eggs are found in several vintage cookbooks. For the most part, I think we're over that and back to Deviled Eggs.
Along with the whole issue of Satan, Deviled Eggs took another hit when folks stopped eating eggs on the advise of their doctors, and Aunt Gladys, who believed eggs were unhealthy because of their naturally occurring cholesterol. The egg cholesterol scare would never have happened if people would listen to my Granny. I once queried the palatability of a certain food she was eating that didn't appear appetizing through the eyes of a child.
She quickly responded,
Shug, the good Lord don't make no kind of food what's not fittin' to eat.
Once again, wisdom from Granny that's simple honest truths.
So, eggs are back in favor. Truth is, they never fell out of favor with me. I listened to my Granny. If the good Lord made it, I'm a-gonna eat it.
Y'all come see us!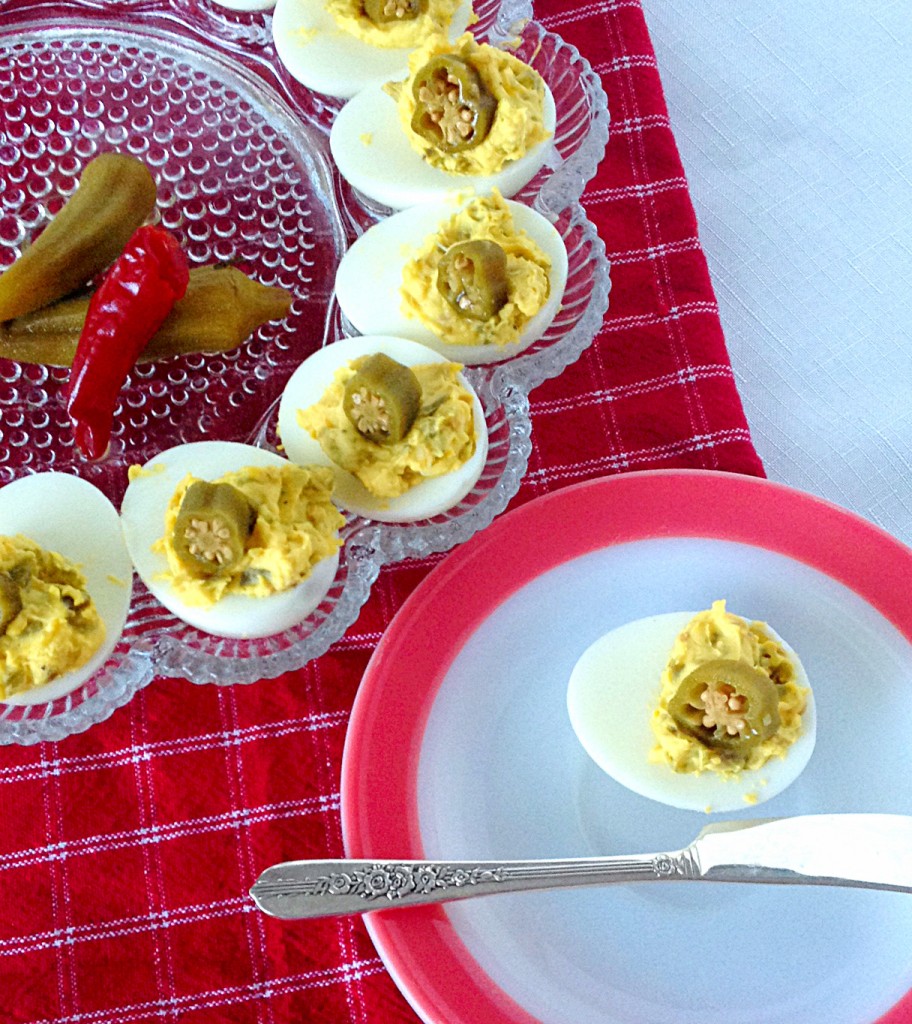 Pickled Okra Deviled Eggs
yield: 8 deviled egg halves
I used four eggs for this recipe because that's all I had in my refrigerator at the time. The recipe can easily be doubled or tripled. To get people's attention, mince up the red hot pepper that comes in each jar of Wickles wicked okra and add to the filling. Not only will it add a kick, it adds little specks of red color. Sweet or dill pickle relish may be substituted for pickled okra
4 boiled eggs
1 tablespoon mayonnaise (I prefer Duke's)
1 teaspoon yellow mustard
salt and pepper to taste
5 whole pickled okra pods, divided (I prefer Wickles Wicked Okra)
Slice eggs in half lengthwise and carefully remove yolks. Place yolks in a bowl and add mayonnaise, mustard, salt and pepper. Mash yolks and stir well.
Finely mince 3 pods of pickled okra and add to egg mixture. Stir well. The filling should be stiff enough to hold its shape. Add additional mayo, if desired.
Fill egg halves with yolk filling.
Slice two additional okra pods for garnish. Serve on deviled egg dish.