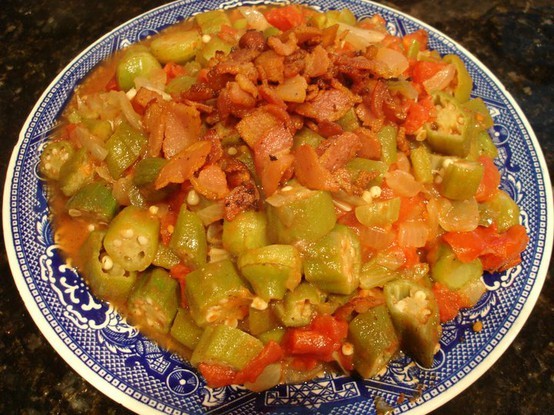 Okra and Tomatoes
It won't be long before those good summer vegetables start rolling in. This is a classic Southern side dish that uses two of the most prolific warm weather vegetables. Some people have an aversion to okra (okrey) due it's slimy texture. If you follow my method of preparation, the okra won't have the mucilageneous property. Personally, I don't mind it. I can eat okra everyway you throw it at me. Except raw. We grow both of these vegetables every year. Okra is very easy to grow. Tomatoes (damaters) take more attention.
3 slices bacon, minced
1 medium sweet onion
1 lb. sliced okra
1 lb. fresh tomatoes, diced or an equivalent amount of canned diced tomatoes
1 tbsp jalapeno pepper, diced (optional)
4-1-1 Seasoning
Render the fat from 3 slices diced bacon.
Reserve the bacon pieces. Try not to eat them all!
Add onion to bacon fat and cook until soft. Have you ever smell bacon and onions cooking together? Gracious goodness.
Add okra to pot. Sir to make sure the okra is coated well with the bacon fat. That will keep it from being slimy.Cook for about 5 minutes.
Add tomatoes and jalapeños. Stir, cover and let simmer in their own juices for 15 to 20 minutes or until the okra is to your liking. No need to add any cooking liquids. They make their own.
Serve it up in a pretty dish and add the crumbled bacon to the top.