As the summer heats up, we look to hearty one dish meals that don't require long cook times. The cooking for this dish is done after you make a skilletfull of cornbread. I started with a package cornbread mix and threw in some add-ins. This dish depends on good moist cornbbread. This dish holds well, too. You can make it up in the morning and have it ready for supper as soon as you hit the door after a long exhausting day. Some diced ham or bacon would make a nice addition.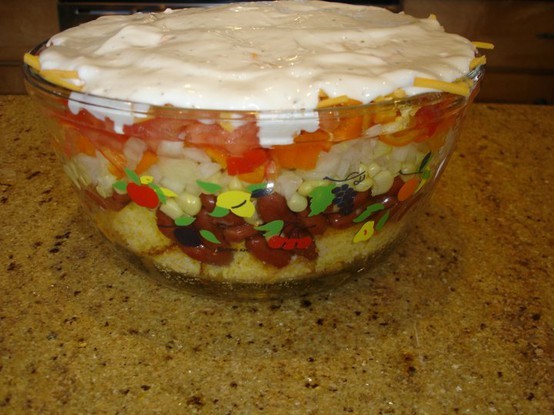 For cornbread:
I (6.5 oz) package cornbread mix ( I use Betty Crocker Authentic Cornbread and Muffin Mix)
1/3 cup buttermilk
¼ cup sour cream
1 egg
½ cup grated cheddar cheese
1 tbsp finely dice jalapeno pepper slices
Mix all ingredients together and pour into an iron skillet that has been well greased and heated. Bake at 400 degrees for 16 to 18 minutes until done. Remove from iron skillet and let cool.
For salad:
1 batch of cooled cornbread cut into 1 inch cubes
1 (14.5oz) can red beans, rinsed and drained
16 oz frozen Silver Queen corn, thawed
1 medium Vidalia onion, finely diced
1 large green bell pepper, chopped
3 large tomatoes, chopped
2 cups grated sharp cheddar cheese
For dressing:
1 (8 oz) bottle Ranch dressing
¼ cup sour cream
Chopped parsley or basil for garnish
Place cornbread cubes in bottom of large clear bowl. Layer beans, corn, onion, bell pepper, tomatoes and cheddar cheese. If you have enough culinary skills to know how to layer things in a bowl, you will have no problems making this salad.
Mix dressing ingredients and pour on top. Cover and let chill at least two hours before serving.
Cubed cooled cornbread goes into a bowl. The bowl that I used should have been bigger. It is 8 1/2 inches wide by 5 inches deep.
Add beans…….
Silver Queen corn…….
Onyohns
Peppers (I used red and yellow bell peppers because that's what I had on hand)……..
tomatoes………….
Grated cheese……..
Dressing goes on top! Chill for at least two hours before serving.
This recipe was link to Everyday Mom Meals' Church Suppers.