Broiled Pork Chops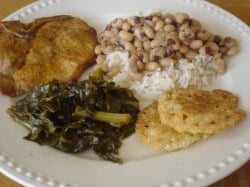 Broiled Pork Chops
This is the easiest way in the world to cook pork chops AND it happens to be my husband's favorite. I'm lucky that way. Total prep time is about 2 minutes and total cooking time is about 10 minutes. This is fast food! I like to use thin pork rib chops. All you do is coat both sides of the chop with olive oil and then sprinkle liberally with Morton Season-All Seasoned Salt. I love Season-All so much I've included it in my list of Favorites.
Place on a sheet pan. I have to tell you I am the "cover in aluminum foil and spray it down with Pam" queen.
Covered with aluminum foil and sprayed down with Pam.
Broil for about 5 minutes on each side or until they reach the desired degree of doneness. Just don't overcook them. They will be dry and tough.
Ready for the oven.
Enjoy your dinner!