A local news outlet, The Tampa Bay Times, hosts a fun cooking event called Cook Club. The idea is a recipe is posted, you make the dish and share photos and comments on Instagram using #cookclub as a tag. Later, a Twitter party's organized and a chat ensues about the current recipe challenge. A community cooking challenge is fun enough, but the chance to chat about it makes it enjoyable with a large dose of socializing on the side. The worlds of food and social media are forever joined at the ham hock.
This is the tenth recipe in the series. I'm late coming to the party, mainly because my activity on Instagram was little to none until recently. Jumping in on the tenth recipe is better than not jumping at all.
The current recipe challenge is Cheeseburger Chowder from Renee Dobbs' MagnoliaDays.com. Click on the link to see Renee's original post. Taking inspiration from my copycat Krystal Burgers, I cooked the meat in a separate dish over a bed of onions with melted American cheese on top for an unmistakable cheeseburger flavor. I diced the cooked meat and added it to the soup pot along with all its juice. Cheeseburgers and dill pickles are meant for each other. A dill pickle slice speared with a cherry tomato, completed the garnish along with shredded cheddar cheese and chopped green onions.
As comforting as a cheeseburger and fries, the soup is surely a winner with all ages. The only thing missing is a milkshake.
Y'all come see us!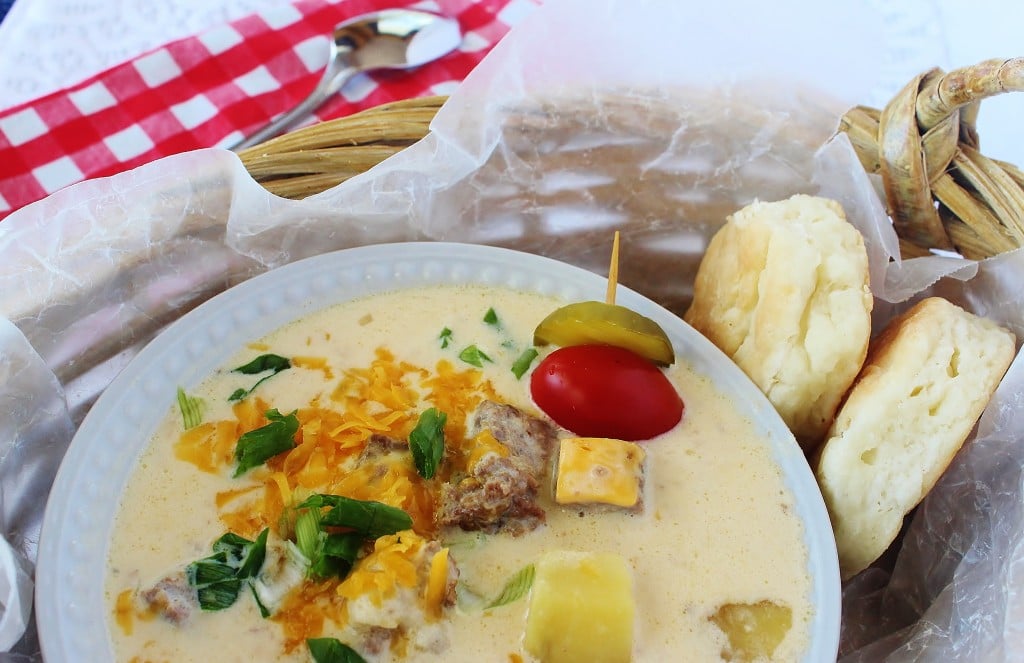 Cheeseburger Chowder
yield: 4 to 6 servings
inspired by Magnolia Days
A chowder full of the familiar flavors of cheeseburgers and fries. I cooked the ground beef separately on a bed of onions and covered with cheese. Then, I diced it up and added it to the pot once the potatoes were cooked. The cheese topping will eventually melt when added to hot soup. Reserve a few pieces for garnish that show the cheese atop the little piece of burger. I omitted celery and bell pepper.
1 tablespoon dried minced onions
1 1/2 pounds ground sirloin (90/10)
1 1/2 teaspoons Season All seasoning
4 slices American cheese singles
2 1/2 cups boiling water
3 beef bouillon cubes
1 medium sweet onion, diced
1 tablespoon cooking oil
1 tablespoon AP flour
2 potatoes, 1/2 inch cubes
1 1/2 cups half and half
1 1/2 cups shredded sharp cheddar cheese, divided
garnish: chopped green onions, tomatoes, dill pickle slices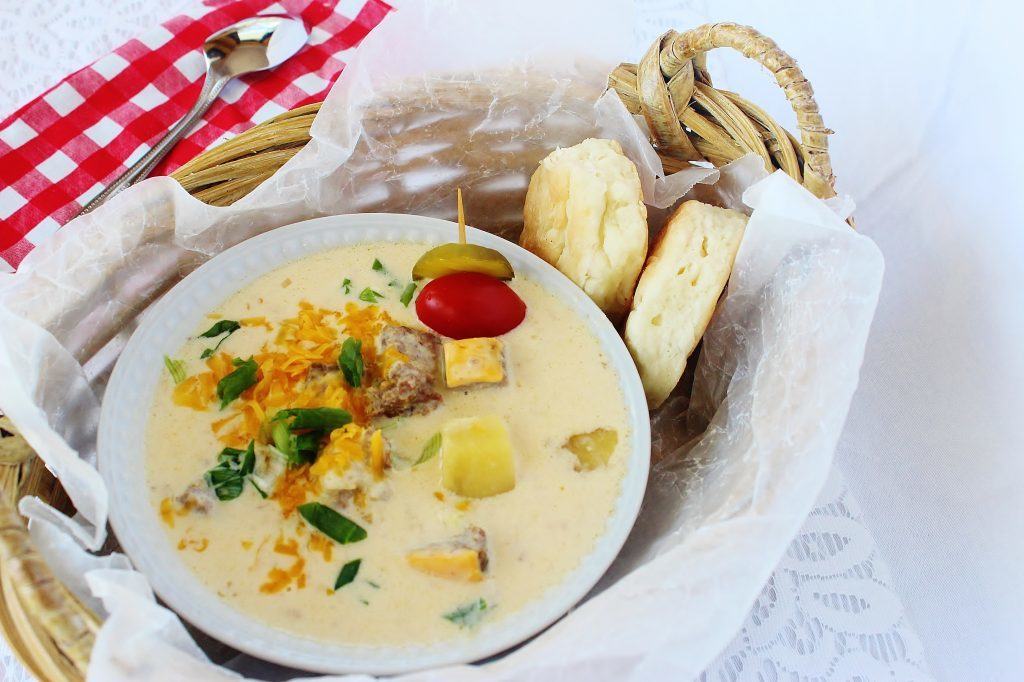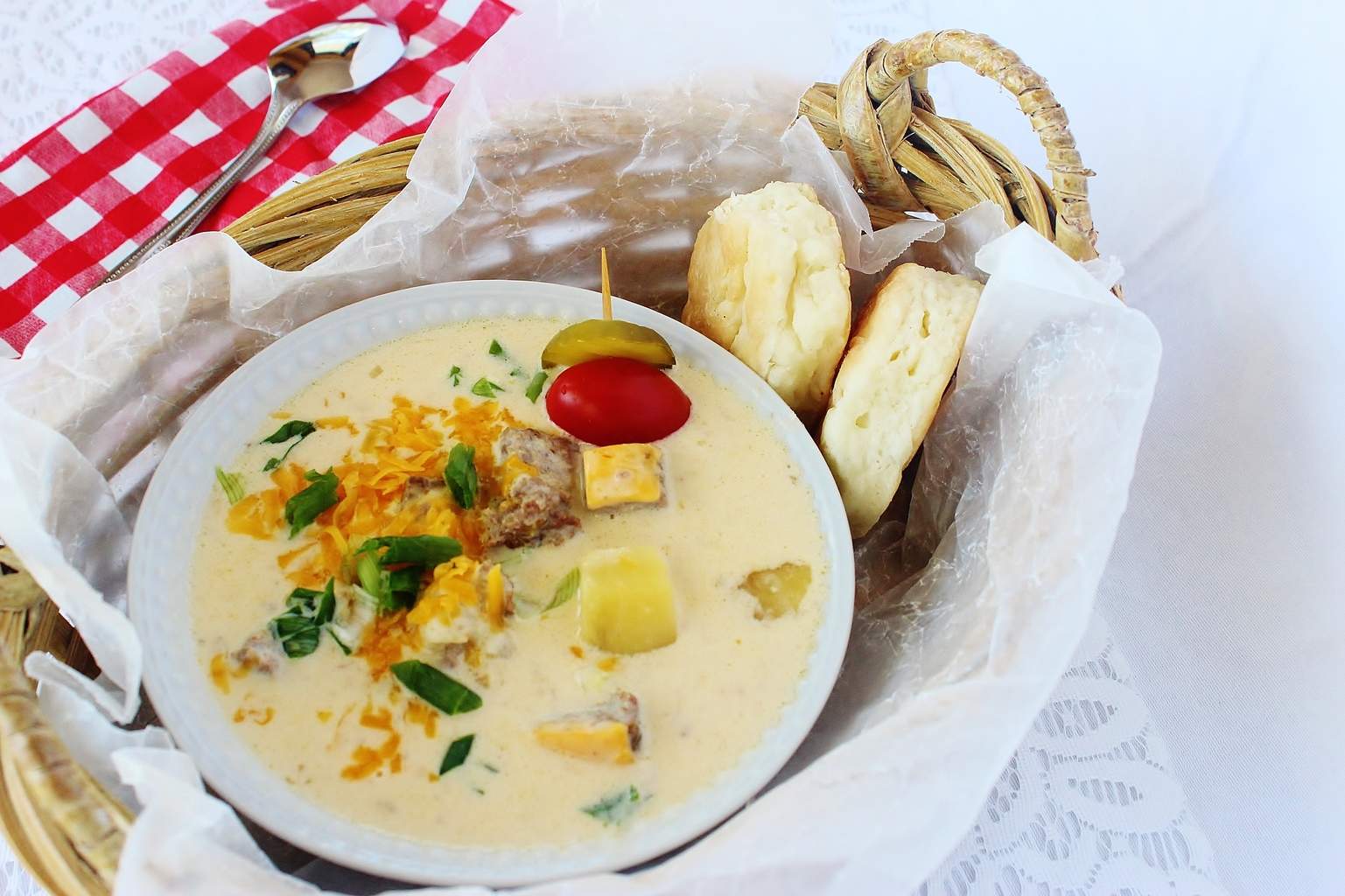 Spray a 7×7 inch pan with non-stick spray. Cover the bottom with dried onions.
Mix ground beef and seasoning. Pat down evenly in pan. Bake in a preheated 400 degree oven for 40 minutes or until meat is longer pink.
Remove from oven and cover with cheese slices. Stick back in the oven for 1 or 2 minutes until the cheese melts. Remove, sit aside and let cool completely. Don't drain juice.
Dissolve bouillon cubes in boiling water. Set aside.
Add cooking oil to a pot and heat to medium. Throw in onions and cook until soft, about 10 minutes, stirring occasionally.
Add flour to pan with onions and cook for 2 minutes. Pour water and bouillon mixture in, stirring constantly. Bring to boil. Add potatoes. Bring back to a boil. Cover, reduce heat to low. Cook for 15 minutes or until potatoes are tender.
After potatoes are tender, stir in half and half and cheese.
After the ground beef is cooled and still in the baking dish, cut into 64 equal portions.
Gently add ground beef and the entire contents of the baking dish to the soup pot. There's plenty of flavor in the juice. Don't share it with the sink drain.
Warm through, garnish and and serve immediately.
You might also enjoy:
This post contains an affiliate link. If you buy a product through this link, I might make a few pennies. Very few.