In western Christian tradition, Epiphany is celebrated January 6 which is the climax of the Twelve Days of Christmas and commemorates the coming of the Wise Men bringing gifts to the baby Jesus. According to Christian teaching, the Wise Men were the first to acknowledge the baby as The King. Following this pronouncement, a wonderful tradition of the King Cake has been born.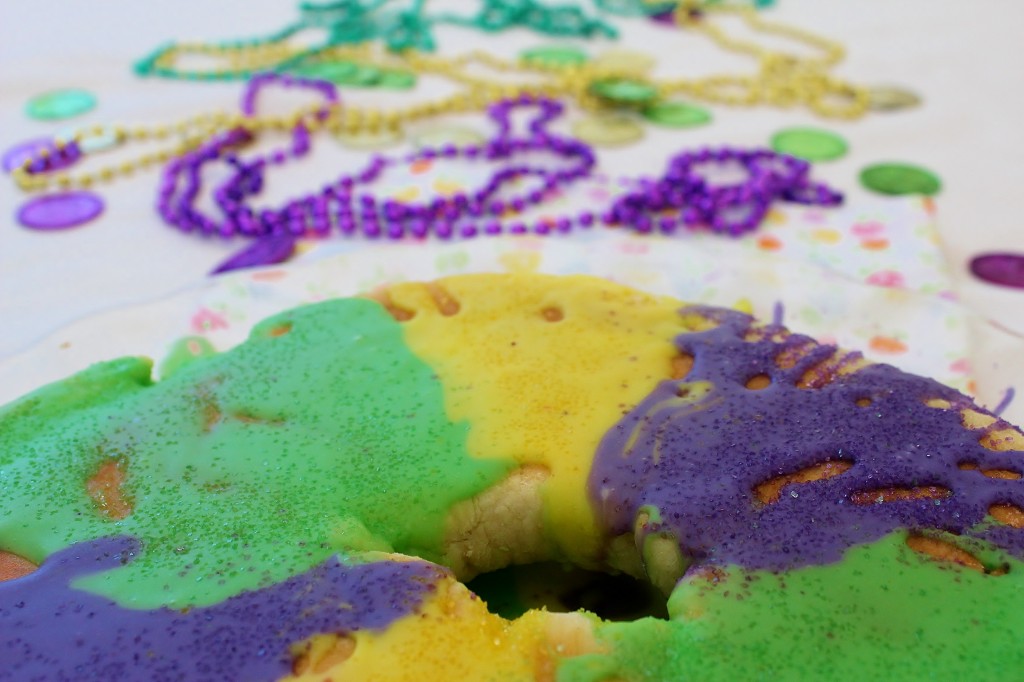 The season of Epiphany runs from January 6 through Ash Wednesday. This joyous season coincides with Mardi Gras and is celebrated in several Southern United States cities and is the day prior to Ash Wednesday which begins the season of Lent. Early Christians were forbidden to eat eggs, butter, cream and meat during Lent. Rich pastries and baked goods became common practice during Epiphany as a way of using up eggs, butter and cream prior to Lent. Mardi Gras Day, also called Fat Tuesday, is so named because it's the last day to eat, drink and be merry before the solemn season of Lent begins.
The colors of King Cakes and Mardi Gras have significance. Purple is for justice, green is for faith and gold is for power. A small baby is placed inside the King Cake representing the baby Jesus. Tradition holds that the one finding the baby will have good luck throughout the year. It also might suggest that the one finding the baby is responsible for bringing the King Cake to the next gathering.
The cakes are formed into a ring symbolizing the unity of faiths. Sometimes they're flavored with cinnamon and sugar, much like cinnamon rolls. They can also have a cream cheese filling.
Using frozen bread dough makes this process easier and quicker without compromising any of the home-baked flavor. My preference is for a lemon cream cheese filling. If you'd rather opt for the sugar and cinnamon type, spread soften butter on the bread once it's rolled out, sprinkle with cinnamon and sugar and then proceed to roll in the same fashion I describe in the recipe.
May you find the baby Jesus and enjoy many blessings in the year to come.
Y'all come see us!
King Cake
This cake is the marriage of pastry and cake. With that kind of a beginning, the ending must be wonderful.
1 (1 pound) loaf frozen white bread dough (I used Bridgford)
For filling:
8 ounces cream cheese, softened
1 cup powdered sugar
juice and zest of one lemon
1 teaspoon vanilla extract
For icing:
2 cups powdered sugar
4 to 5 tablespoons buttermilk (you may substitute regular milk)
1/2 teaspoon almond extract (or substitute vanilla extract)
gel coloring and sprinkles
Place frozen dough in an oiled bowl and let it thaw and rise according to package directions. Once it has completely risen, you can either start making the cake or place the bread dough in the refrigerator covered for up to three days.
When ready to roll, punch down the dough and turn out on a floured surface. Knead three or four times. Sprinkle with flour if dough is sticky. Roll out to approximately 10 inches x 18 inches making sure the dough isn't sticking to the surface. Don't worry yourself sick by trying to make it exact. My rolling pin is 10 inches long so I use that as a guideline.
Make the filling by placing cream cheese, powdered sugar, vanilla extract and lemon juice and zest in a medium bowl. Mix until smooth and creamy.
Spread filling over dough covering well. The shape of my dough resembles a handgun. You don't need to read anything into that. It also looks like a reverse image of Florida with the bottom part chopped off. I live in the missing part. There's no hidden meaning here, either.
Roll dough in jelly roll fashion. Start with the long side closest to you and roll it up to make a log. Pinch the seams once it's rolled. Form the log into a roundish, ovalish shape. Don't stress over that part either. Just make the ends touch and then pinch those seams together. Brush the top with oil. Cover with plastic wrap and let rise for one hour in warm, draftless place. My oven was on so I set it on top of my stove.
And after one hour, you get……
Bake on a baking mat or greased baking sheet at 350 degrees for 35 minutes or until golden brown. Remove from oven and cool completely before icing.
This cake's not perfect but it's homemade. That's all that matters. Don't worry about imperfections. They're made with love.
To make the icing, place powdered sugar, almond extract and buttermilk in a bowl. Start with 4 tablespoons of buttermilk. Mix until smooth adding additional buttermilk if needed. It's needs to be thick but pourable. Divide equally among three bowls. Make purple, green and gold icing using food coloring.
Sneak baby Jesus into the cake from the inside part of the ring. I prefer to sneak him in after the cake's baked instead of baking him into the dough.
Drizzle icing over the cake. Add sprinkles. You may leave the icing white and then decorate with colored sprinkles. I prefer to color the icing because I like more color.
I like for the icing to run on the plate. It seems more festive to me but that's just how my mind works. I also like for the icing to pool in the center of the cake. It reminds me of a kaleidoscope.
Now, you've probable forgotten about the cave in. See….it doesn't matter!