When you grow up hearing a word consistently pronounced a certain way, you make some assumptions. First, you assume the pronunciation is correct. Second, you assume everyone in the whole big world pronounces it the same way. Your merry little life continues as long as the assumptions remain unchallenged. Then, something compels you to write the word. Being a lover of words and books, you drag out your trusty dictionary to make sure you have the spelling of the word correct.
It was Junior High School. I can't remember the reason I was writing about rutabagas but it may have been the commencement of a food writing career.
After a long time of searching for "rooterbegger", the following conversation took place:
Me: I can't find rooterbegger in the dictionary. How do you spell it?

Mama: R-U-T-A-B-A-G-A

Me: That's not rooterbegger.

Mama: I know. It's rutabaga.

Me: But, I want rooterbegger.

Mama: A rooterbegger is a rutabaga. The correct way to say it is 'rutabaga'.

Me: Then, why do we say 'rooterbegger'?

Mama: That's the way Mama always said it.
The conversation stopped dead cold. If Granny says it that way, ain't nobody gonna argue. However, I still think rooterbegger is way cooler than rutabaga.
Y'all come see us!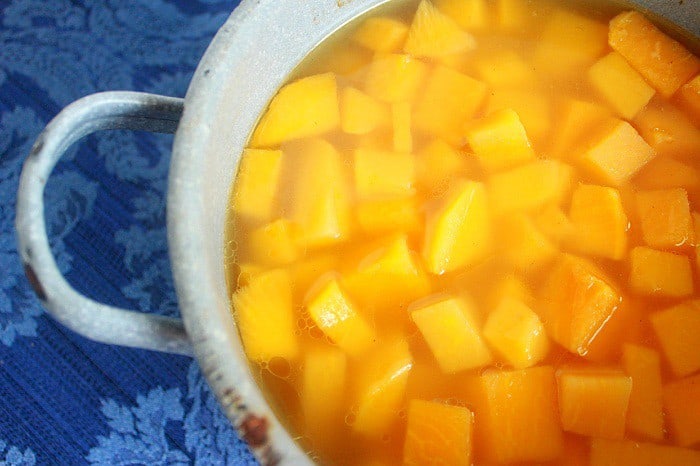 Rutabagas
yield: a mess
This fleshy, yellow-orange root vegetable is one of my favorites despite the fact they are hateful as the dickens to peel and cut. Recruit people with strong hands to help with that chore. Once the prep is done, it's smooth sailing.
The amount of seasoning listed in the recipe is simply a guideline. Cook, taste and adjust to suit your taste buds.
Rutabagas may be served diced, as shown in the picture, or mashed. They tend to be a bit bitter. A little honey softens the flavor somewhat. Bacon drippings add a touch of smokiness.
2 rutabagas, peeled and diced
1 tablespoons bacon ddrippings
1 tablespoon honey
1 1/2 teaspoons kosher salt
1/2 teaspoon ground black pepper
Place diced rutabagas in a pan and cover with water. Add remaining ingredients. Cover and cook for 30 minutes or until tender. Taste and adjust.