Back in the late 1970s, when we still lived in Mobile, I got a call one day from my friend, Anita Draime, asking me if I could come to lunch. She told me she had a special dessert that she wanted to make just for me. She recently had the dessert at her sister's house and she just knew I would love it. The enthusiasm in her voice was contagious although it doesn't take much at all to get me excited about food. This is especially true if someone wants to share a special dish with me. When you make a dish with someone in mind, you are sharing part of your heart and soul with them. There's no better way to ingratiate one's self than to cook for someone just because you want to; not because you have to. Perhaps giving birth to them might rate higher on the ingratiation scale but cooking for them would be a close second.
She went on to say that this dessert was a gelatin dessert and the crust was special, but that was all she would tell me. She wanted me to figure out the ingredients in the crust. We decided on the date for the luncheon. Time seemed to drag by for me. Long before I even thought about food writing, people knew of my food enthusiasm. Al Gore hadn't gotten around to inventing the internet yet, so food blogging was an unknown. The anticipation of Anita's dessert was just about to kill me.
The morning of the much anticipate luncheon date was routine. My oldest child was a toddler and the second child was only a few months away from being born. Anita told me she wanted us to get together before the baby was born because she felt that I would be tied down for a while with a twenty-month old and a newborn. Was she ever right! I scurried around the house doing some cursory housekeeping before getting Marcia and me dressed for the visit. My expanding girth was already causing shortness of breath making me tire easily. As I loaded Marcia in her car seat, I was preoccupied with the thoughts of this luscious dessert that my dear friend made especially for me.
Anita greeted us graciously at the door. I was so happy to see her. Marcia and her only son who was a little younger, were quite content playing together. We chit-chatted until we felt we had gotten caught up on the most important news. It's now lunchtime, at last!
She had made a lovely shrimp salad which was just as delicious as it was eye appealing. Chili sauce was a new ingredient she was trying out in the salad. The results were spectacular. Honestly, I can't remember what we did about feeding our youngsters. I may have packed a lunch for Marcia. However, I have no recollection of them eating lunch. I have no doubt that we fed them. The event just hasn't stayed in my memory bank. After we finished our salads, Anita heads to the refrigerator and brings out a dish that has a lovely ruby red topping. As she slices the dessert and scoops it up to put on plates, I can see that it's layered. She serves the dessert and takes her place back at the table. "You take the first bite", she instructs. Don't think for one minute I argued about that. Are you kidding me? I had waited a lifetime for this moment. "Taste the crust first and tell me what you think it is." I pushed back the top two layers to expose as much of the crust as possible. On inspection, it looked much like a graham cracker crust. As if she could read my mind, she states, "It's not graham cracker." I tasted. It was good! I tasted again and still couldn't get past graham cracker. Wanting to get on with the tasting and down to the eating, I said, "The taste is familiar but I just can't put my finger on it." She announces gleefully, "It pretzels! The crust is made with crushed pretzels, sugar and butter." I thought that was the smartest thing I have ever heard. And the Strawberry Pretzel Salad was delicious. I savored every last bite. Anita gave me the recipe written in her handwriting. I still have that recipe card and the memory of that special occasion. I make the recipe without any variations. You see, I've lost track of my friend Anita. We moved to Florida over 25 years ago and she has since moved from Mobile. When I make the recipe exactly as she did, I feel that she is still close to me. The connection of food and memories is just that strong. Over 30 years ago, I had no idea that I would be writing a story about this dish that I would be serving today as part of my birthday celebration. My family will be told the story of Anita Draime, our friendship and this special memory as we enjoy this dessert together. Time has been mighty good to the Strawberry Pretzel Salad.
Y'all come see us!
UPDATE , October 3, 2013: Over two years since writing this post, I receive a voice mail from Anita. Someone contacted her shortly after reading this newly published post and left her a voice mail message, including my phone number, saying that I was trying to contact her. She was going through trauma and tragedies in her life and just wasn't able to place the call to me. But, she held on to my number. We finally got to talk last night. And talk we did. Way into the wee hours of the morning. What a lesson in patience, hope and Grace. Never, ever give up!
************
Strawberry Pretzel Salad
One day I want to make this salad with a few adaptations. I would add some lemon zest to the cream cheese filling, use fresh whipped cream instead of Cool Whip and add toasted pecans to the Jello layer. I'm just not ready to do that right now.
For crust:
2 cups crushed pretzels
3 tablespoons sugar
3/4 cup melted butter
Mix and press into a 9X13 pan. Bake 10 minutes at 400 degrees.
For first layer:
8 oz. softened cream cheese
1 cup sugar
4 oz. Cool Whip
Blend cream and sugar well. Mix in Cool Whip. Spread over cooled crust.
For top layer:
1 (0.6 oz.) package strawberry Jell-o
2 cups boiling water
16 oz. crushed pineapple, drained
16 oz. frozen strawberries, unthawed
Dissolve Jell-o in hot water. Add frozen strawberries and stir until the strawberries are thawed. Add pineapple and mix well. Chill until almost solid and then spread over cream cheese layer. Refrigerate at least a few hours, or overnight, until firm.
May serve as a fruit salad or a dessert. Share it with a good friend. They will appreciate it for at least 30 years.
Mix crushed pretzels, melted butter and sugar. Press into a 9X11 pan. Bake at 400 degrees for 10 minutes.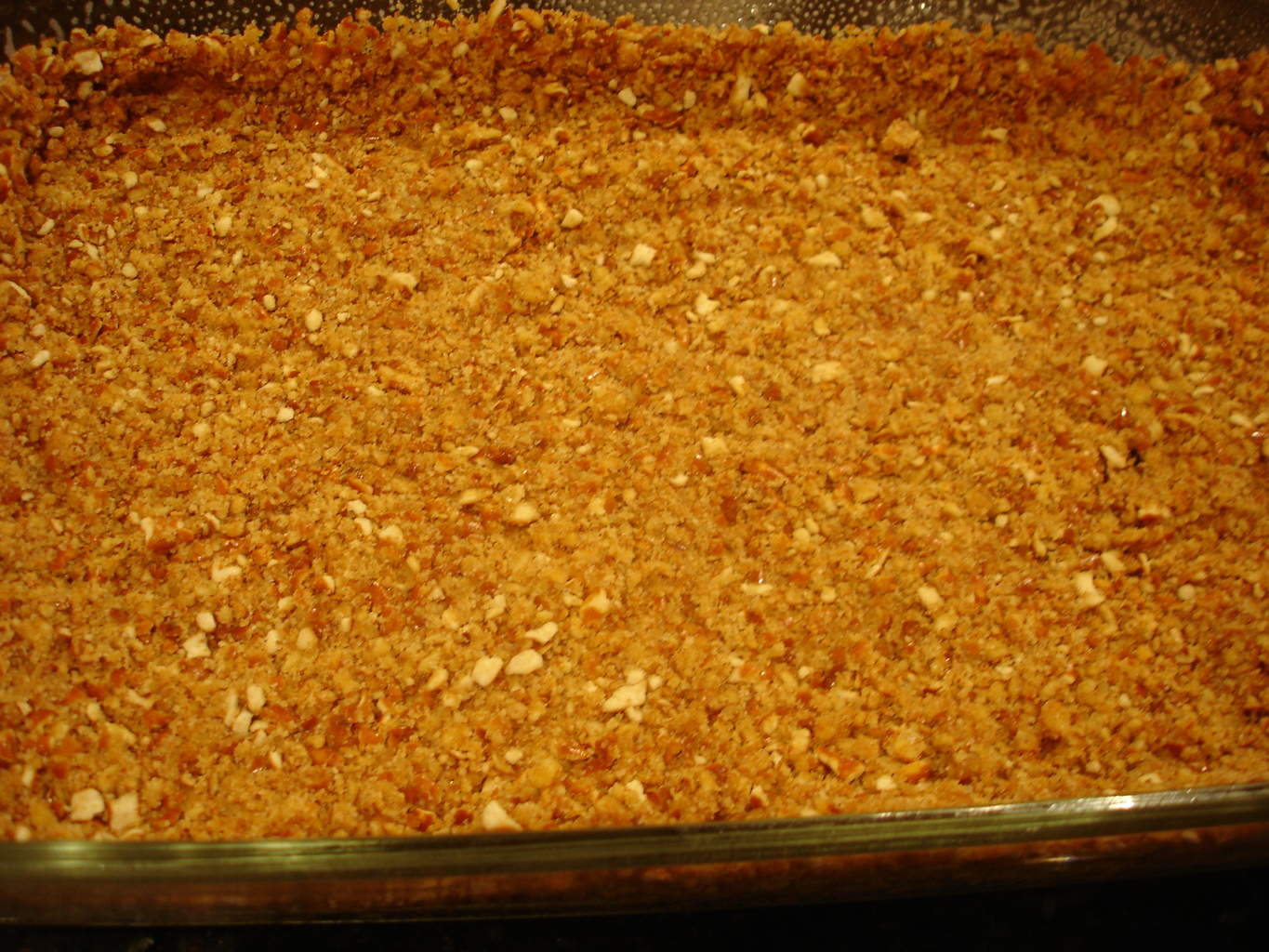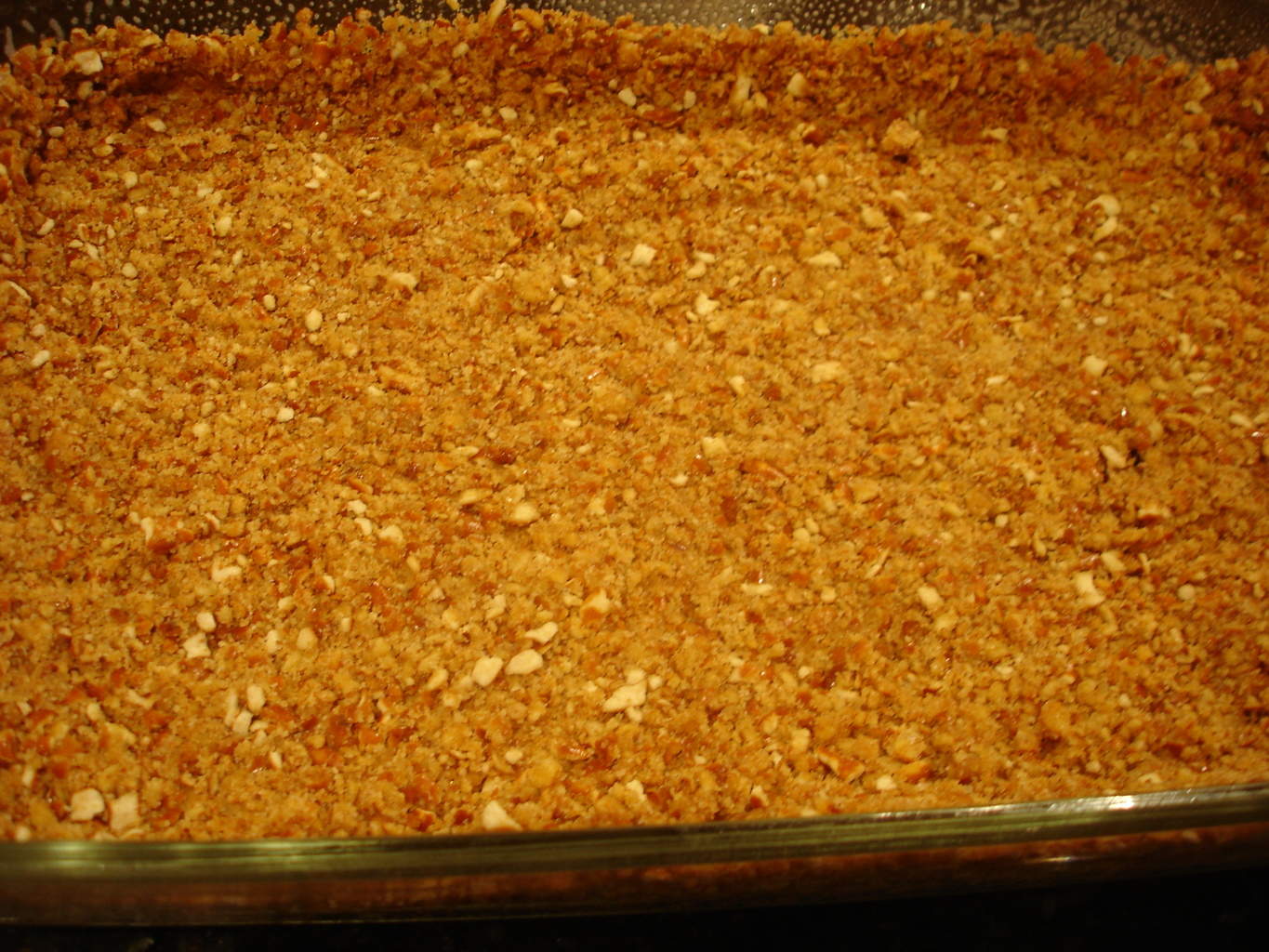 Cream sugar and softened cream cheese. Mix in Cool Whip. I called on my trusty 36 year old GE avocado green hand mixer to help me out.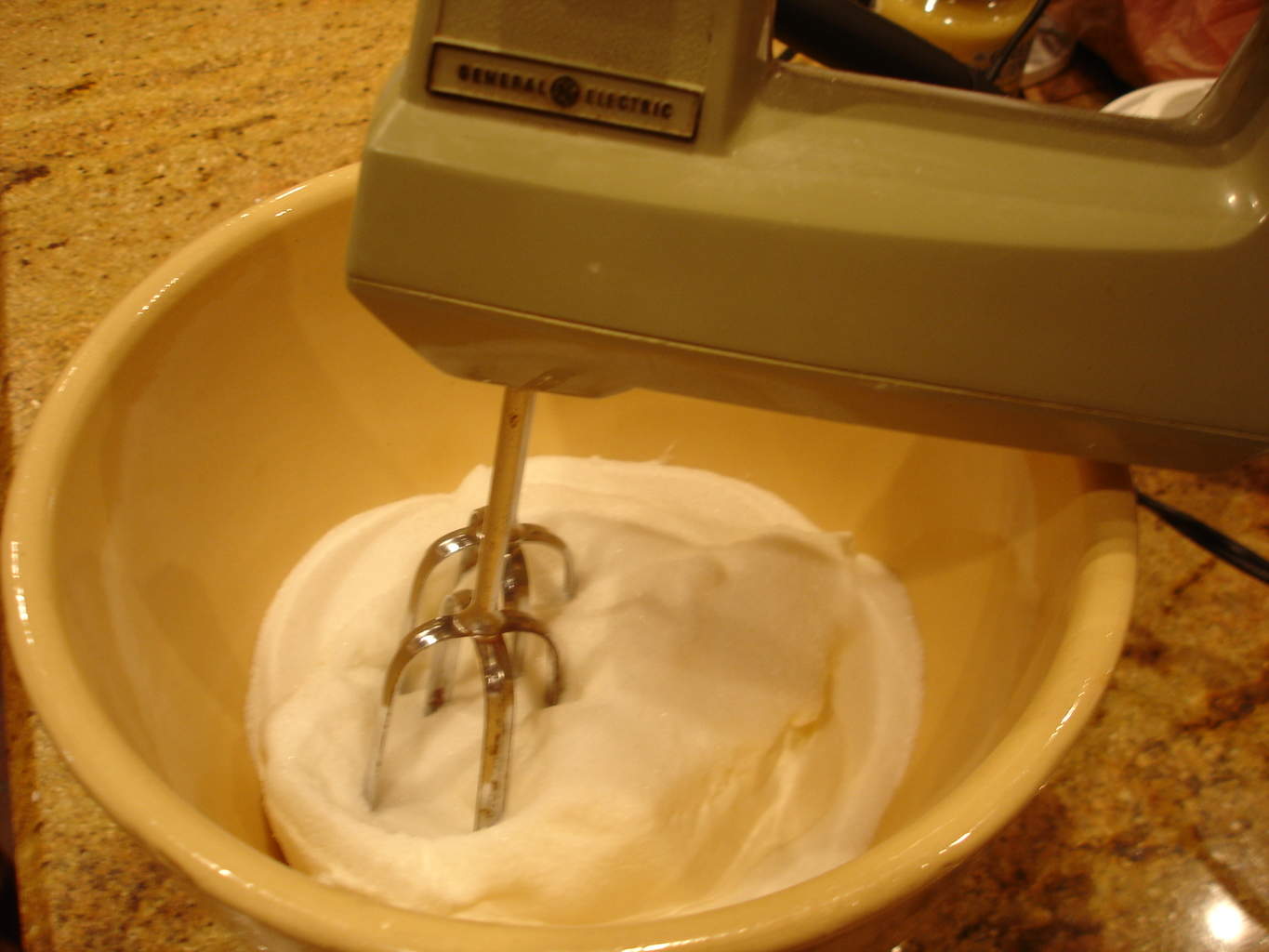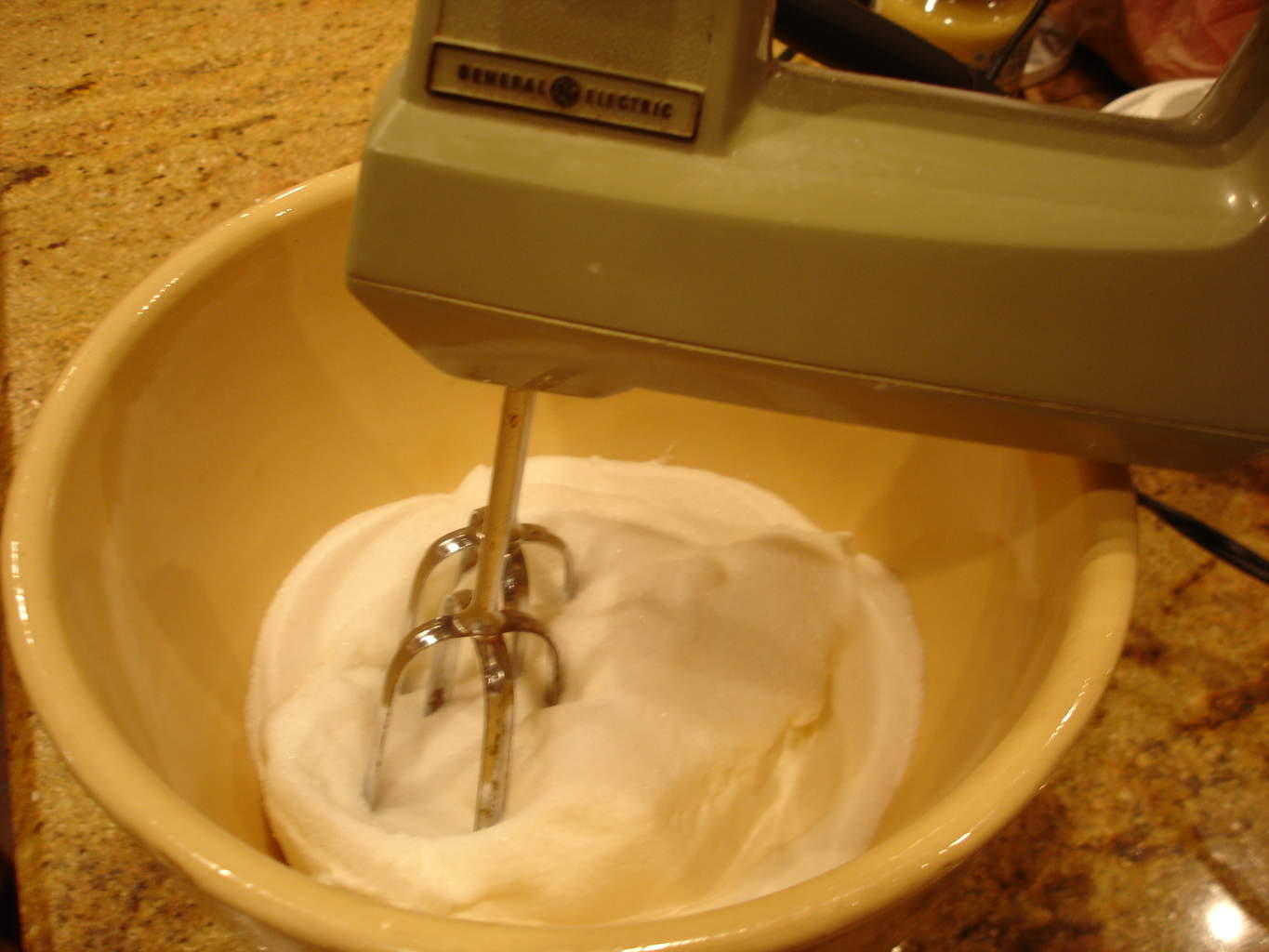 After the crust had completely cooled, spread the cream cheese over the crust. The pretzel crust.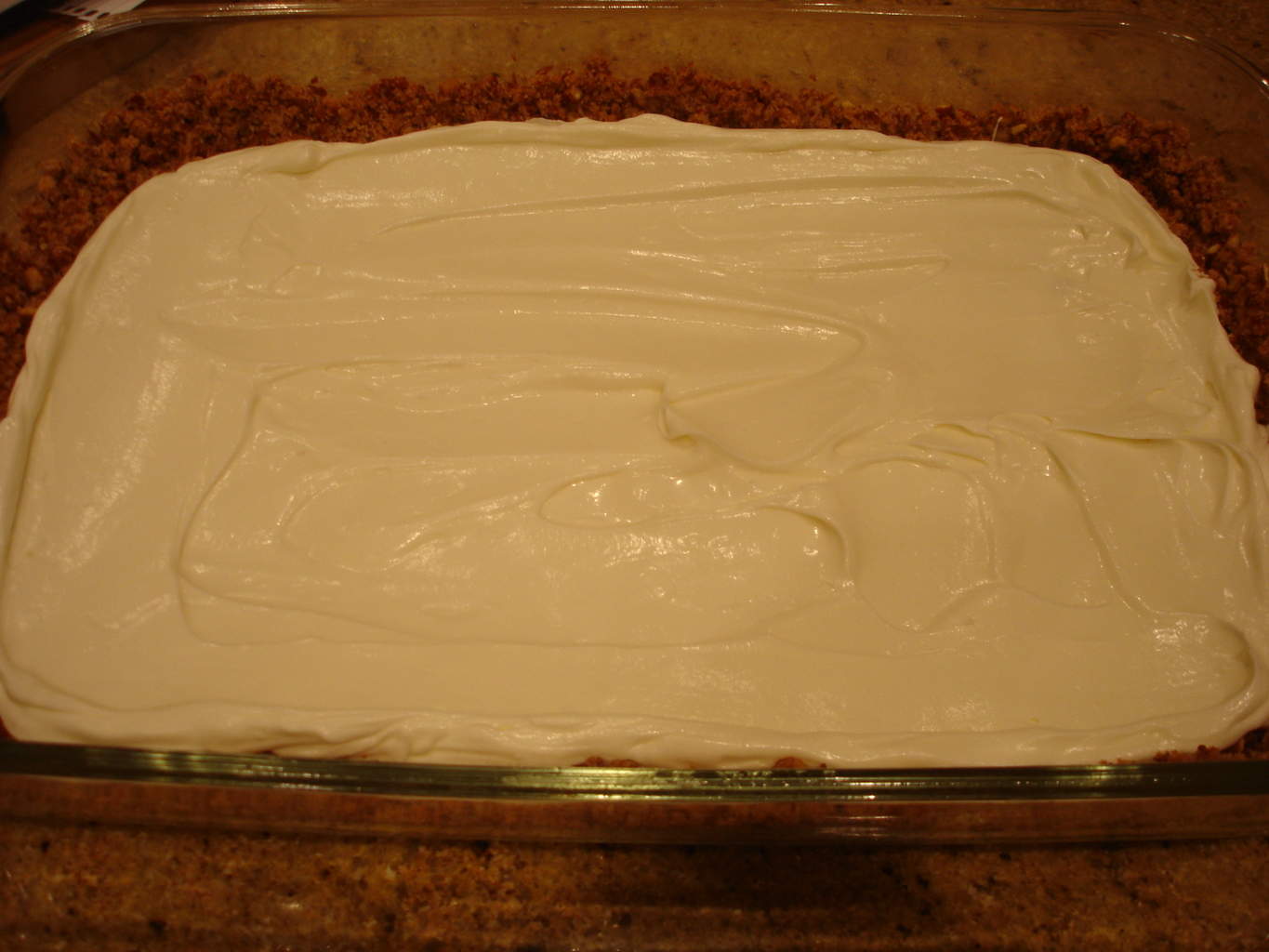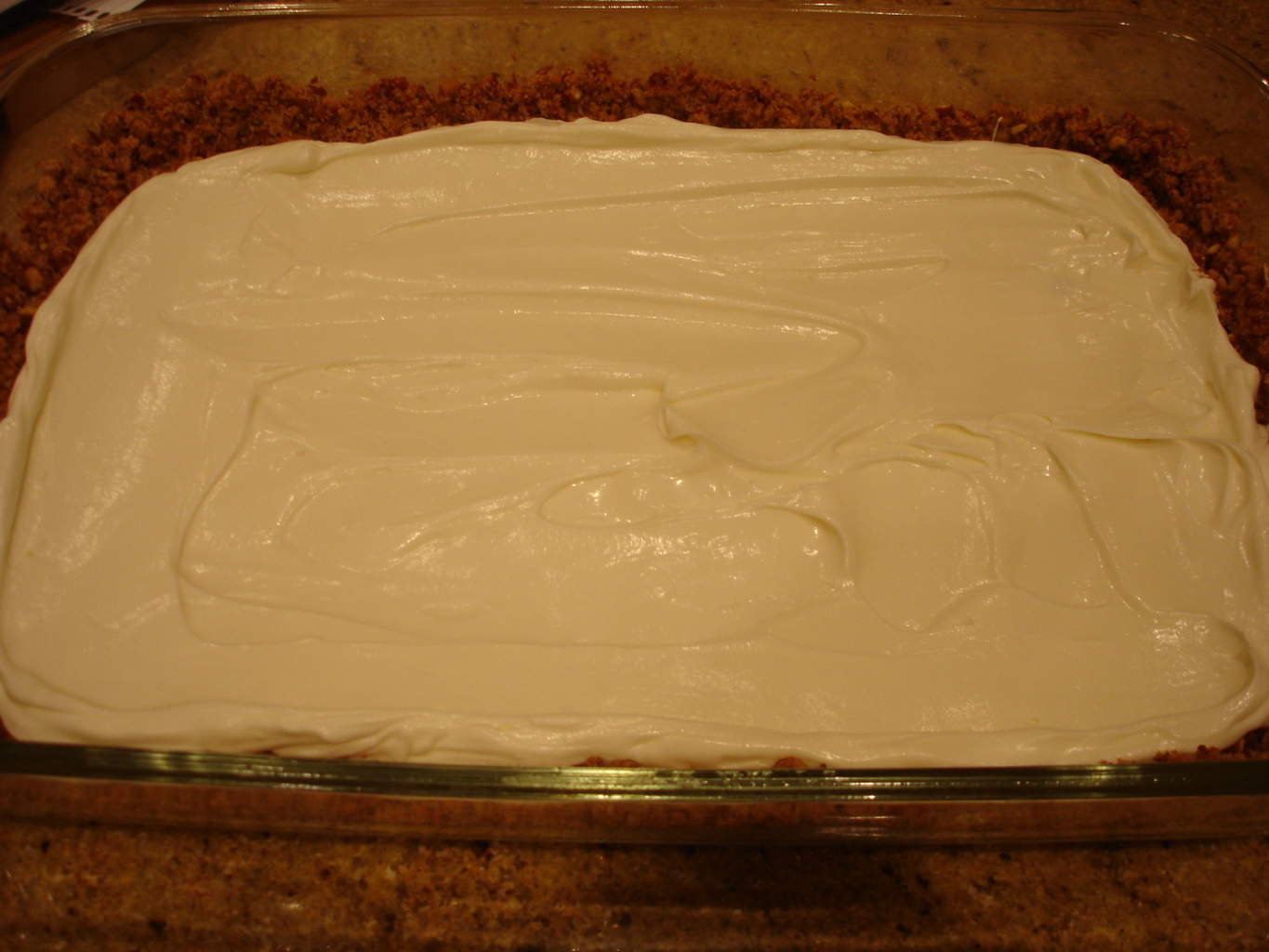 Dissolve Jell-o in 2 cups of boiling water. Add frozen strawberries and stir until they are thawed.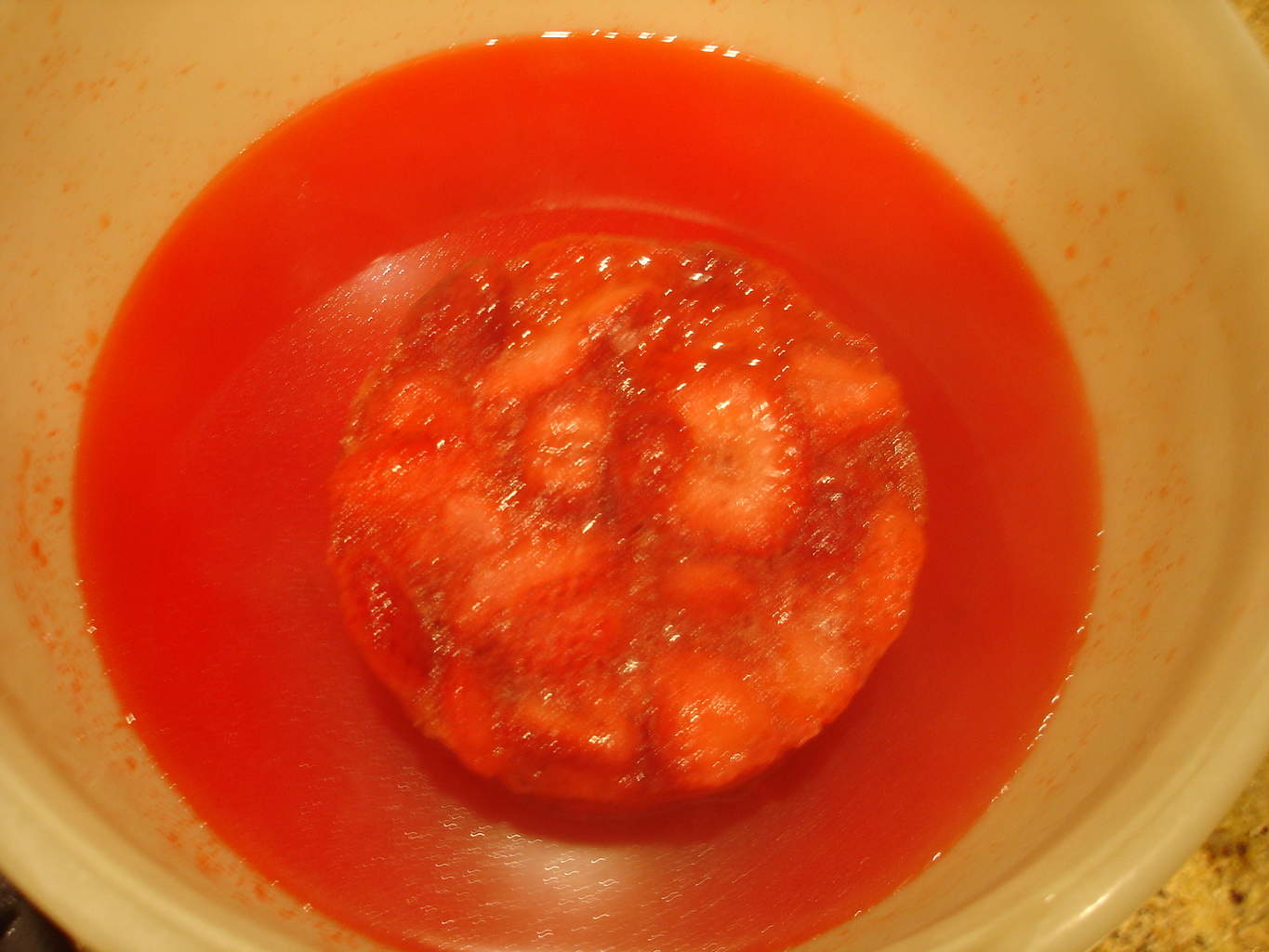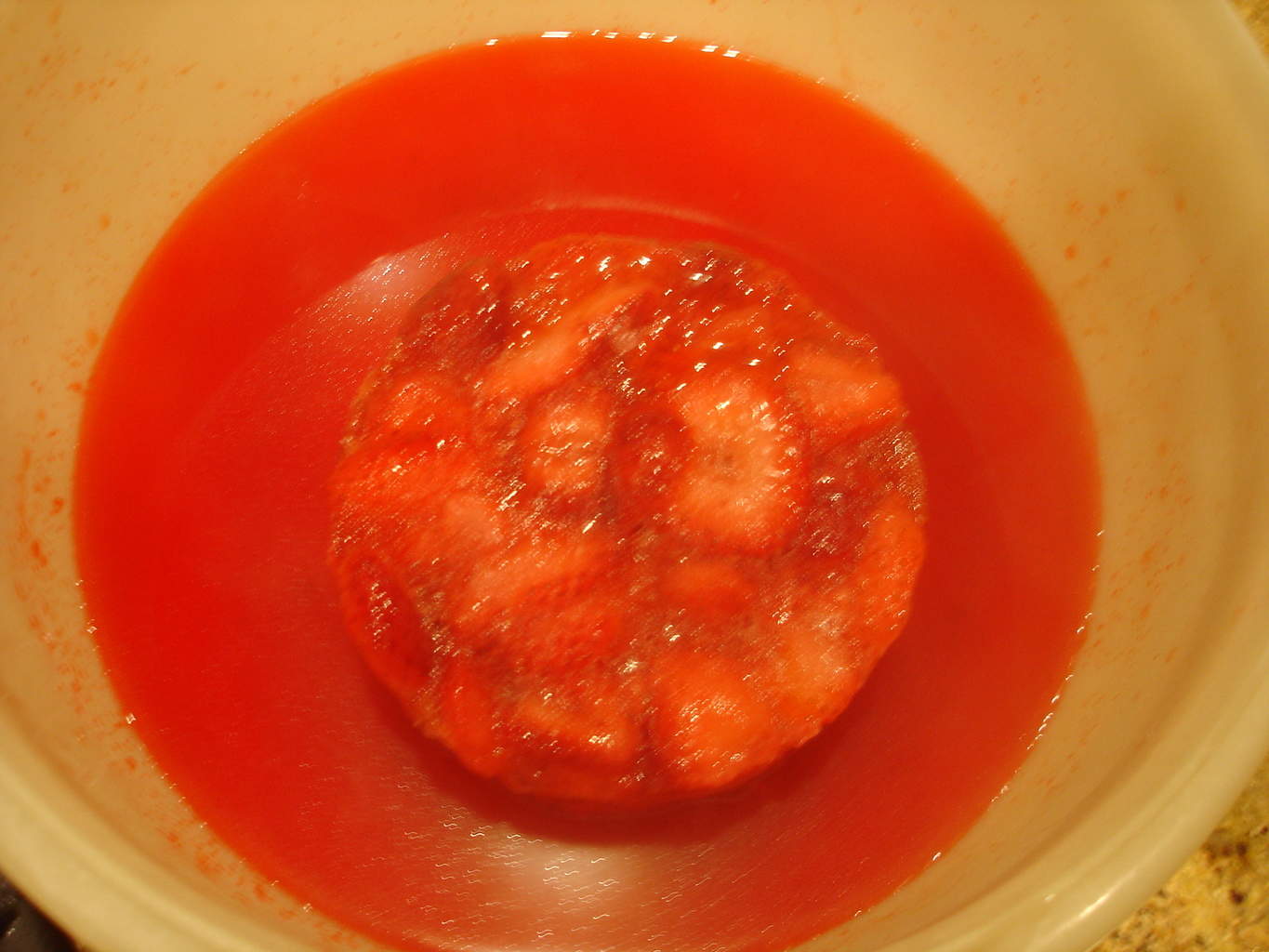 Add drained crushed pineapple and stir well. Let chill until almost solid.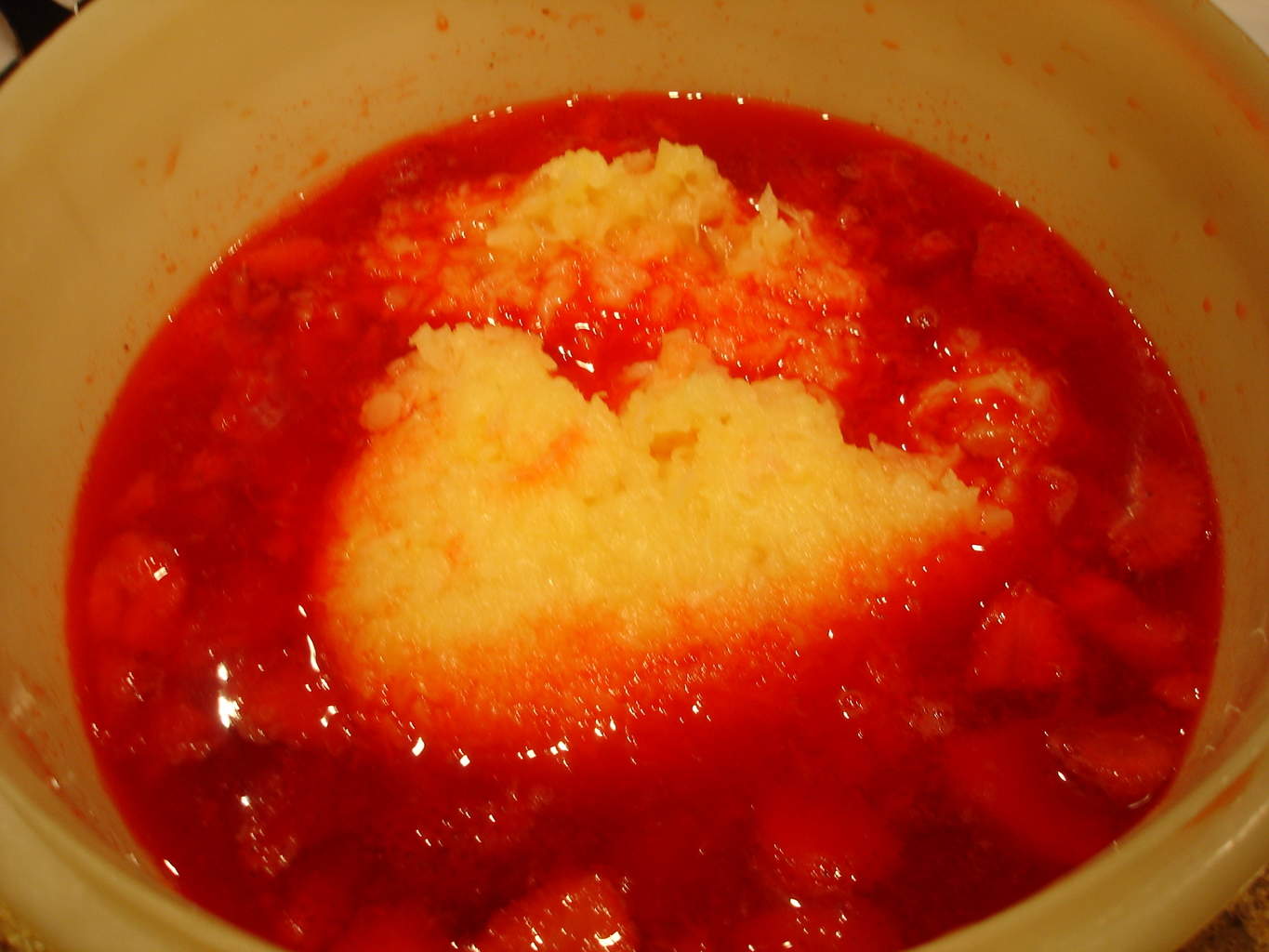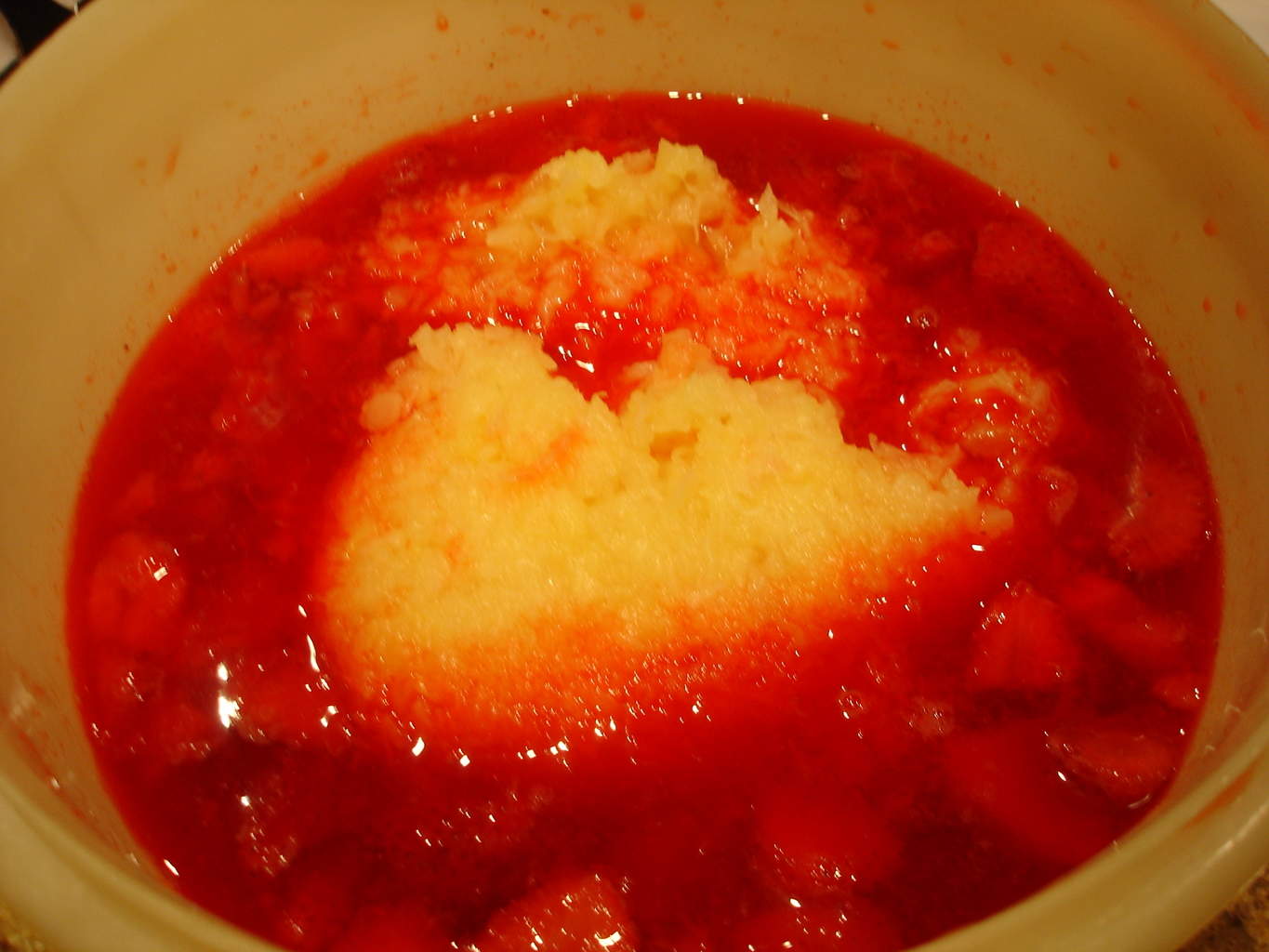 Pour on top of cream cheese layer. Chill for several until firm, or overnight.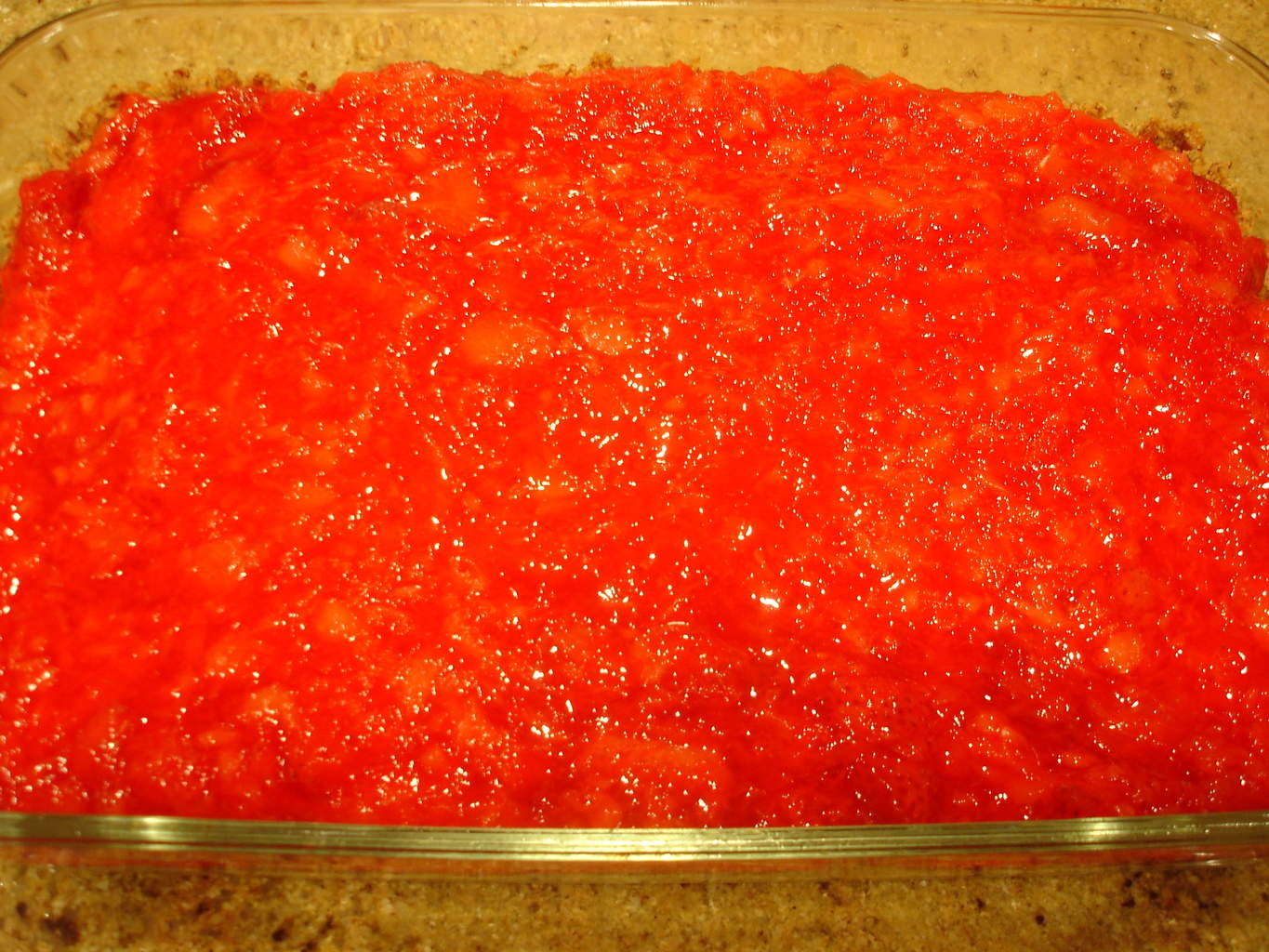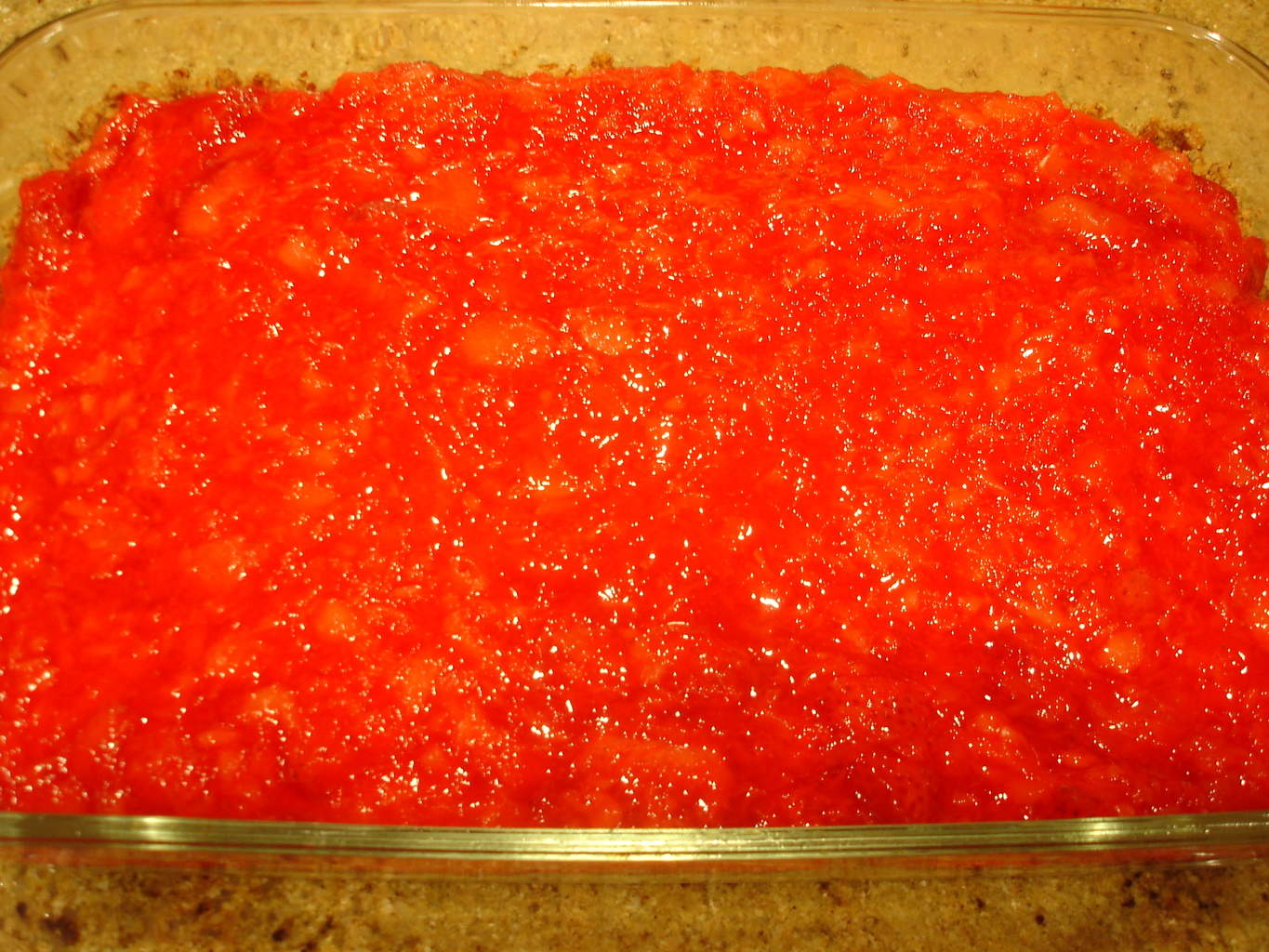 Enjoy the heck out of it! Congealed salads have long since been part of Southern culinary history. They are cold and refreshing during our prolonged hot and humid summers.