I live in a world of food. Good food. Down to earth, stick to your ribs, homesick curing, soul nurturing, bone strengthening good food. Several roles in my life cause me to have a relationship with food: food blogger, recipe developer, cookbook reviewer, grandmother of two adorable three-year old twins, columnist, grocery shopper, produce picker, content contributor and one who eats. Within the context of all my food related roles, I get to do lots of fun and interesting things. Now, since I seem to have gone hog-wild making lists in this post, don't be afraid the next few lines will be nothing but me listing out, in the most boring fashion, all my food related activities.
Being part of Southern food culture brought the folks from Tupelo Honey Cafe knocking on my virtual door. Of course, I answered the door and welcomed them in with a glass of sweet ice tea in one hand and a tea cake in the other. They asked me if I would be kind enough to help them promote a recipe contest they will be running now through mid-November.
I said, "Shoot, of course I will."
We say "shoot" a lot in the South as an exclamatory word and it has nothing to do with bullets or firearms.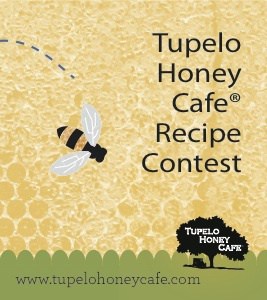 Tupelo Honey Cafe started in Asheville, NC and features spirited Southern cuisine. They have a cookbook oddly enough named Tupelo Honey Cafe: Spirited Recipes from Asheville's New South Kitchen. Click on the name of the cookbook to read my review and get a recipe for Sweet Potato Pancakes.
All the details of the contest can be found by clicking here: Tupelo Honey Cafe Recipe Contest.
The contest runs October 1 through November 16. There are three categories:
A winner from each category will be awarded a gift certificate that can be redeemed at their
online store.
Also, a weekly winner will be chosen to receive one of their cookbooks.
So, hop on it! Click over to the recipe contest site and get creative. Be sure and come back here and brag about winning the contest! Don't forget about us when you're rich and famous.
If you have any questions about the contest, you can post a comment on Tupelo Honey Cafe's Facebook page or send them a Tweet.
Y'all come see us!