Two of my Bible study mates, Melonie Hall, Sheryl Francavilla, and I are nearing the end of a year long study. We thought a little celebration was in order, plus we're always up for feeding ourselves, so we had a meal at my house. Melonie brought a delicious cheese and cracker tray to get us going. I offered a Tuna Nicoise Salad. Sheryl sealed the deal with a Pineapple Upside Down Cake. There's nothing better than sharing a Bible study and a meal with friends. We've formed quite a bond over the year.
Nicoise salad is so named because it originated in Nice, France. Traditionally, the salad contains only fresh, uncooked vegetables. I added my Americanized spin and roasted Yukon gold potatoes.
While the salad contains many components. It's not complicated. Eggs, green beans and potatoes can be cooked in advance. It's important that each component is well seasoned. When you're ready to serve, lightly dress the salad greens before adding them to the platter. Add the other components and then set out the platter with large serving utensils and everyone serves themselves.
Melonie, Sheryl and I meet tomorrow for the last session of our Bible study. It's been a wonderful year. We've learned together, prayed for and with each other, and shared meals. They were gracious enough to accept my many offerings of sweet potato dishes as I developed recipes for my upcoming cookbook, Sweet Potato Love: 60 Recipes for Every Season. These ladies are wonderful souls with sweet spirits. They are a blessing to me.
Y'all come see us!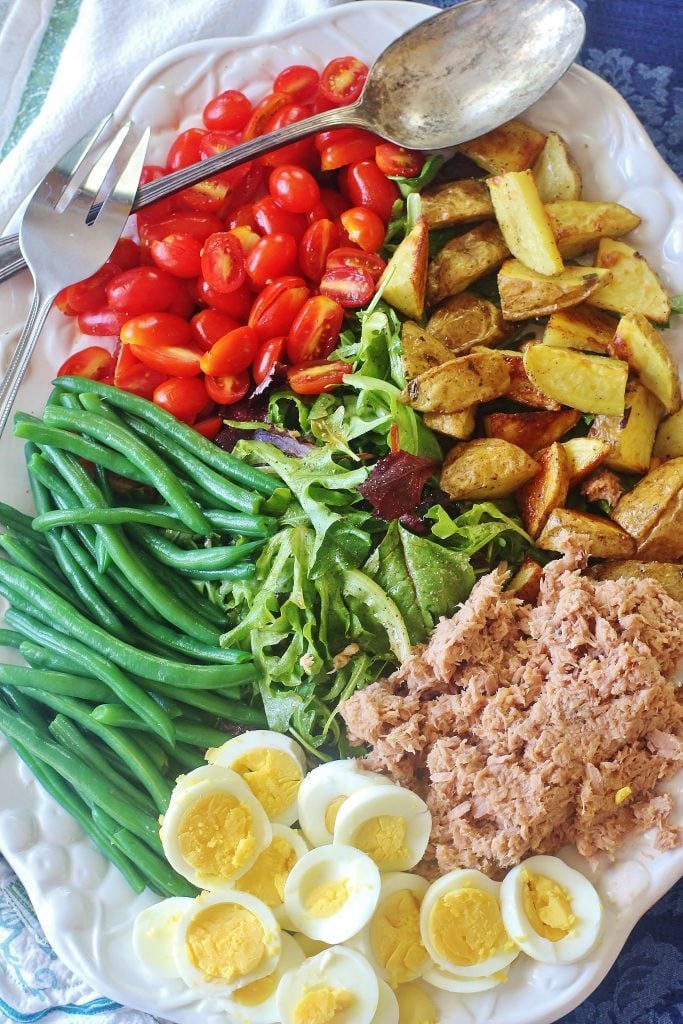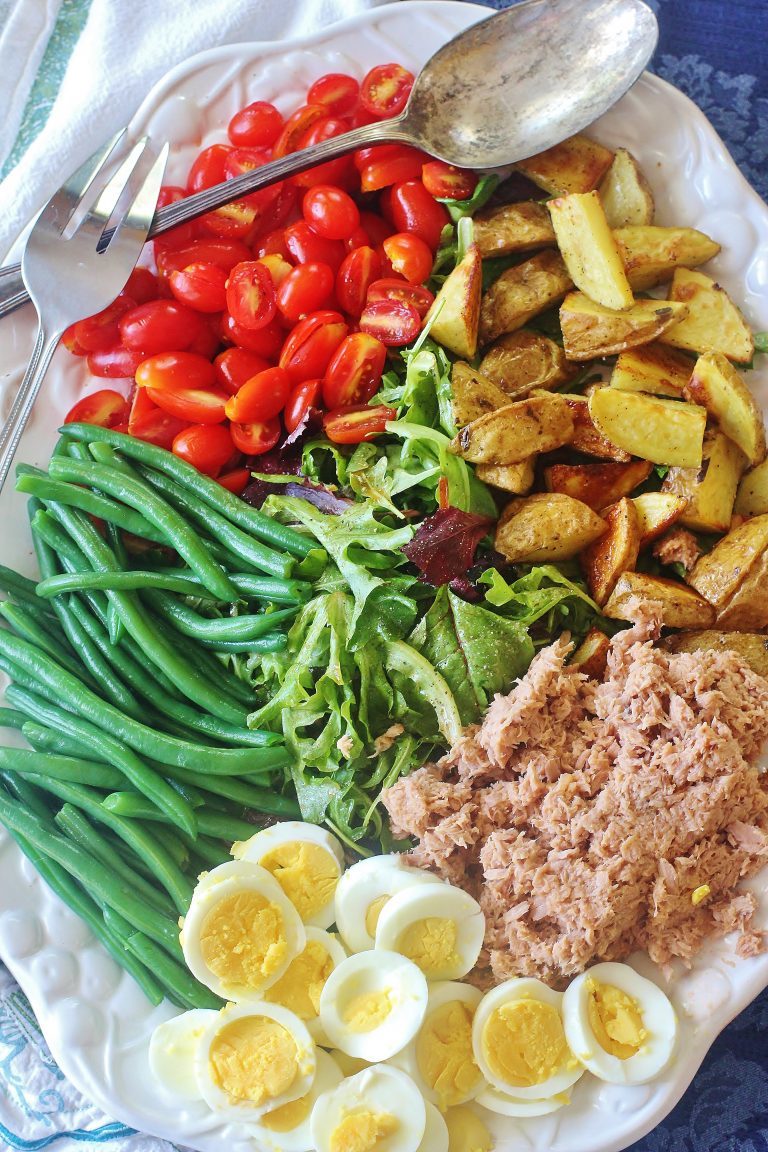 Tuna Nicoise Salad
yield: 4 servings
This beautiful salad is just as appealing to the taste buds as to the eyes.This salad has several components but it's not complicated. Eggs, potatoes and green beans can be cooked ahead to lessen the stress just before serving. If cold roasted potatoes don't sound appealing, slightly warm them before assembling the salad. The key to a good salad is to make sure each component is well seasoned.
boil the eggs:
4 large eggs
water
salt
Place the eggs in a pot and cover with cold water. Add a generous amount of salt to the water. Bring the eggs to a boil. Cover, remove from the heat and let sit for 10 minutes before shelling. Keep boiled eggs in refrigerator until ready for use.
blanch the green beans:
1/2 pound fresh thin green beans, trim the ends but leave the beans whole (Note: you can buy French green beans, haricot verts , and pay more or you can buy regular ol' thin American green beans and save money. I'll support either decision you make.)
water
salt
In a large saucepan, bring salted water to a boil. Carefully drop in the green beans. Boil for 4 to 5 minutes or until crisp tender. Drain and immediately plunge the green beans into an ice bath. Drain and store in refrigerator until ready for use.
Roast the potatoes:
preheat oven to 400 degrees
2 medium Yukon gold potatoes, cut into eighths
olive oil
salt and pepper
Place the potatoes on a baking sheet lined with aluminum foil. Drizzle with olive oil and salt and pepper. Toss until well coated. Place in a preheated 400 degree oven for 35 minutes or until they are browned and cooked tender. Remove from oven and set aside.
Assemble the salad:
4 cups salad greens
French dressing, divided
salt and pepper
11 ounces canned tuna
4 boiled eggs, sliced
1/2 pound blanched green beans
2 sliced and roasted Yukon gold potatoes
1 cup fresh cherry tomatoes, halved
Place salad greens in a bowl. Add a small amount of salad dressing and sprinkle with salt and pepper. Toss lightly. Add the dressed greens to a large platter.
Place tuna in a bowl and toss with a small amount of salad dressing. Mix. Add tuna to the platter.
Add sliced boiled eggs, green beans and potatoes to the platter.
Add halved tomatoes to a small bowl and season with salt and pepper. Place seasoned tomatoes on the platter.
Serve with extra salad dressing.