There's an old-fashioned fruit cake, called Orange Slice Cake, that I dearly love. It's made with orange slice candy, dates, nuts, raisins, coconut and just enough batter to hold it all together. The cake is dense and rich, exactly the way I like cakes. I haven't made one in years because no one in my house is as crazy about it as me.
I took some inspiration from my friend Dawn's Vanilla Wafer Icebox Fruitcake, and developed a recipe that would incorporate orange slices and be a cake I could make with my grandchildren. Animal Cracker Orange Slice Cake was born on that very day.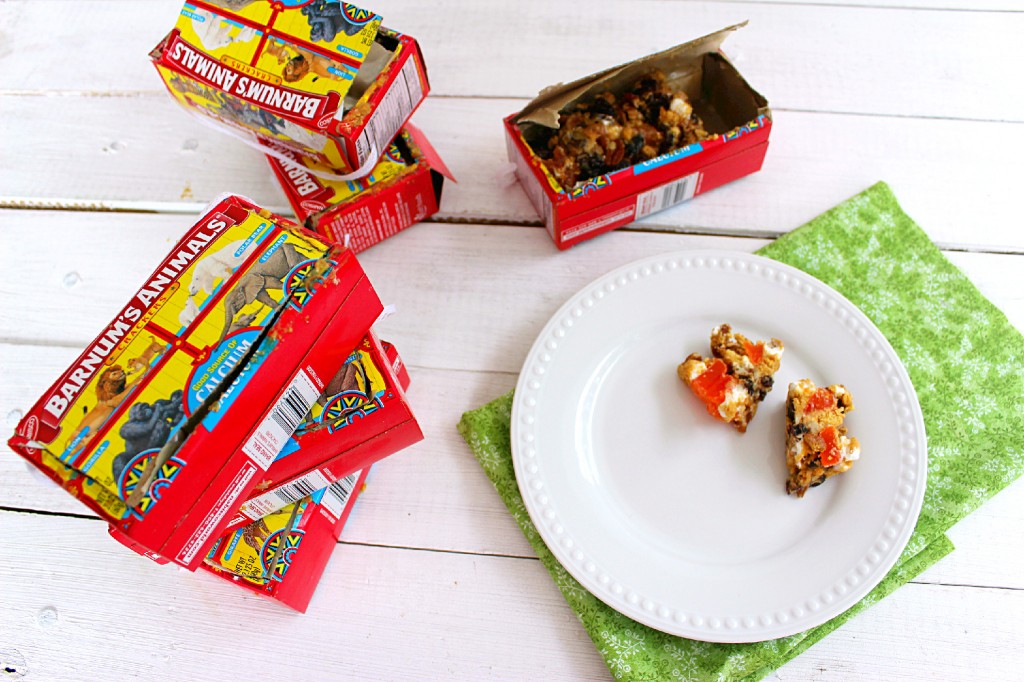 My helpers got busy crushing the animal crackers with my vintage rolling pins.
After the crackers were sufficiently smashed, I emptied them into two bowls and divided the remaining ingredients in half, giving Jackson and Ella their own bowls of batter to work with their hands. As you might have guessed, working the batter with their hands was their favorite part. An untold amount of the batter didn't last very long and never made past the "mixing with your hands" part . To say the dough was adequately tasted before we packed it in the storage containers, is an understatement.
Following Dawn's recipe, we packed the batter into empty animal cracker boxes, securely taped them and stored in the refrigerator.
I got a small-scale version of Orange Slice Cake that I love and the added benefit of a large-scale fun time with Jackson and Ella.
Y'all come see us!
Animal Cracker Orange Slice Icebox Cake
yield: six boxes (animal cracker size)
A fun treat to make with children. No baking required. Be sure to wrap securely before storing.
6 (2.125) ounce boxes animal crackers
1 (14 ounce) can sweetened condensed milk
10 ounces orange slice candy, diced
2 cups pecans, chopped
2 cups raisins
2 cups miniature marshmallows
Crush animal crackers with a rolling-pin and pour into a large bowl. Add sweetened condensed milk to cracker crumbs and mix until crumbs are well coated. Add in remaining ingredients and mix well with your hands.
Prepare boxes by cutting a flap in top. Don't remove the inside lining. Pack fruitcake back into boxes. Securely tape and store in refrigerator for a least 24 hours before slicing.
You might also enjoy: