We have definite opinions about bread.  Biscuits are biscuits.  Hushpuppies are hushpuppies.  We don't refer them as bread.  We   do call Hush Puppies shoes but this is a food blog not a fashion blog.  We are talking about the edible hushpuppies.   Sliced loaf bread is called light bread because it's lighter than cornbread, the co-mother of all Southern breads.  Cornbread  shares top billing with biscuits.  We grow corn, not wheat, making cornmeal more accessible for our ancestors than wheat flour.  The use of corn in Southern cooking was heavily influenced by Native Americans.  Flour was reserved for biscuits and sweets.   Bread and roll making took a backseat to cornbread and biscuit making.
Cornbread takes on different forms.  Hot Water Cornbread is cornmeal, hot water and salt.   The cornmeal has no leavening which results in a thin, dense bread.  The batter is dropped by spoonfuls into hot grease and fried quickly.  Depending on the thickness of the batter, you can get cornbread nuggets that resemble the consistency of hush puppies (bread not shoe) or make the batter thin and the edges will spread out and take on a lacy appearance and get very crispy.    A thick batter is used to make  hand sized pones that  are  placed side-by-side  in a cast iron skillet that has the bottom covered in a sufficient amount of  fat.   The pones are flattened with the back of a hand leaving finger indentations.   They're baked in a hot oven until crispy all over.  Once they're turned out on a serving plate, they are easily divided into individual pieces.    Hot Water Cornbread can be made into a "cake" by pouring the batter into a hot skillet containing fat and baking until the top is browned.   It's turned out to  a plate and,  in rustic fashion, pieces  are torn off instead of cut.
The top of the plate has the cornbread of medium consistency dropped into hot oil.  The bottom shows lace cornbread which is made by thinning out the batter before dropping by spoonfuls into the oil.    All the cornbread was made from the same batch of batter.   The only difference was the consistency.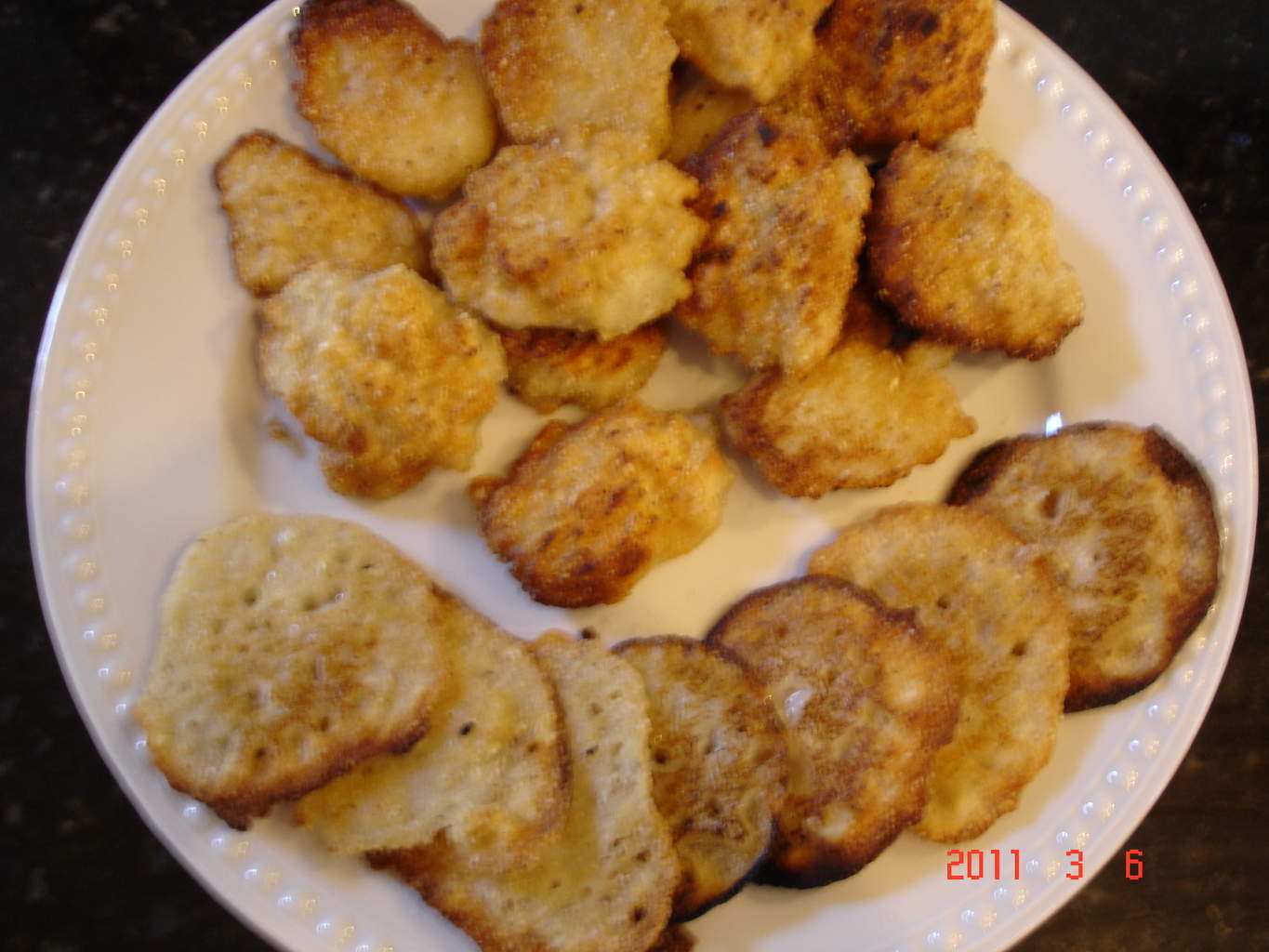 A "cake" of cornbread .  Just pinch off a hunk!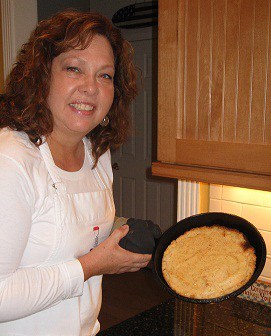 The image that most people recognize as cornbread looks something like this: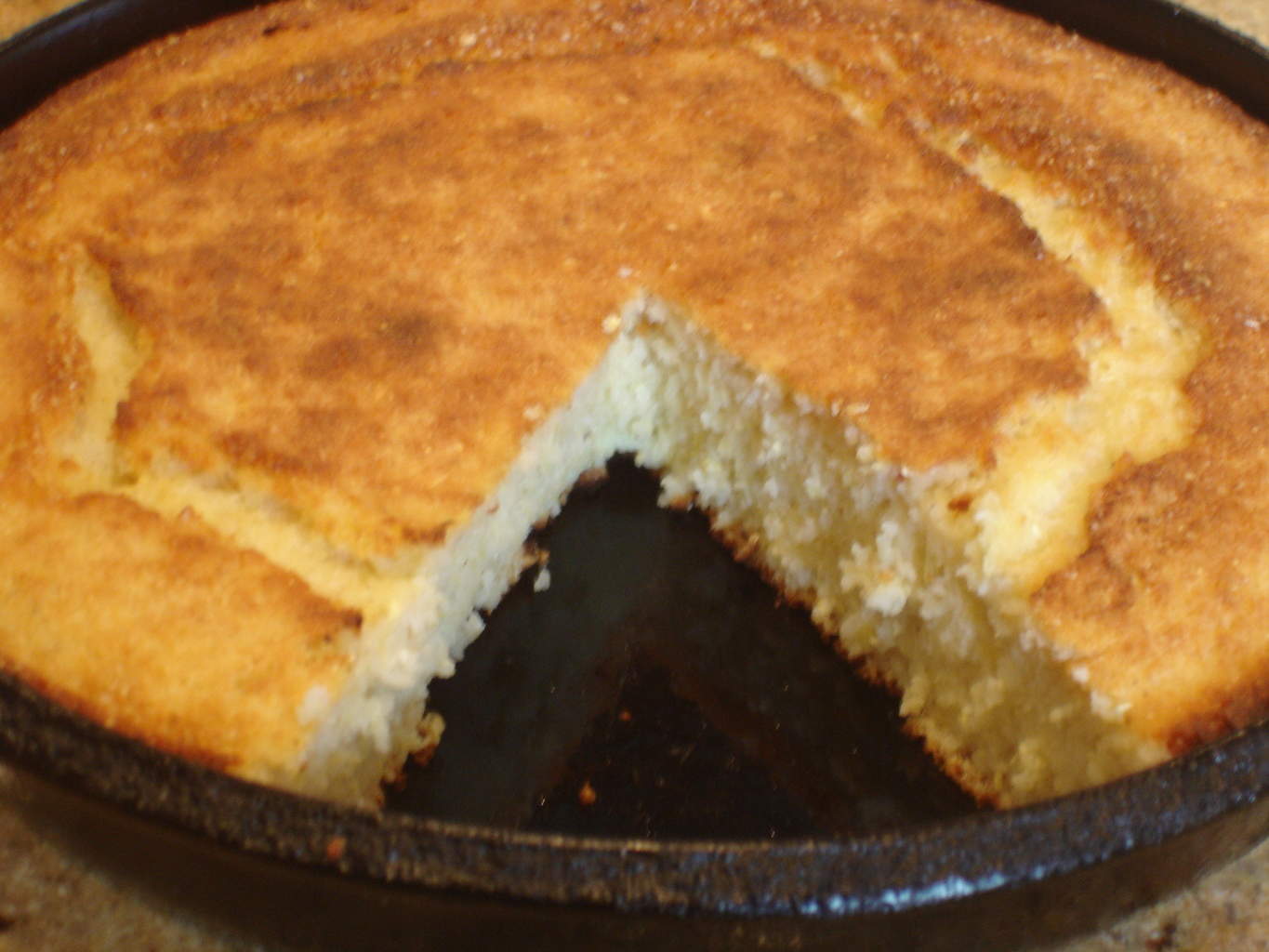 That is fine-looking cornbread.   The inside is moist, the top nicely browned.   It smells heavenly baking in the oven.  To both my grandmothers, this was known as Eggbread and it was made for the expressed purpose of becoming the main ingredient in dressing.  Everyday cornbread was  some form of Hot Water Cornbread.    Perhaps the cost of the extra ingredients for this cornbread could be justified only for special occasions.   Where I come from, many folks considered it a crime to put sugar in cornbread.   They're drop dead serious about it.   They think if you put sugar in your cornbread batter it becomes cake, which is as confusing as heck since the Hot Water Cornbread made by the skilletfuls is called a "cake" of cornbread.
For a time, I convinced myself that I preferred Eggbread over Hot Water Cornbread.  It had everything to do with my ill-fated attempt at being highfalutin and very little to do with my real taste preference.   I'm eternally grateful to whatever it was that caused me to get down off my high horse.   Eggbread is fabulous and has the right to all the fame and glory that comes its way.  It will forever be the star ingredient in my dressing.  Being true to my heritage and my personality,  I'm back to cooking Hot Water Cornbread as our everyday bread.   I did come to realize that I prefer the taste of a medium grind cornmeal instead of the fine grind that my family used.   Medium grind has more flavor.   The nostalgic side of me would love to use such familiar brands as Alabama King or J.T. Pollard both milled in Alabama.   But I've grown attached to the flavor of  Great Smoky Mountains Stone Ground Corn Meal.     I'm at peace with that decision.   Finally.
Y'all come see us!
****************************
Egg Bread (Buttermilk Cornbread)
According to the law of the land, this recipe contains NO SUGAR.  If you prefer sugar in your cornbread, proceed carefully.   Cooking oil can be substituted for bacon drippings if you feel you have to.
2 cups buttermilk
2 eggs
1/2 tsp salt
1/2 tsp baking soda
1 1/2 cups cornmeal
1/2 cup self-rising flour
3 tbsp. bacon drippings
Wet ingredients.  Buttermilk and eggs.   Mix.
Dry ingredients. Cornmeal, flour, baking soda  and salt.   This is where your sugar would go.   Mix.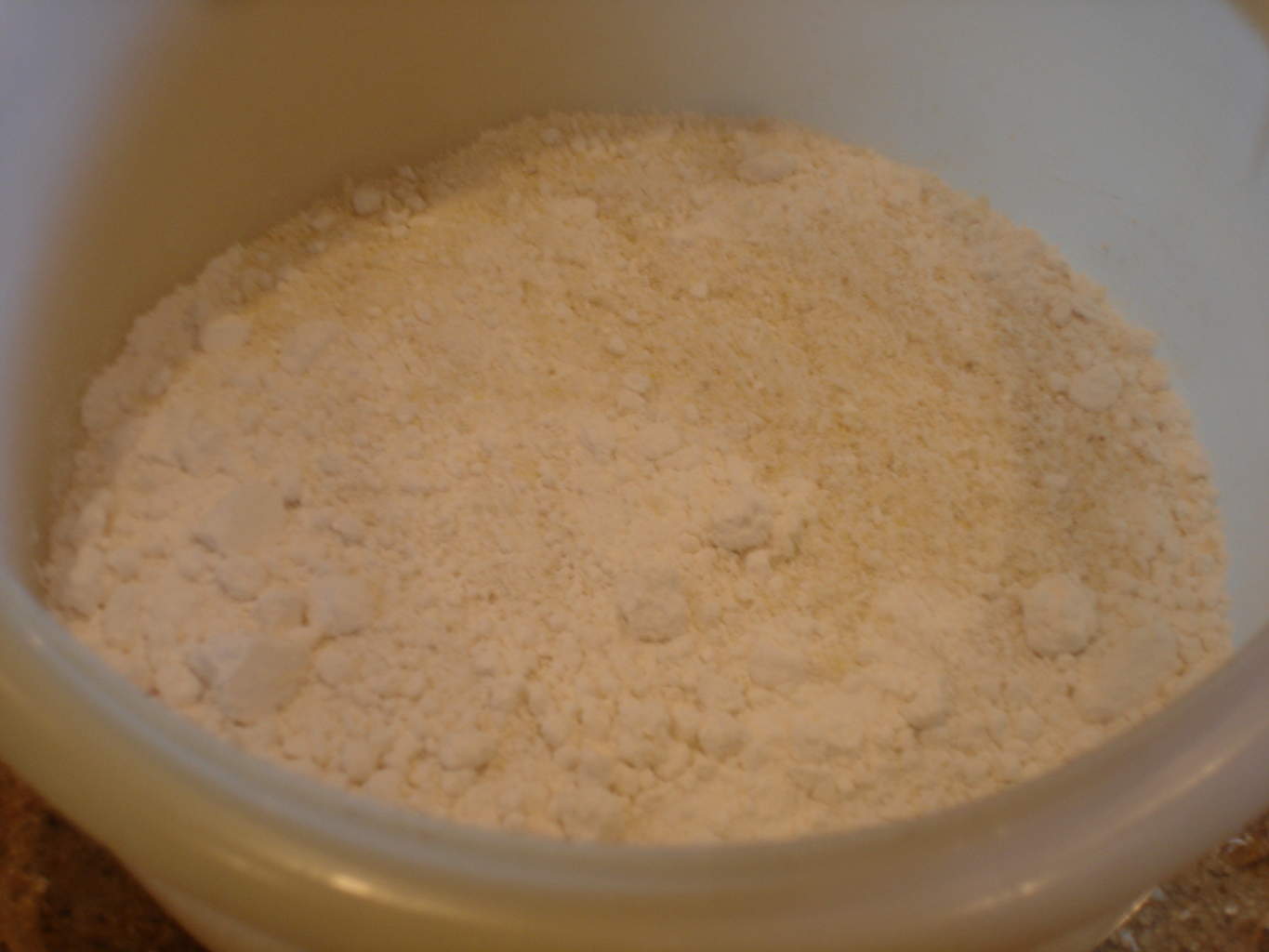 Heat cast iron skillet.   Add bacon drippings and melt.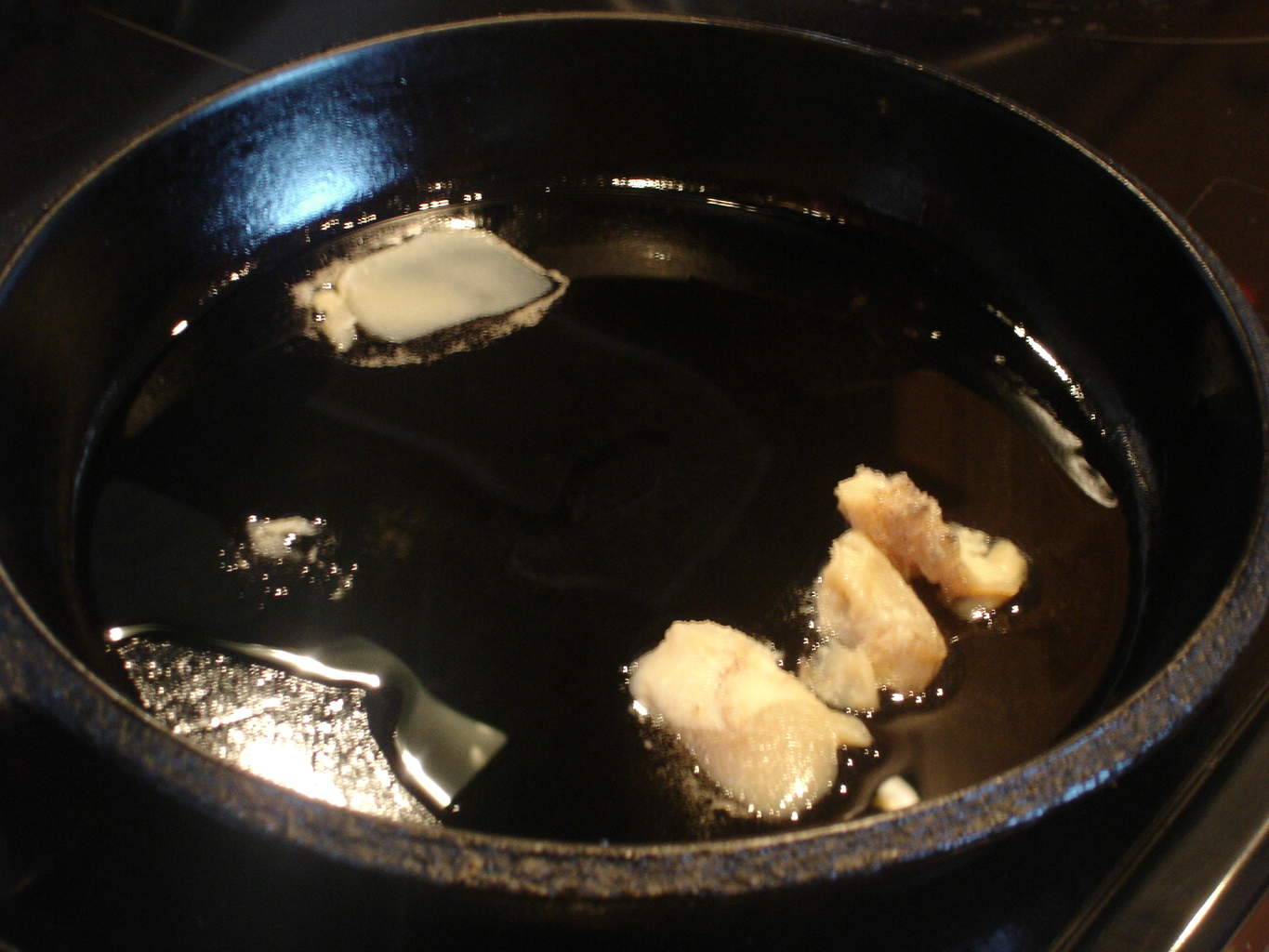 Mix together aforementioned wet and dry ingredients.    Pour half the melted bacon dripping into batter to add flavor throughout.   Stir well.  Pour batter into hot skillet.  If you've gotten your skillet hot enough, the edges of your batter will bubble up immediately. Bake at 425 degrees for 25 minutes or until the top is nicely browned.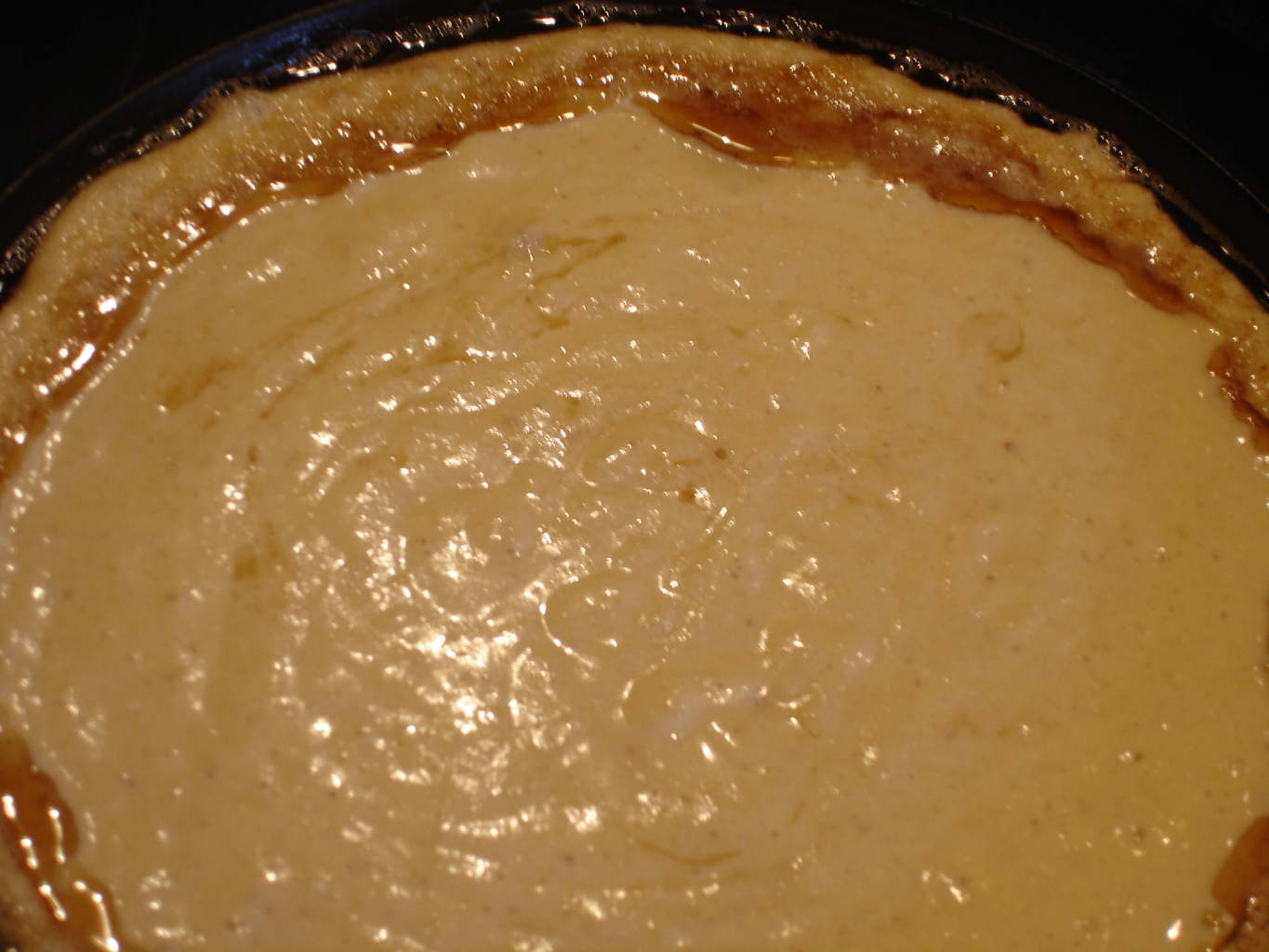 Sugarless Eggbread