Distractions have become a part of our lifestyle.  Anytime of the day or night, you can Facebook, Twitter, text, email,  Skype, Google +1 or instant message.    You can spend your entire birthday or Christmas networking electronically.   There's always plenty of distractions.     In the middle of the distractions, we  lose our way and forget about the importance of  manners, listening and caring.     We lose our vision and forget who we are and what's important to us.   In the words of Carl Jung,
"Your vision will become clear only when you look into your heart.   Who looks outside, dreams.  Who looks inside, awakens."
I'm going to  look into my heart and my spirituality.   It is right and good for me to do this.   From the evening of Thursday, 10/6/2011 through Sunday 10/9/11, I will be completely unplugged.   No telephone.   No computer.  No distractions.    Just an awakening.
My heart is open and ready to receive many blessings.
I want to leave you with an apple pie to enjoy while I'm away on my Walk to Emmaus retreat.  I picked out the best apples  I could find and used my favorite spice blend.   Only the best for you.
Take care of  yourselves.
 Old Fashioned Apple Pie
The simplest things are the best.   Apples mixed with sugar, spices and thickening and baked in a crust.   That's all there is to it.     Spectacular!
6 apples of at least two different varieties (I used Granny Smith and Gala)
1 lemon, juiced
1/2 cup brown sugar
1/2 cup white sugar
1/4 cup all-purpose flour
1 1/4 teaspoons cinnamon blend or apple pie spice (You can substitute 1 teaspoons cinnamon and 1/4 teaspoon nutmeg.  I used Pampered Chef Cinnamon Blend.)
1/4 teaspoon salt
2 tablespoons unsalted  butter, cubed
1 tablespoon milk (optional)
raw sugar (optional)
2 unbaked 9 inch pie crusts
One, two, three, four, five, six apples.   Some recipes call for 3 pounds of apples.  Some call for 8 cups of apples.  Counting out 6 apples is easier than measuring.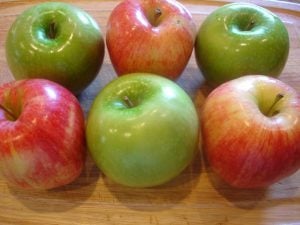 Peel apples and try to keep the peelings whole.   Just kidding!  You can break the peelings as many times as you would like.  Cut out the stem and bloom end.   Half the apple…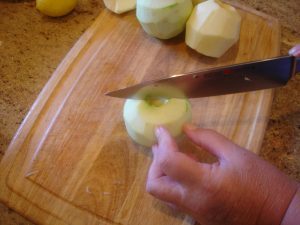 …..and cut it in fourths.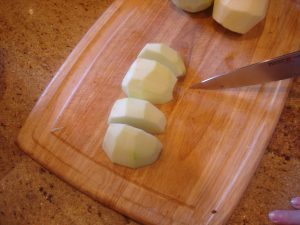 Now, take a section, hold your knife at an angle against the core, slice the core and remove.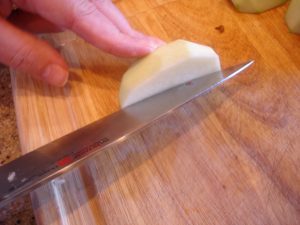 Like this.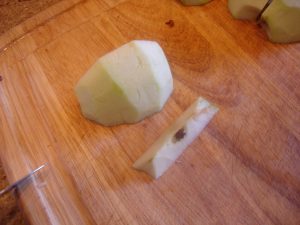 Slice the apple crosswise instead of lengthwise.   The smaller pieces fit in the crust better.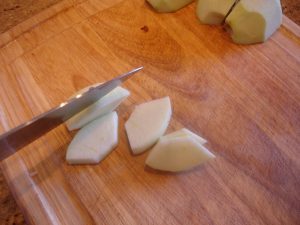 Toss the sliced apples with the juice of one lemon which adds flavor and keeps the apples from browning.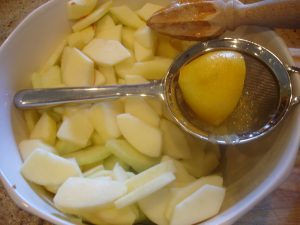 Mix flour, both sugars, spices and salt.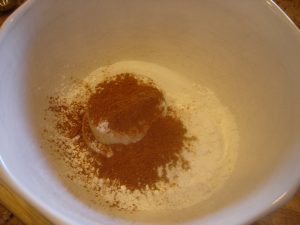 Toss with apples.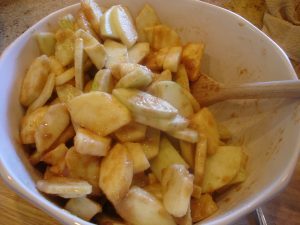 Pour into an unbaked 9 inch pie crust in a deep dish pie pan.  Dot with butter.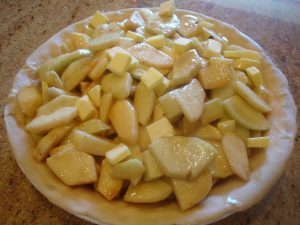 Cover the top with pie crust, brush with milk, sprinkle on sugar.  This is optional but I think it gives the crust a nice texture.   Cut several slits in pie crust.  Bake at 450 degrees for 15 minutes then 350 degrees for 40 minutes or until the crust is golden brown and the filling is bubbly.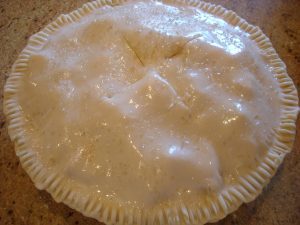 Remove when done and let cool for two hours before cutting.   You should probably leave your house while the pie's cooling for two looooong hours.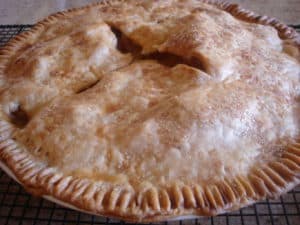 Since the move to our new domain, we've been having a hard time getting the email delivery system working smoothly.   Some of the email subscribers haven't gotten all of the latest posts.   We think we've iron out all the wrinkles.    Here's the latest posts.  Please check them out and share them if you would like.  Click on the name of the post  above the recipe title and it will transport you magically to the original post.
Recipe:  Braised Beef Brisket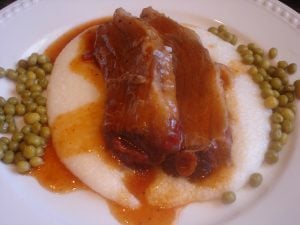 Recipe:  Apple Fritters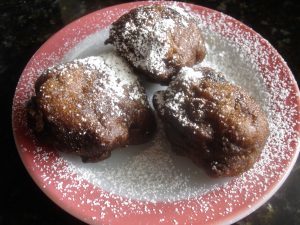 Recipe:  Ham Biscuits with Honey Mustard Butter