In 1965, we moved to a new neighbor in Mobile, AL. Our next door neighbor invited us over for dinner shortly after we got settled. My mother graciously accepted the offer. The neighbor asked Mama if we'd ever eaten tacos. My mother replied that not only had we never eaten them, we'd never heard of them. The neighbor described tacos as being seasoned ground beef that you put on tortilla shells and then top it with lettuce, tomatoes, onions and cheese. I know good and well that my mother had no idea what tortilla shells were, either. But, she stood there looking excited and never asked about tortillas.
At dinner, she told my father that she had met the neighbors and that we had a dinner invitation. She described the tacos just as they had been described to her. I couldn't wait for the chance to try this exotic sounding dish. Our meals were composed of familiar Southern dishes. The most exotic we got was when Granny fixed her "boiler full of spe-ghetti" or when she added chicken feet to Chicken and Rice.
The time for the highly anticipated dinner party finally arrived. Our neighbor used flat hard taco shells and taught us how to build the tacos. We didn't know if we should pick them up and eat them or use a fork. We probably did some of both.
We all loved tacos and they instantly became a dinner staple in our house. We made the migration from flat hard tacos to the hard formed tacos.
The first time my husband experienced the exotic taco was at my parent's house while we were dating. His family meals were very similar to ours and he hadn't heard of tacos, either. His reaction was pretty much the same as ours and they became one of his favorites. More than 3 decades later, they're still one of his favorites. He would just as soon have homemade tacos as a steak dinner.
The latest Gooseberry Patch newsletter announced the arrival of their cookbook, 101 Hearty Recipes, with a preview of 20 recipes. I scanned the recipes and Meatloaf Mexicana caught my eye. The ingredients called for ground meat, jalapenos, cheese , tomatoes and taco sauce. That's almost a taco! Knowing my husband's love of tacos, I thought he would enjoy this meatloaf…errr….taco….errr…..taco meatloaf. I jotted a few items down on a shopping list and became grocery store-bound.
As I prepared the ingredients, it occurred to me that this is a dish with an identity crisis. Being the nurturing soul that I am, I feel the need to help this dish find itself. That's the least I can do. Meatloaf and tacos are both fine dishes. Neither has any reason to be ashamed. My house is quiet and free of distractions now. I can devote as much time as needed to the taco meatloaf and its fragile ego. It's all in a day's work. I do more in my kitchen than just cook. I listen to the food when it's required.
Y'all come see us!
**********
Meatloaf Mexicana
Adapted from Gooseberry Patch's 101 Hearty Recipes
I increased the amount of lean ground beef to 1 pound and used oatmeal instead of dry bread crumbs. In place of Monterey Jack cheese, I used 4 Cheese Blend. The recipe called for jalapeno and I substituted pickled jalapeño slices.
For meatloaf:
1 pound ground sirloin
1 pound ground pork
1 1/4 cups 4 Cheese Blend, divided
1/2 cup taco sauce
1 cup quick cooking oatmeal
2 eggs, beaten
1 tablespoon fresh parsley, minced
2 teaspoons pickled jalapeno, finely diced
1 teaspoon salt
For toppings:
iceberg lettuce, shredded
tomatoes, chopped
onions, chopped
shredded cheese
additional taco sauce
Combine ground sirloin, ground pork, 1 cup of cheese, taco sauce, oatmeal, eggs, parsley, jalapeno and salt. Don't over mix. Pat into a 9″ x 5″ loaf pan that has been sprayed with non-stick spray. Yep, it looks like meatloaf.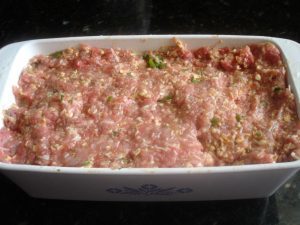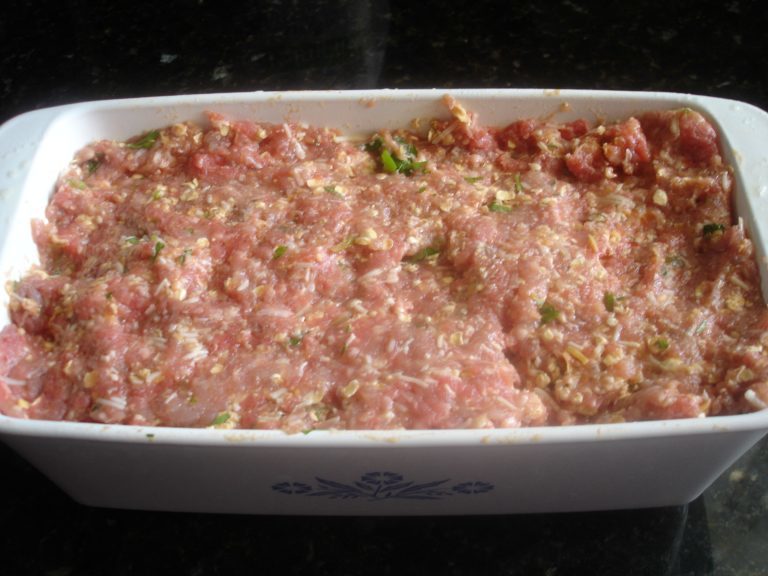 Bake at 350 degrees for one hour or until cooked thoroughly. Still looks like meatloaf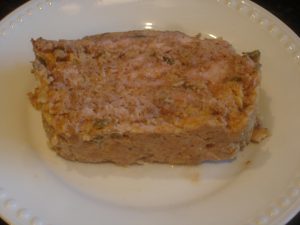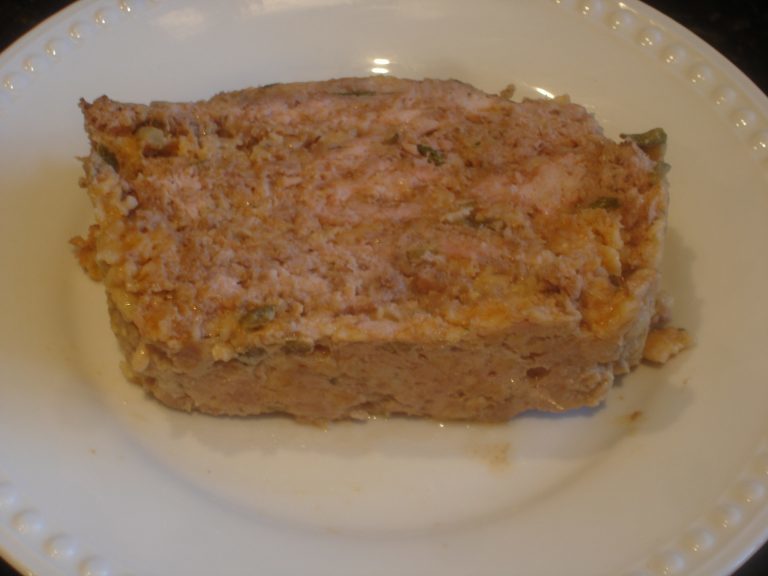 Top it with lettuce, tomato, onions, cheese and taco sauce. It thinks it's a taco without shells. Si!
My husband generously sprinkled Fritos (read: he dumped 1/2 a bag) on his plate. I didn't get a picture because all you could see was a plate of Fritos. He loved this recipe and I will certainly make it many, many more times.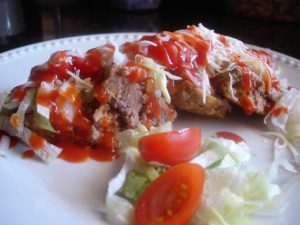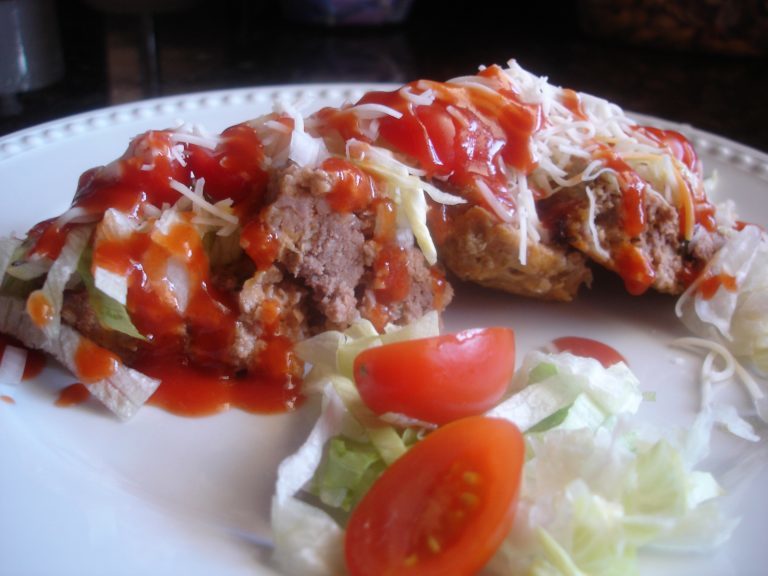 Next day, it's time for a meatloaf sandwich. Now, it's meatloaf……again.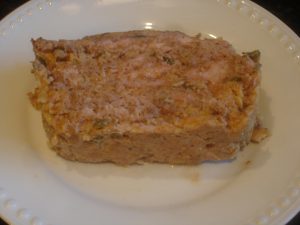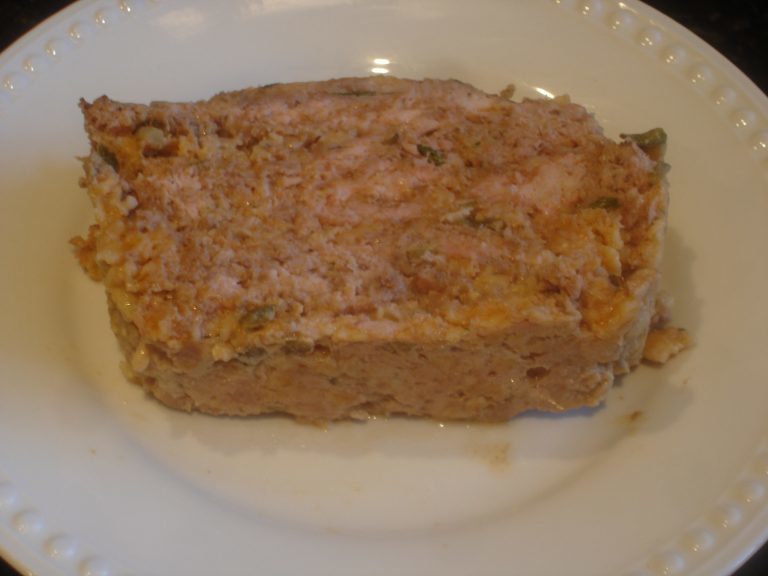 With consultation, I helped the taco meatloaf see that it doesn't have an identity crisis after all. It has versatility instead! We rejoiced and celebrated. There wasn't a dry eye in the kitchen and it had nothing to do with the chopped onions.
*********
Please check-out the previous post, My Walk to Emmaus, and the recipe for an Old Fashioned Apple Pie by clicking here.