With a glass of sweet ice tea in one hand and a Mary Mac's Tea Room cookbook in the other, I head out to my hammock under the Grandfather Oak trees. After leafing through a few pages, I knew I had chosen exactly the right location to begin reading this cookbook. It reads like a novel and makes you feel that you are in the kitchen with your mother and grandmother while the family ambassador, Aunt Sybil, greets everyone warmly, squeezes their cheeks and talks about how much you've grown since she saw you last even if you are well into adulthood. This cookbook is like a homecoming. Every page is filled with gracious Southern hospitality. I've never had the pleasure of dining at Mary Mac's. After reviewing this cookbook, I'm considering a drive to Atlanta just for that purpose.
The 196 page full color cookbook, published by Andrews McMeel Publishing, has over 125 recipes of this iconic Atlanta restaurant and contains stories of the restaurant's history along with tributes to some loyal customers. A snippet from the inside leaf of the dust cover says its best:
"Mary Mac's Tea Room is not only the story of a restaurant that has served diners for over 65 years, it is also a story that plays out over decades and includes founders, family, friends,employees and, most of all, loyal customers."
John Ferrell is the current owner of Mary Mac's Tea Room and the author of the cookbook. He purchased the restaurant in 1994 from Margaret Lupo, who ran it for more than 30 years. Mr. Ferrell lives in Atlanta.
Chapter one starts off with Appetizers and some history. Black-eyed Pea Cakes turn black-eye peas into fritters and I've never met a fritter, of any description, I didn't like. According to the folks at Mary Mac's, Brunswick Stew is an appetizer. If that's an indicator of what their interpretation of a full meal is, I can't wait to visit. Fresh Corn and Bacon Chowder slapped me upside the head. The recipe and full tutorial is included in this post.
Beef, Pork and Poultry plus the story of Margaret Lupo form the foundation for the chapter that contains Fried Chicken. It's against the law of nature to write a Southern cookbook and not have a recipe for Fried Chicken. Their method is to steam the chicken after it's fried which must result in an incredible, mouth-watering, juicy piece of Fried Chicken. Meatloaf with Tomato Sauce looked so good I just had to try this recipe before I reviewed the cookbook. I posted the recipe on Facebook and people went wild over it. The sauce is good enough to drink by itself. The next time I make this meatloaf, I'm making a double batch of the sauce.
Cinnamon Rolls share the billing with Buttermilk Biscuits and Granddaddy Ferrell's Eggnog in Bread and Beverages. The story of Margaret Lupo's decision to sell Mary Mac's is heart rendering and conveys her's and John Ferrell's true love for the restaurant, it's history, traditions and customers.
A tribute to Mary Mac's customers leads off Seafood which highlights intriguing recipes such as Crawfish Gumbo and Deviled Crab.
John Ferrell's father, John Ferrell, Sr., makes all the hot pepper sauce for the restaurant. When Mr. Ferrell, Sr. first begun making all the restaurant's hot pepper sauce, he grew all the pepper plants himself. Since that time, John Ferrell, Jr. has transferred some of his father's pepper plants to his farm in North Carolina. The elder Mr. Ferrell's recipe for Pepper Sauce is included in Pickles and Canning along with an introduction to some of the restaurant staff. The staff tribute continues in Sides and offers up Fried Green Tomatoes, Baked Eggplant with Cheddar, Collard Greens and Pot Likker.
Appealing to Southerners' infamous sugar affinity, Desserts showcases Blackberry Jam Cake and Sweet Potato Cake. The sweetness continues as Mr. Ferrell proudly acknowledges all the wonderful reviews and rewards the restaurant has received.
In my possession for only a short while, this cookbook has become a favorite. It has earned it's rightful spot in my cookbook collection along side the cookbooks with food stains. Those are the ones I use the most.
This cookbook may be purchased from amazon.com and barnesandnoble.com.
Y'all come see us.
*********************************
Fresh Corn and Bacon Chowder
We are in the height of the Florida sweet corn season and I couldn't resist using some of that delicious sweet corn for this recipe. The results were outstanding. I seriously recommend this recipe. Seriously.
8 ears fresh corn, kernels cut and milk scraped
4 slices bacon, diced
1/2 cup finely chopped sweet onion
1/2 cup thinly sliced celery
1 cup water
2 cups whole milk
1 teaspoon sugar
1 teaspoon dried thyme
1/2 teaspoon salt
1/4 teaspoon freshly ground black pepper
2 teaspoons cornstarch
In a large Dutch oven over medium heat, render the fat from the diced bacon. Remove the bacon after it gets crisp and set aside. Reserve 2 tablespoons bacon drippings. Add onion and celery to bacon drippings and cook on medium high heat until tender, stirring frequently, about 5 to 7 minutes. Stir in the corn, corn milk and water. Bring to a boil, cover, reduce the heat and simmer for 10 minutes, stirring occasionally. Stir in 1 1/2 cups of the milk, the sugar, thyme, salt and pepper and cook over low heat. Combine the cornstarch with the remaining 1/2 cup milk. Stir until cornstarch is dissolved and add to corn mixture, stirring often until the mixture is thick and bubbly. Garnish with reserved bacon pieces.
Start with good fresh sweet corn. Discard the husks and silks. The finished product will only be good if the corn is good. I used Florida Supersweet Corn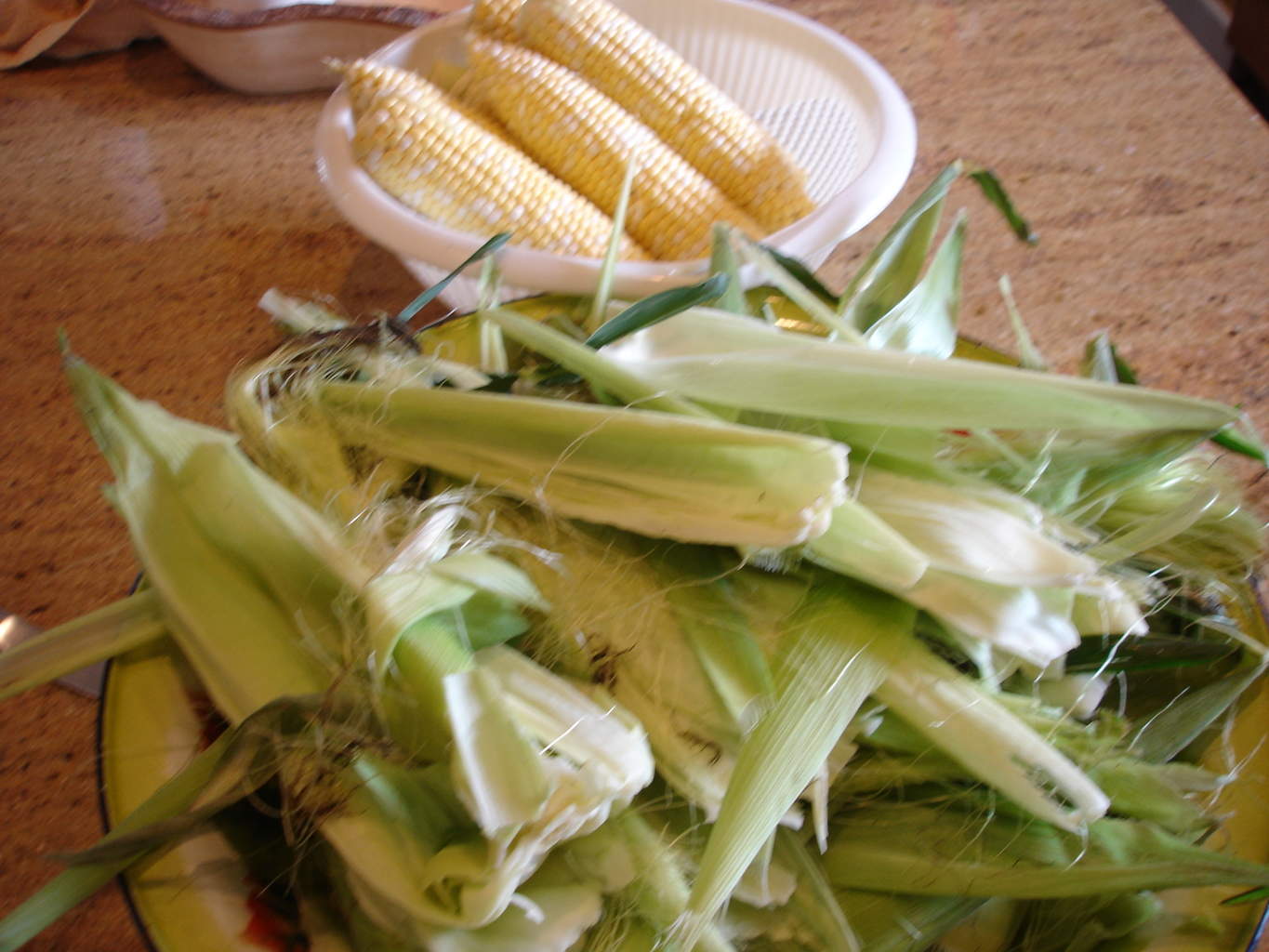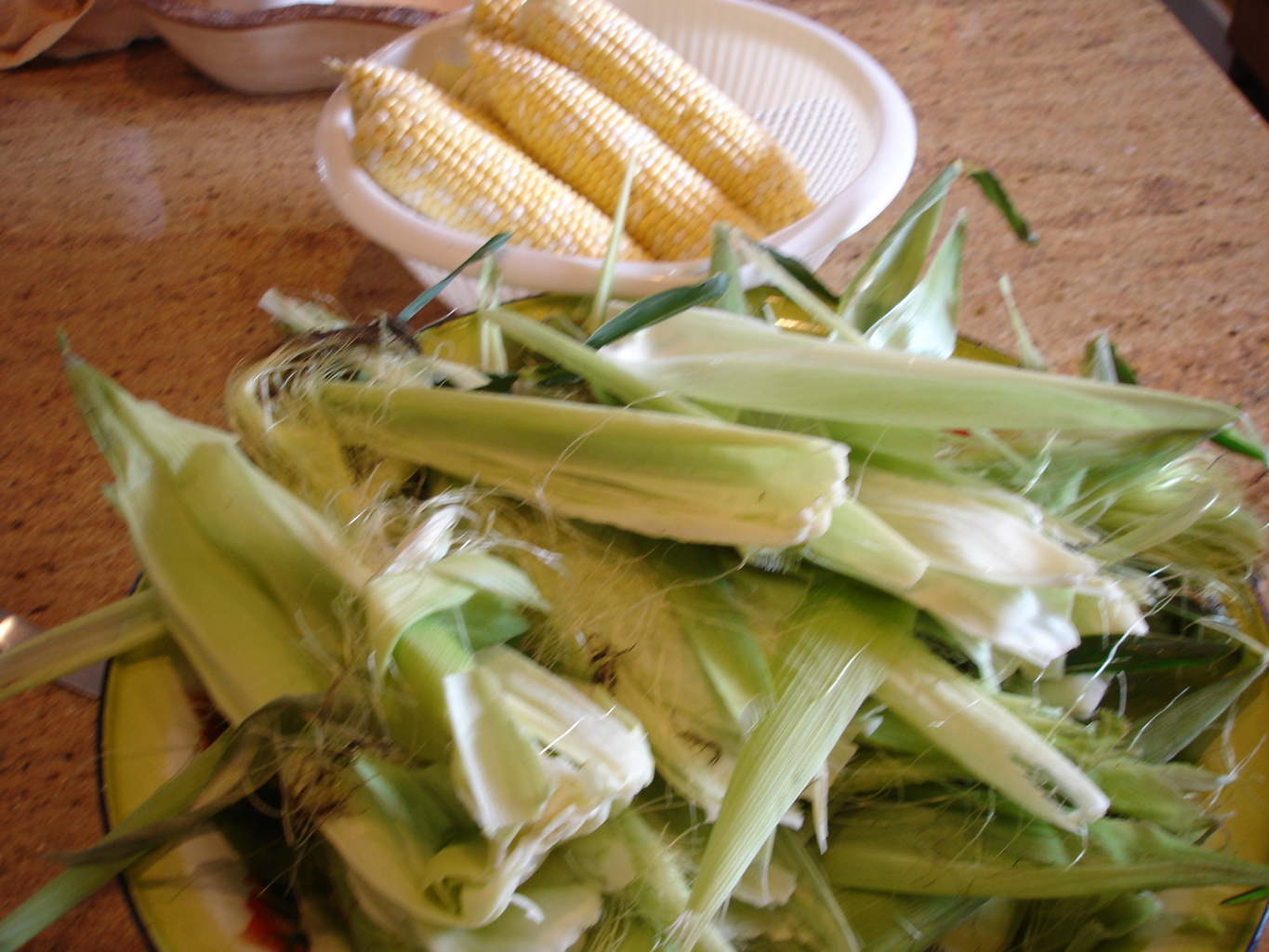 Cut the kernels and scrap the milk.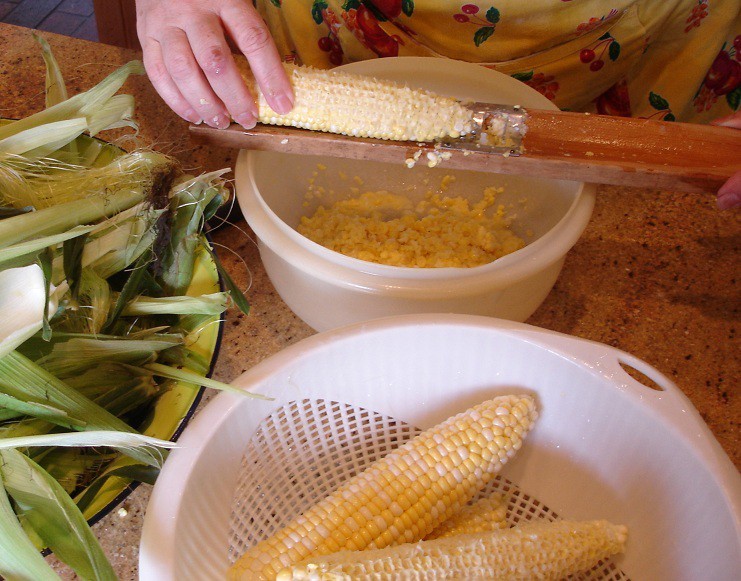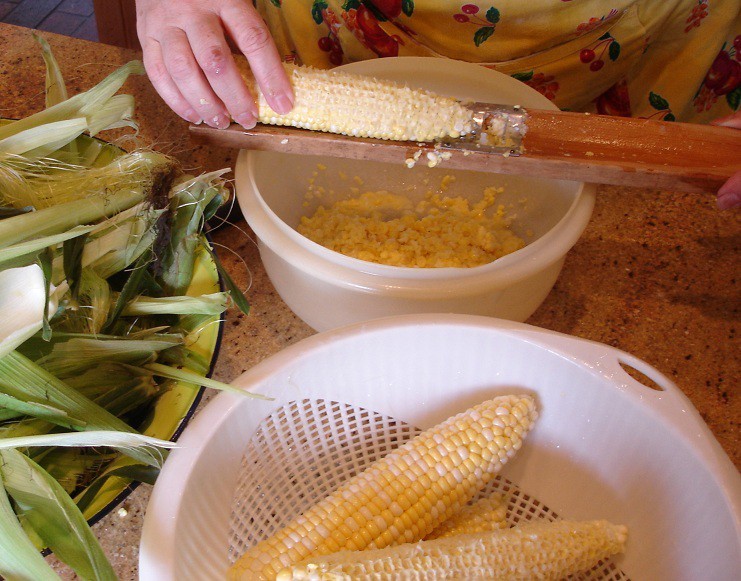 Kernel and milk from eight ears of corn.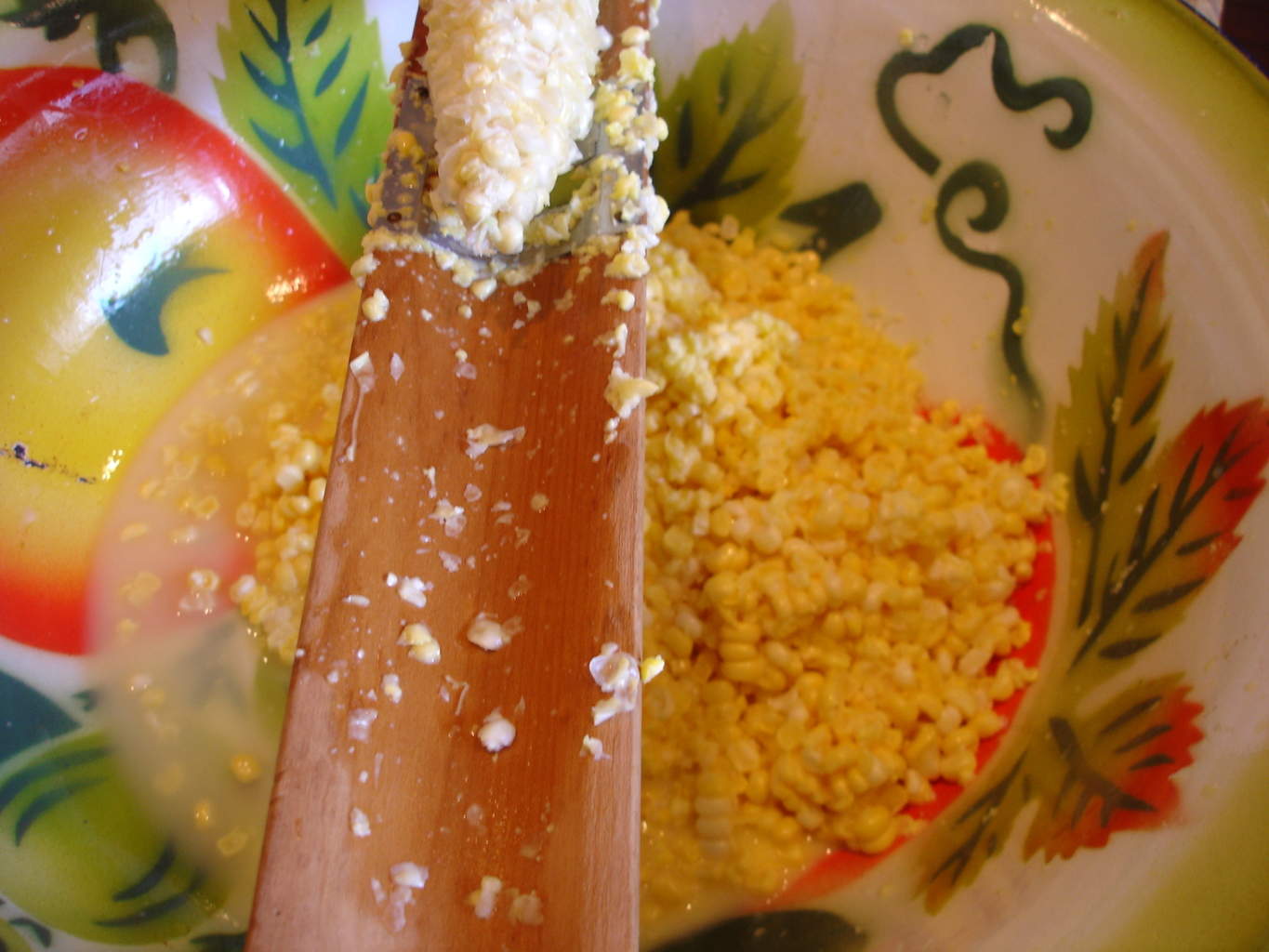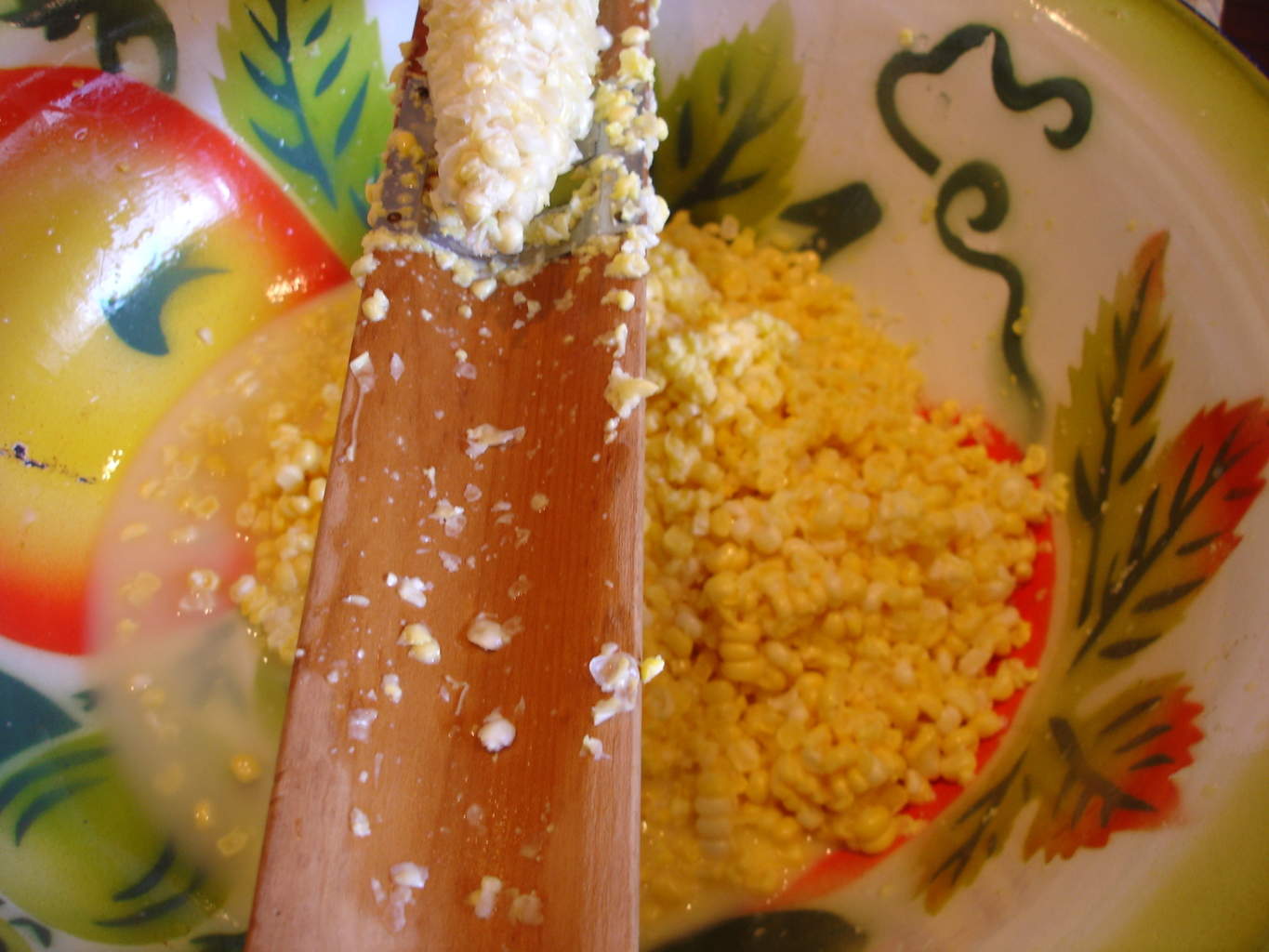 Render the fat from three slices of diced bacon. Set the bacon aside after is browned. Reserve two tablespoons of the bacon drippings.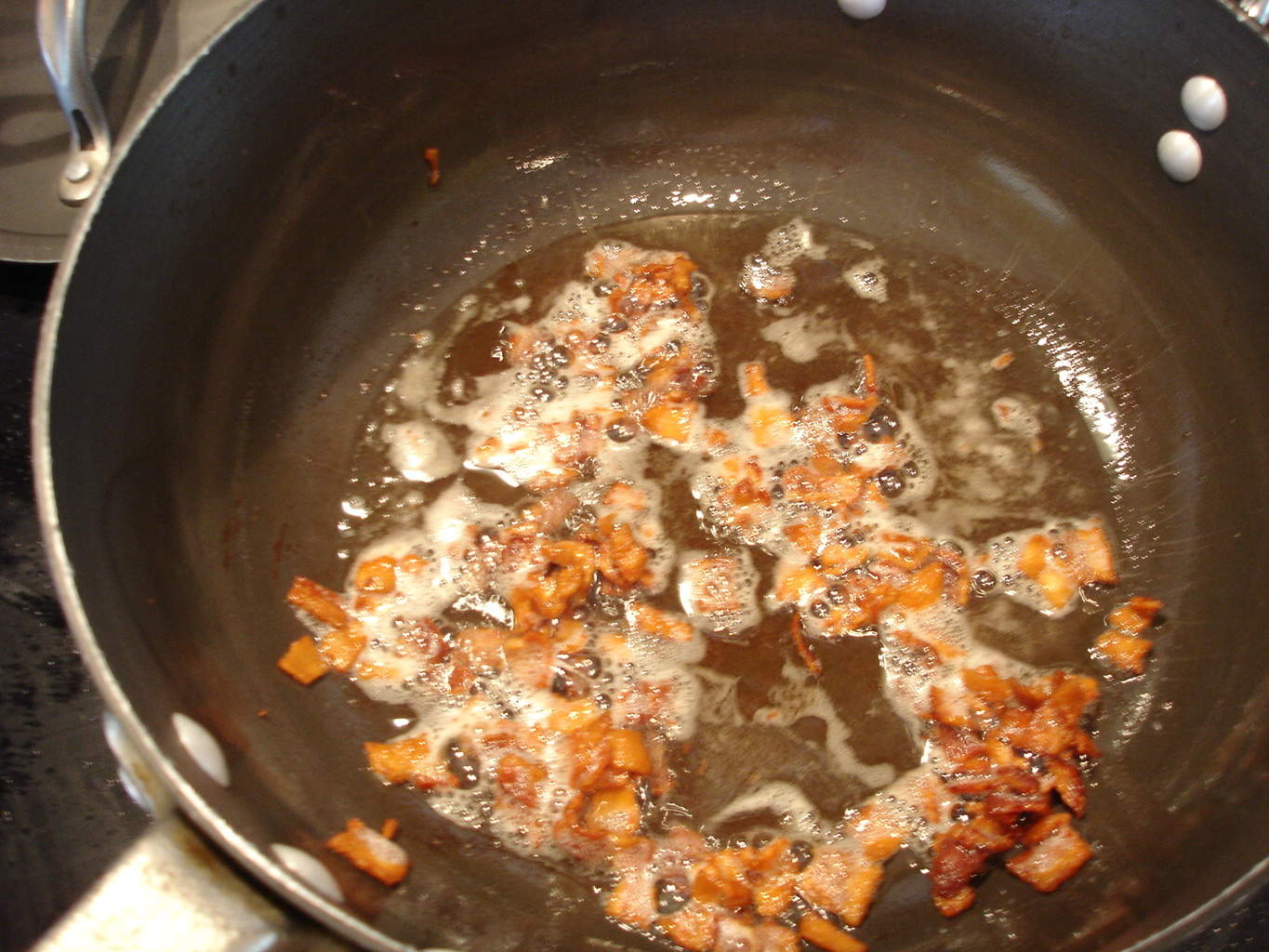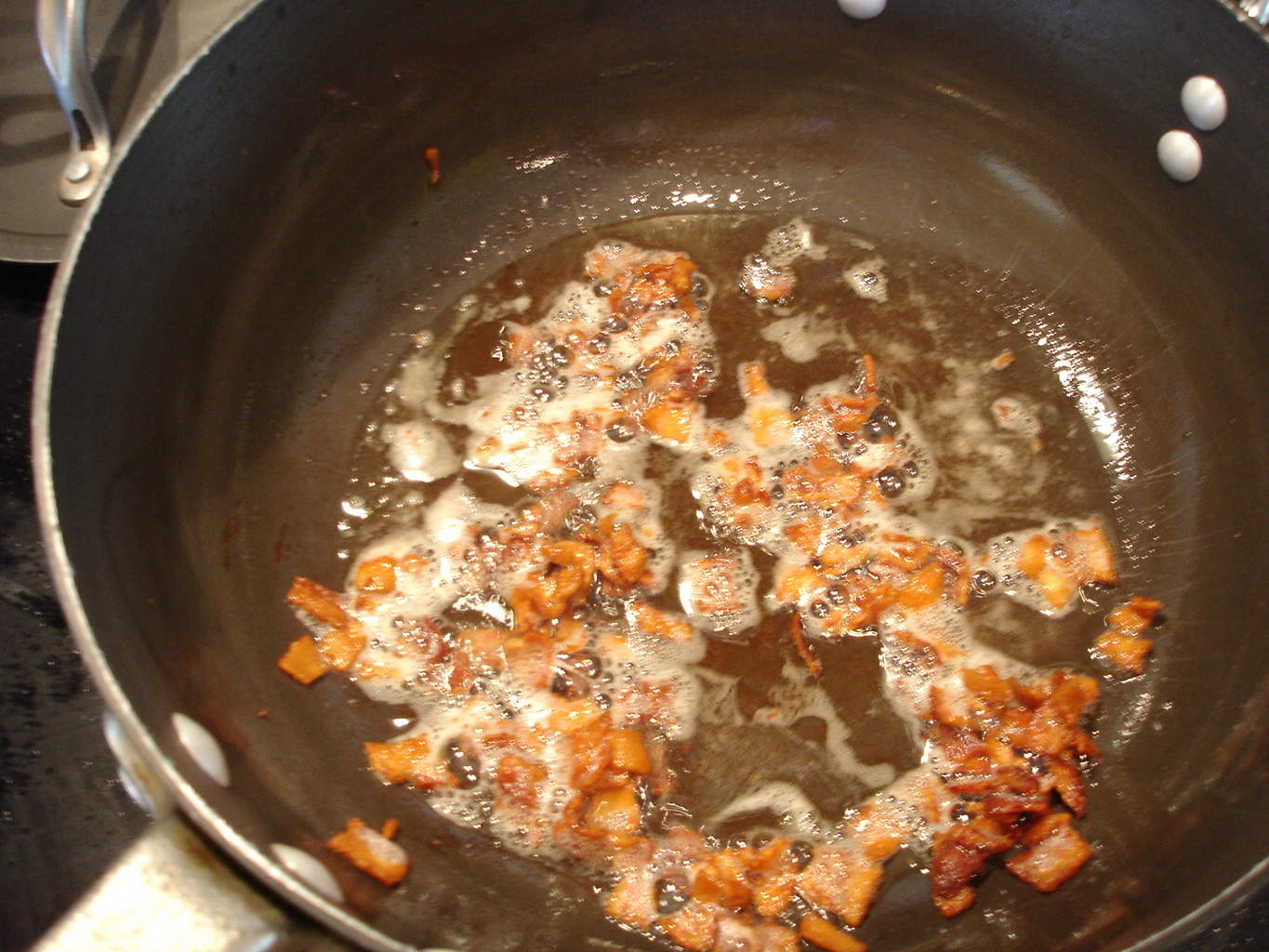 Add diced onions and celery. Cook until tender.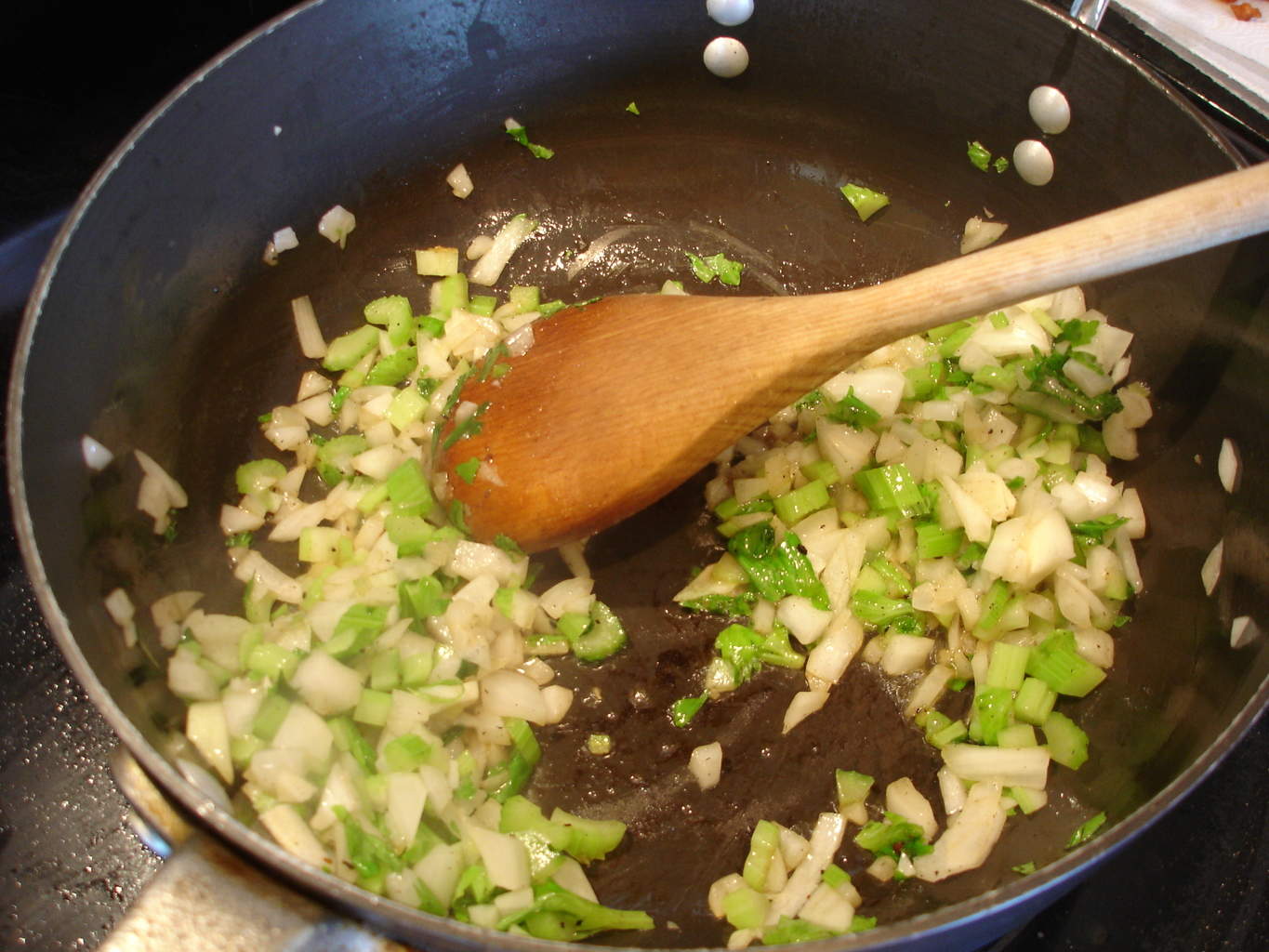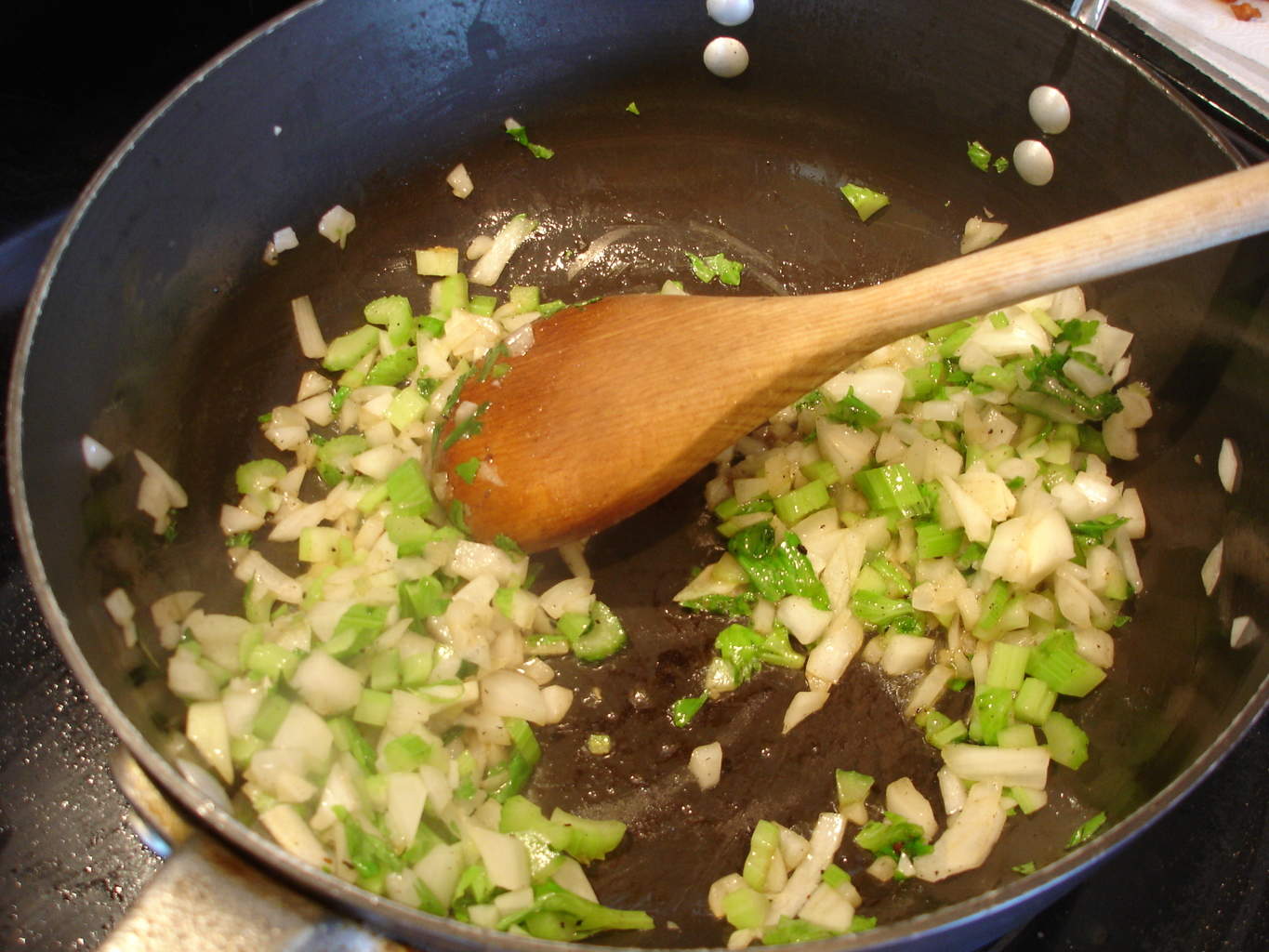 Add corn kernels, corn milk and water. Bring to a boil, cover and and cook for 10 minutes, stirring occasionally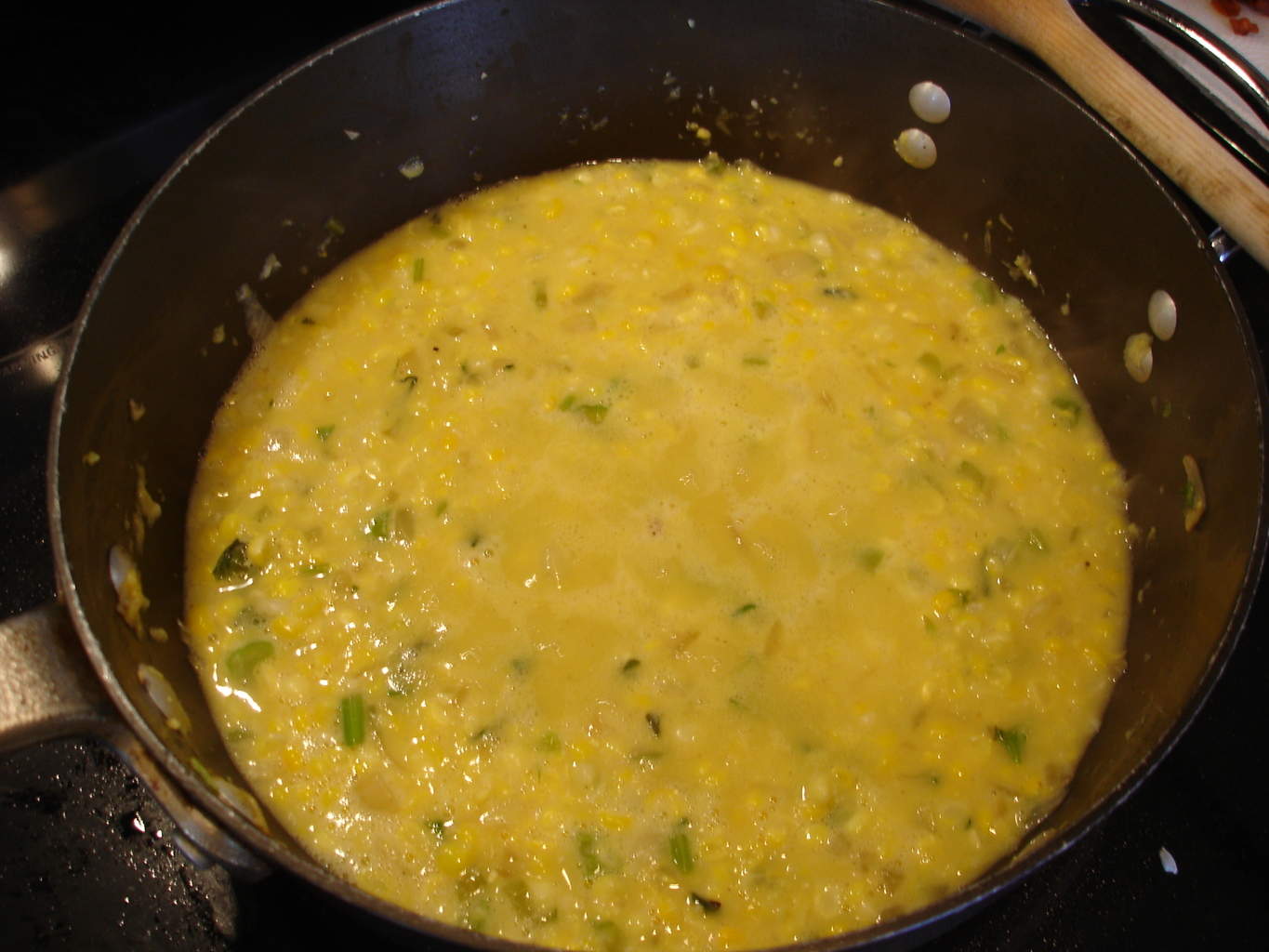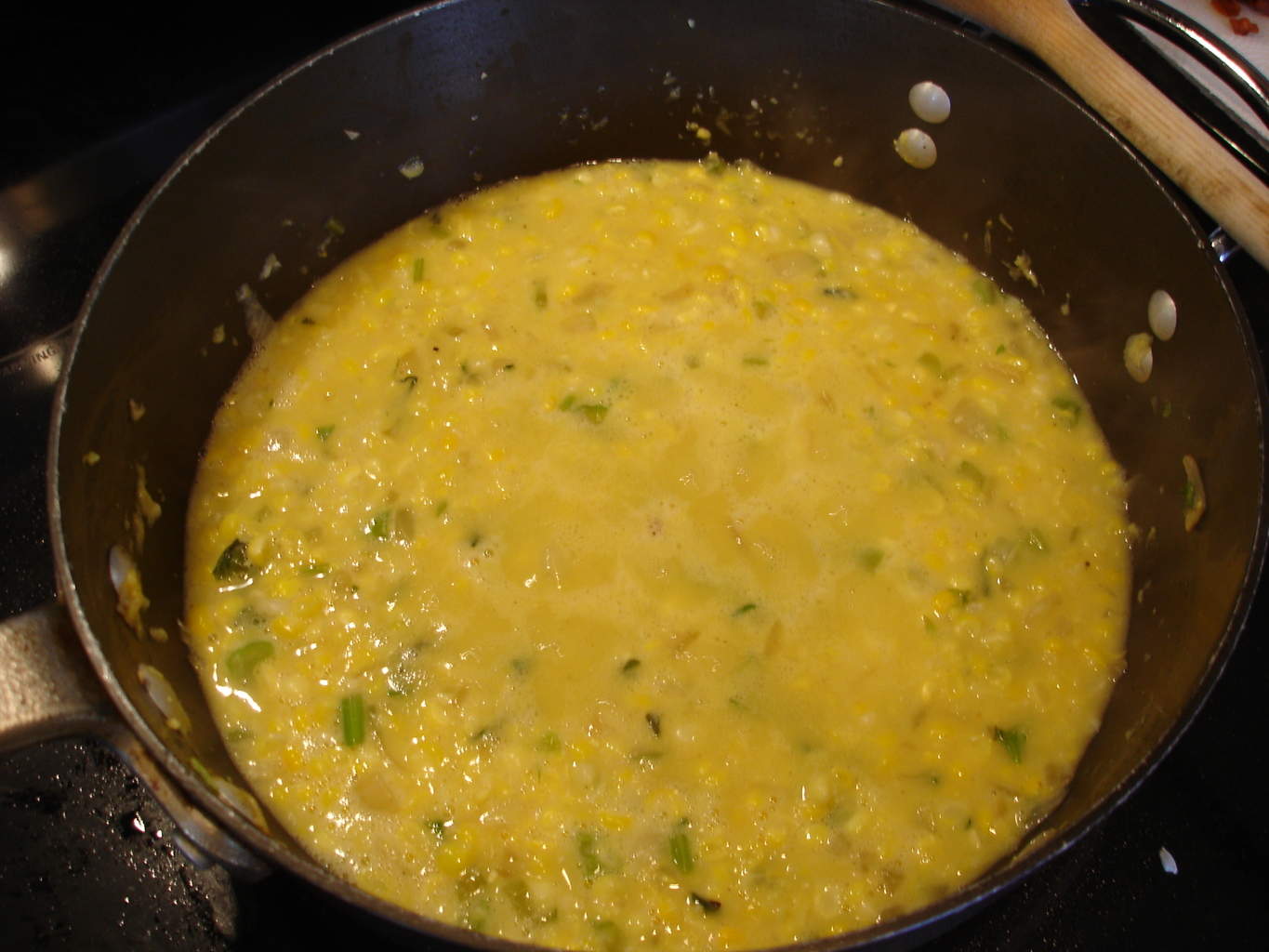 Add 1 1/2 cups milk, water, sugar, salt, pepper and thyme. I omitted the sugar because the corn was so sweet. I also reduced the amount of dried thyme to 1/2 teaspoon. A whole teaspoon of dried thyme seem like it would be too much.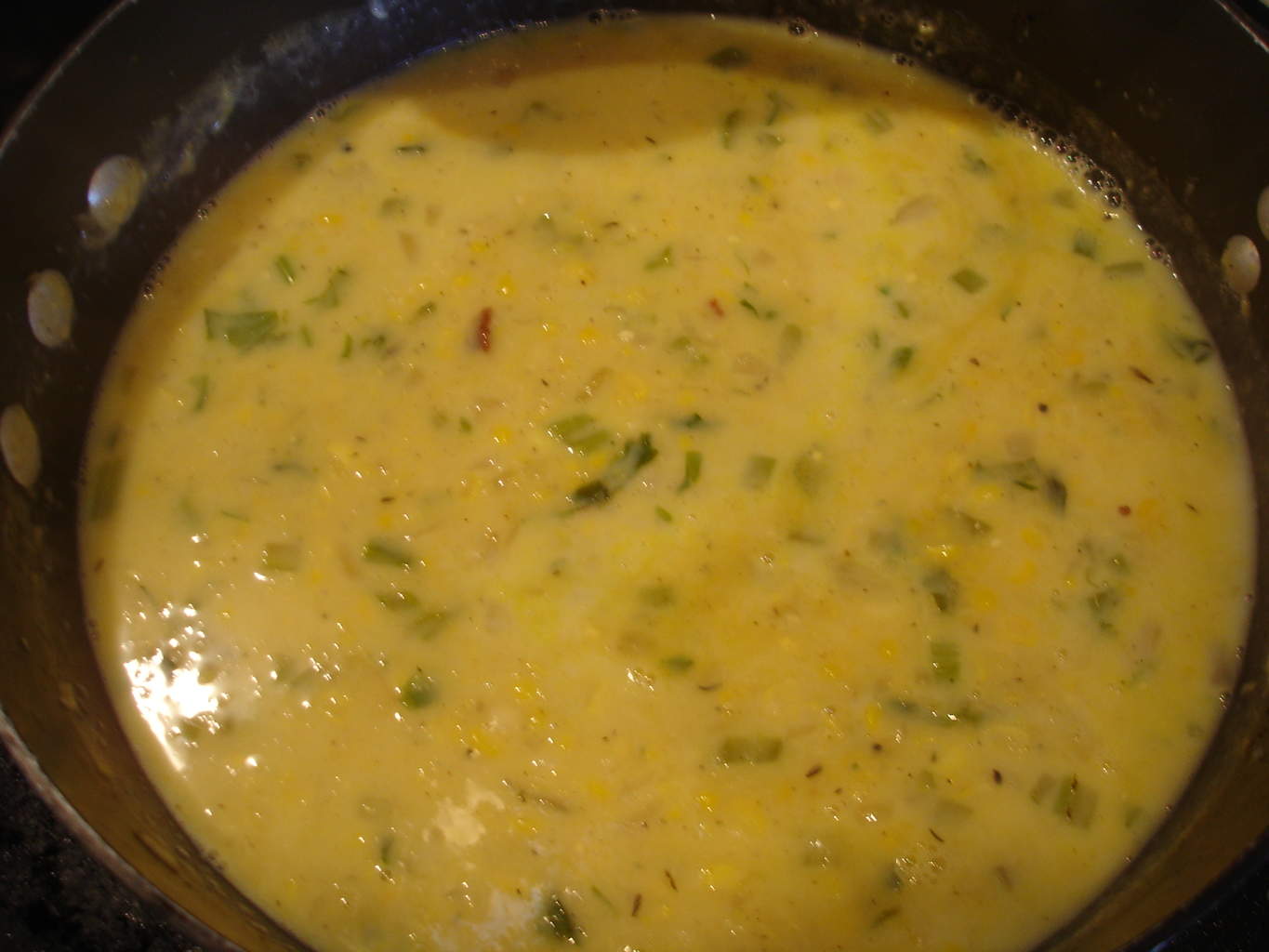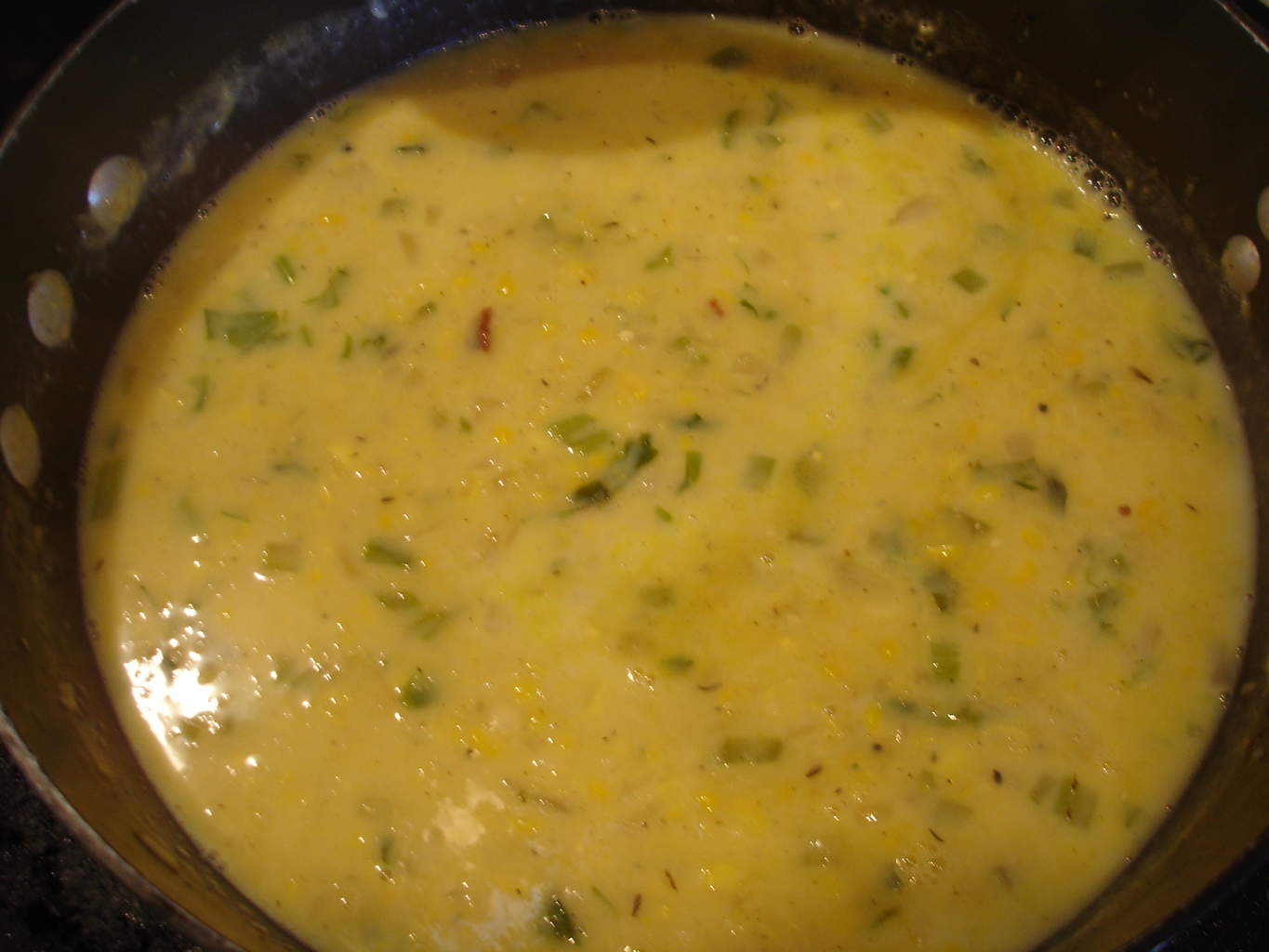 Serve in cups and garnish with reserved bacon pieces.