Turnips have edible leaves and roots.   They're a winter crop grown throughout the South.  The leaves are more tender than collards and have a milder flavor.  Cooking the roots and leaves together is common and was the practice of my grandmother.   She would separate the roots and greens after they cooked and each got their own serving bowl.  She sat the bowl with the roots in front of me  so I could get my "bait" of turnip roots.  I've always loved them.  And her.
Browsing one of my favorite cookbooks a few years back, The Gift of Southern Cooking, written by Edna Lewis and Scott Peacock, I notice a recipe for Silken Turnip Soup.  At first, the recipe didn't catch my attention.   While I loved turnip roots, I just couldn't imagine them in soup.  Sometime later, I stopped on the recipe's page long enough to read the head note which explained that this soup is so favored by the authors that they make it for Thanksgiving Dinner.  Now, that's an endorsement.  Anything that makes it to a Thanksgiving menu is special.  I was intrigued and very quickly gathered the ingredients to make the soup.  I'm fortunate that my enlightenment occurred during  turnip season.
My family and I  loved this soup so much it  became a permanent fixture on our Thanksgiving menu.  It's so creamy you'd think cream was added.  The combination of turnips, Yukon Gold potatoes and onions creates a palate-pleasing flavor.  Don't make the same mistake I made by snubbing this recipe.  This is a most delicious way to get your "bait" of turnips.
Y'all come see us!
Turnip Root Soup
adapted from The Gift of Southern Cooking, Edna Lewis and Scott Peacock
1 stick of butter
6 medium purple top turnips, peeled and thinly sliced
3  medium Yukon Gold potatoes, peeled and thinly sliced
1 medium sweet onion, peeled and thinly sliced
1/2 teaspoon salt
1 quart chicken stock (homemade or good quality commercially prepared)
dash of grated nutmeg
parsley for garnish, chopped
6 sliced turnips, 3 sliced potatoes, 1 sliced onion.   Goodness is about to happen.
Melt butter in large pan or stockpot.  Add turnips, potatoes , onions and salt.  Toss vegetables to coat.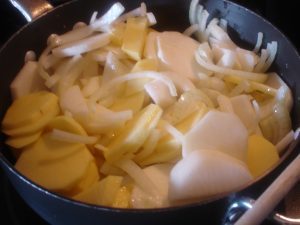 Cover and simmer on medium low heat for 20 minutes until vegetables have started giving off their liquid and are softening.   Add stock.  Cover.  Cook for an additional 20 minutes or until vegetables are tender.  Puree by using an immersion blender or a food processor.  Work in batches if using a food processor.  After the soup is pureed , taste for seasonings and adjust.
Serve hot   in cups or bowls.  Add a dash of fresh grated  nutmeg and a sprinkle of fresh parsley to each serving.  Go easy with the nutmeg.  It can be potent.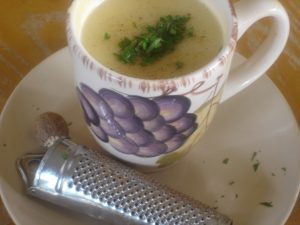 We've starting building our Thanksgiving menu which will include this soup.  You might enjoy:
Upside Down, Inside, Outside Turkey