I had a recipe in mind. There's nothing unusual about that. A big portion of my brain power goes toward thinking about what I want to cook next. A lot of times, it's old favorites. Some of the time, it's new creations. Today happened to be a new creation day.
Today, I thought about taking inspiration from Saltine Toffee Bars. It's pecan season and my husband, God bless his loving heart, shelled 10 pounds of pecans all by himself to make sure he gets plenty of pecan treats this year. He loves Pecan Pie more than he loves his luggage. So, the thought of making a pecan pie like topping for Saltine Toffee Bars seemed like a good idea. I asked him to go to the store and pick up a few things, saltine crackers being one.
My inspiration recipe lines the pan with square saltine crackers. Before today, square was the only shape I knew a saltine cracker to be. Lo, and behold, they now make round crackers and that happens to be what my husband bought for me. I specified whole grain and our store didn't have any square whole grain saltines, only round.
Surely, I can make this work. How much difference can there be between round and square crackers? Probably not much in flavor, but a good bit in appearance.
I lined the baking sheet with round crackers. Actually, lined isn't the right word. I poured the crackers on the baking sheet. They reminded me of tortilla chips preparing to be nachos. After the pecan pie topping was poured on top, they really looked like nachos.
Bada bing, bada boom. Pecan Pie Nachos are born! Layering the crackers in the pan just enough to keep portions of them crunchy, mimics tortillas chips in nachos. The sweet topping, which tastes like a pecan pie, is a perfect friend for the crunchy salty crackers.
Happy birthday, Pecan Pie Nachos. You feel like an old friend.
Y'all come see us!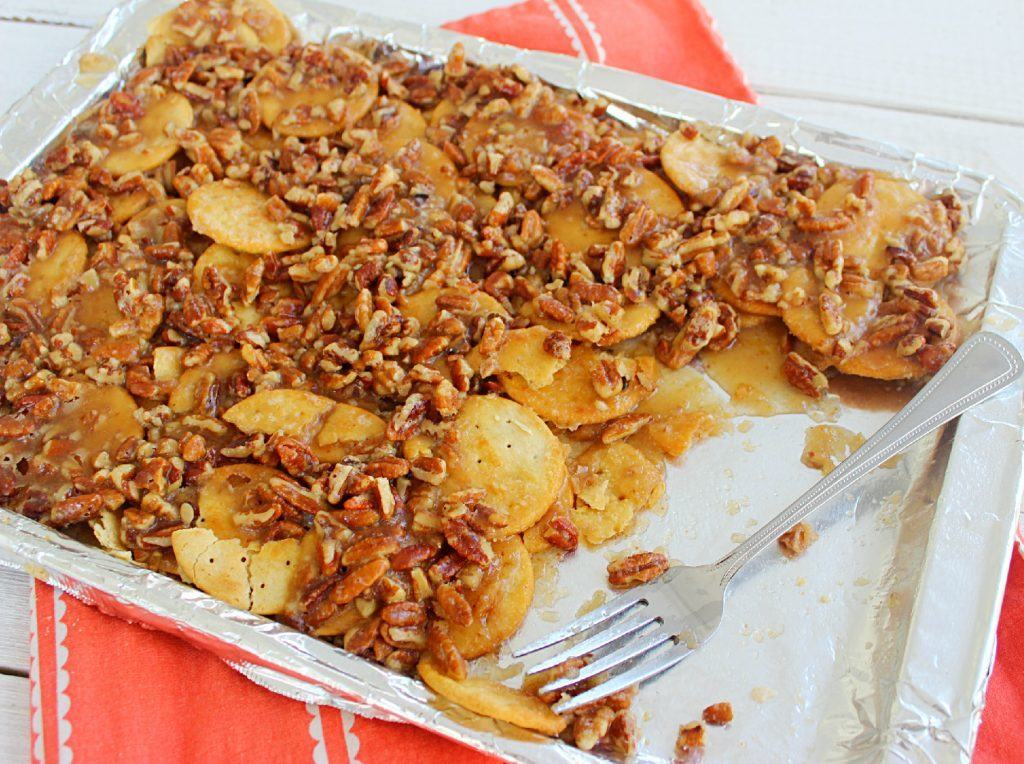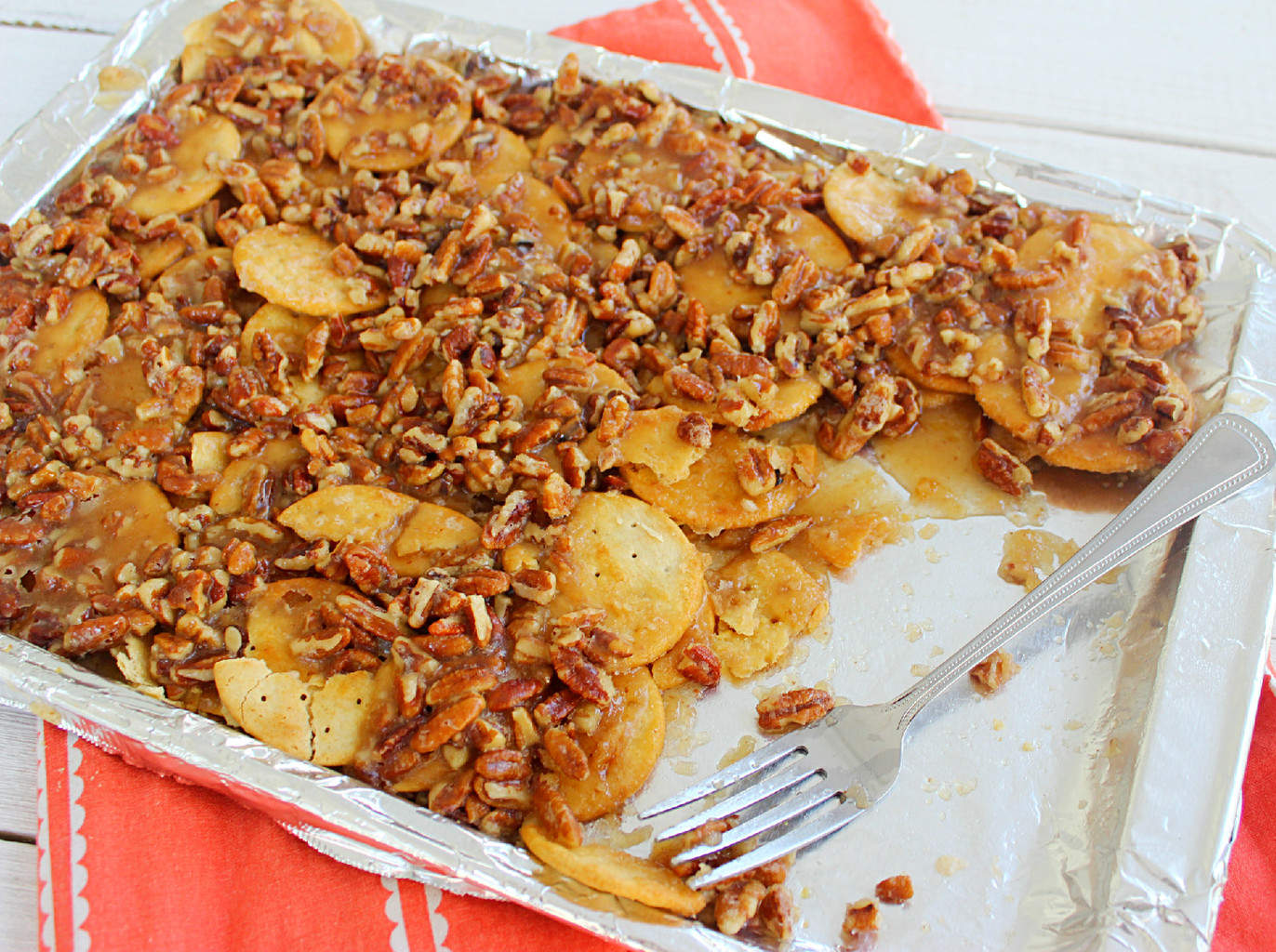 Pecan Pie Nachos
yield: one 9×11 pan
Pour the crackers on the pan and even them out as best as possible. You want some to overlap.
1/2 (10 ounce) box Premium Saltine Round with Whole Grain crackers (approximately)
1 cup unsalted butter
1 cup granulated sugar
1 1/2 cups chopped pecans
1 teaspoon vanilla extract
Line 9×11 baking sheet with aluminum foil and spray with non-stick spray. Completely cover bottom of foil-lined pan with crackers.
Place butter, sugar and pecans in a medium saucepan over medium high heat. Stir constantly until butter and sugar melt. Bring to a medium roll boil and cook for three minutes without stirring. Remove from heat and stir in vanilla extract.
Quickly pour the hot liquid over crackers. Smooth with wooden smooth to distribute pecans evenly.
Bake in a 350 degree oven for 8 minutes. Cool slightly before serving.
You might also enjoy: