The giveaway contest is closed but you can still enjoy the beautiful photos and the recipe for Coconut Pecan Pie Wedges shared by Hoffman Media.
Hoffman Media publishes many well-loved magazines. Taste of the South is beautiful and filled with recipes that pay homage to our Southern heritage and lifestyle. They've included a few of my recipes, too! Other publications include Cooking with Paula Deen, Louisiana Cookin', and Southern Lady, plus more!
If you're not familiar with any of these publications, bless your sweet baby heart. You need to check them out. The mighty nice folks at Hoffman Media want to help you out and offer you a 20% discount just for being a Syrup and Biscuits' reader.
To take advantage of the 20% discount, enter SB as the discount code. This discount offer applies to anything you purchase in their store.
And that's not all………
The Hoffman Media folks thought they weren't busy enough so they created ANOTHER magazine just for you.
They know how much we love our cast iron so they made an entire publication dedicated to everything cast iron. I've previewed this edition and it is stunning. I'm certainly buying a subscription. You'll find recipes such as:
And….they'll have sections for things like Side Dishes.
Just to whet your appetite, they're sharing a recipe with us.
So….how would you like a chance to win something? Of course, you would.
The great Hoffman Media folks have offered a chance for you to win a copy of the premier edition of Southern Cast Iron AND a year's subscription to Taste of the South.
Here's how it works:
(1) Enter a comment below, NOT ON SOCIAL MEDIA, and tell us how many cast iron pieces you own. If you don't own any, you still can enter to win. Just say, "Cast iron rocks!"
(2) The contest will close Monday, 11/23/15 at midnight.
(3) A winner will be randomly selected and notified via email on Tuesday, 11/24/15 and will have twenty-four hours to respond.
(4) Must be a US resident to win.
Don't forget about the 20% discount on anything in the Hoffman Media store. Enter SB as the discount code.
Thank you Hoffman Media!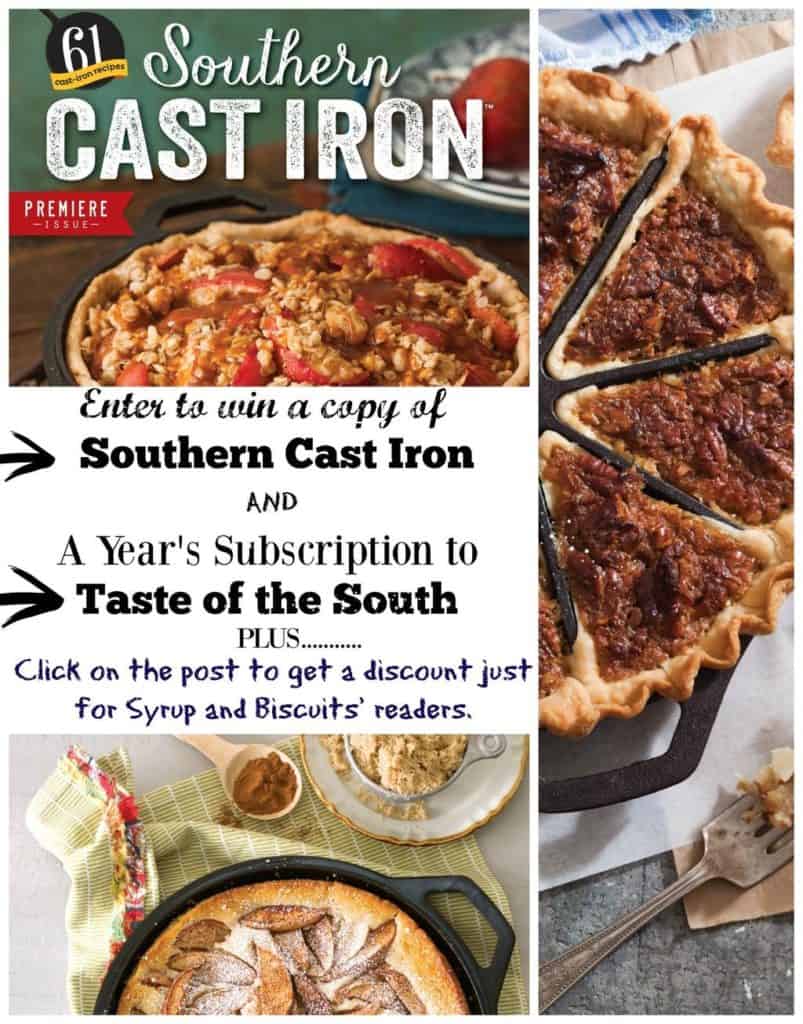 Disclosure: I was offered a copy of Southern Cast Iron. All opinions are my own.
Southern Cast Iron Giveaway and More! https://t.co/DND8dqnBBh via @syrupnbiscuits @hoffmanmedia @castironsouth — Jackie Garvin (@syrupnbiscuits) November 17, 2015