When your college-age kids are home for the summer, strange and unusual things happen. Lots of things go missing (dishes, towels, kitchen scissors, bug spray) and you make discoveries (unidentifiable electronic gadgets whose purpose is unknown to our generation but is widely used by their generation). A recent discovery for me, compliments of my college-age son, was a 6 pack of Sunkist Orange soda that I found in the garage, of all places. We don't drink Sunkist Orange. It's nothing personal, Sunkist. I'm not a big coke drinker, period. In Southern diction, coke (small "c") is generic for soft drinks. Coke (big "C") is the pause that refreshes and the real thing.
Well over a year ago, maybe even two years ago, I saw this contraption called ChickCan by Bayou Classic. It was on sale and I had heard so much about Beercan Chicken, I had to have it. Evidently, I didn't need it as much as I thought. I didn't exactly rush home and give it a test drive. But this time, the newly found 6-pack of Sunkist Orange had ChickCan written all over it. Poultry and orange is a good flavor combination.
1 (3 to 4 pound) whole chicken
olive oil
seasoning of choice
canned drink of choice
Wash and pat chicken dry. Rub entire bird with olive oil and season liberally with your favorite bird seasoning. I used Lawry's Perfect Blend Seasoning and Rub for Chicken and Poultry this time. You can just about throw anything in your spice cabinet on chicken. This blend is one that I particularly like and is one of the very few prepared spice blends I buy. After you oil and season your bird, let it sit in the refrigerator for several hours. I let it spend the night.
The next day, drag out your ChickCan and load her up with your beverage of choice. Pour out about 3/4 cups. Place the contraption in a 9X13 baking pan. I added two teaspoons of the seasoning blend to the can. Be prepared…..adding the seasoning made the can bubble up.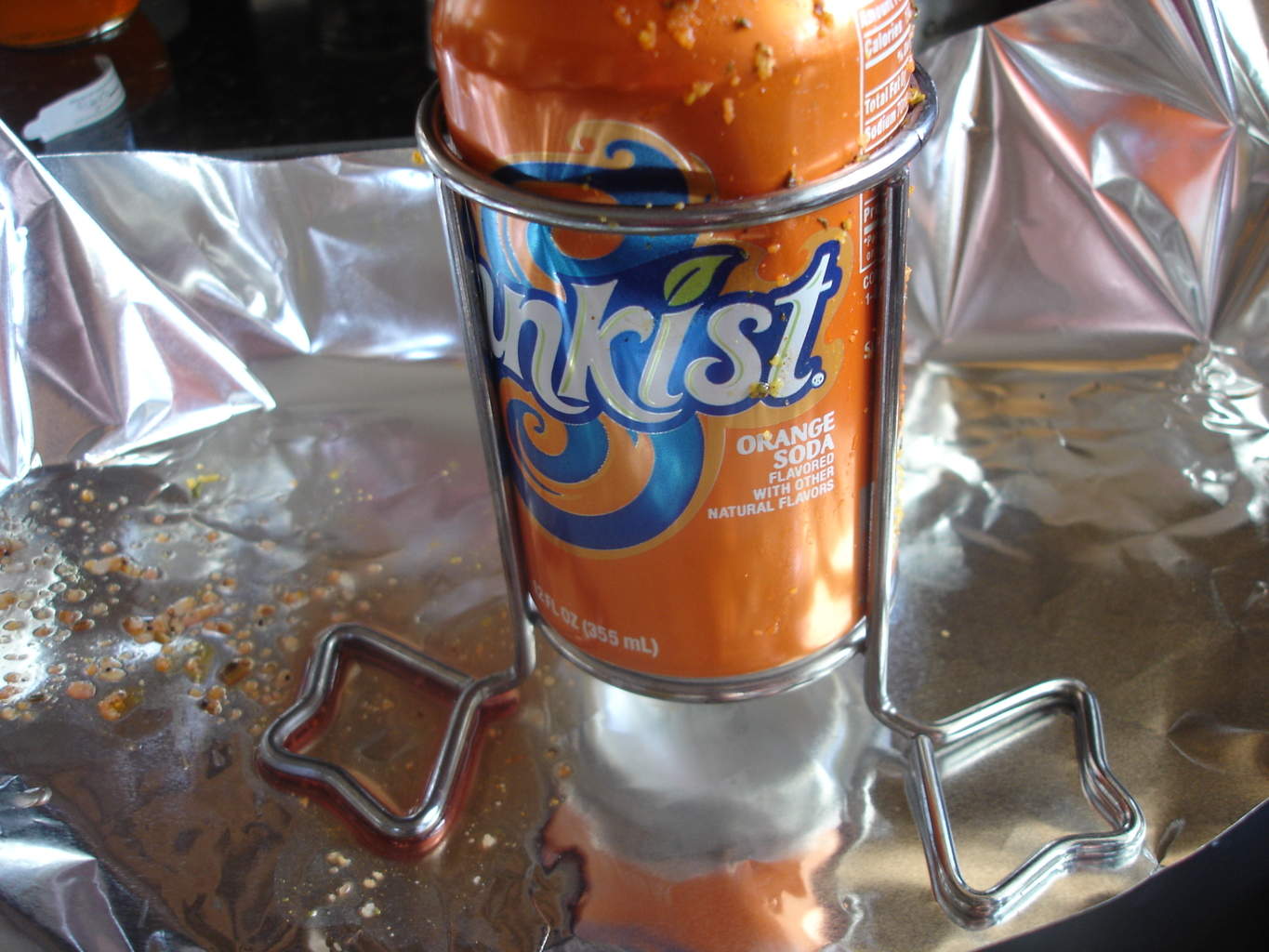 Place your well oiled, well seasoned, well rested bird on top of the can.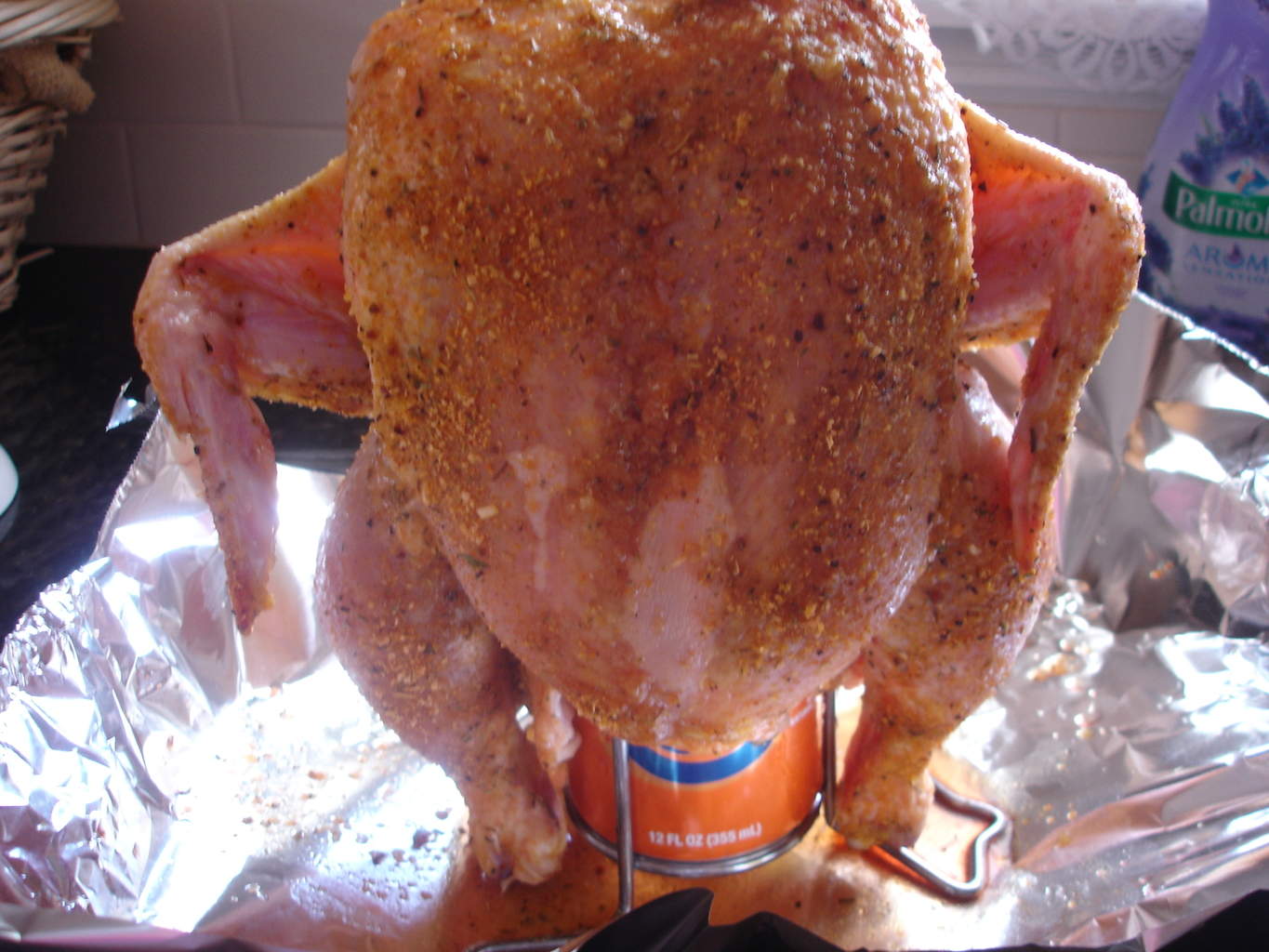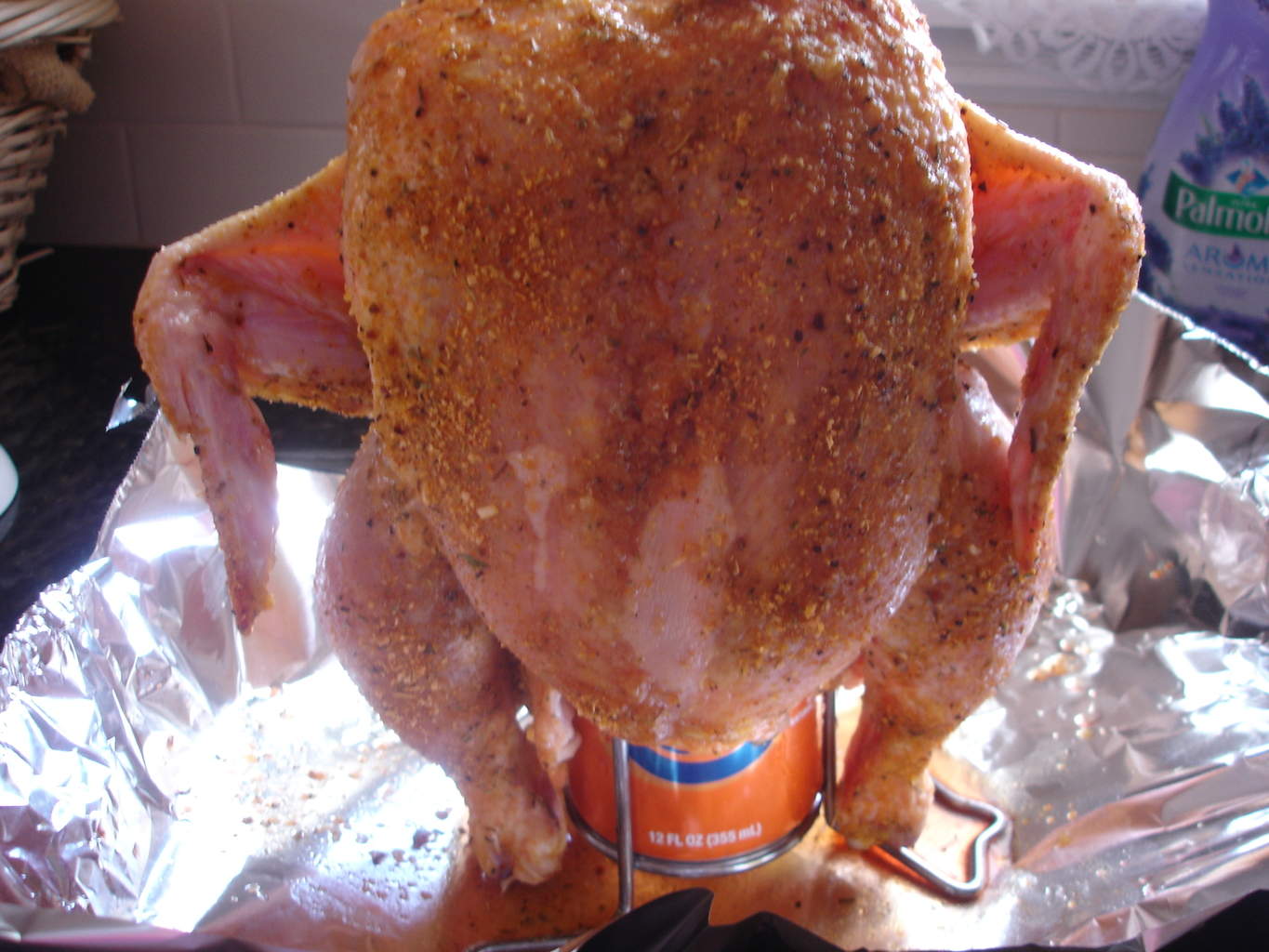 I cooked the bird on the grill on indirect heat until the juices ran clean, the legs quarters wiggled easily and the temperature in the thighs reached 165 degrees. Total cooking time was 2 hours. The temperature gauge on my grill is inaccurate but judging from the long cooking time, it probably stay around 325 to 350. Rely on your doneness method, not cooking time. The bird rested (again!) for 10 minutes before we carved it.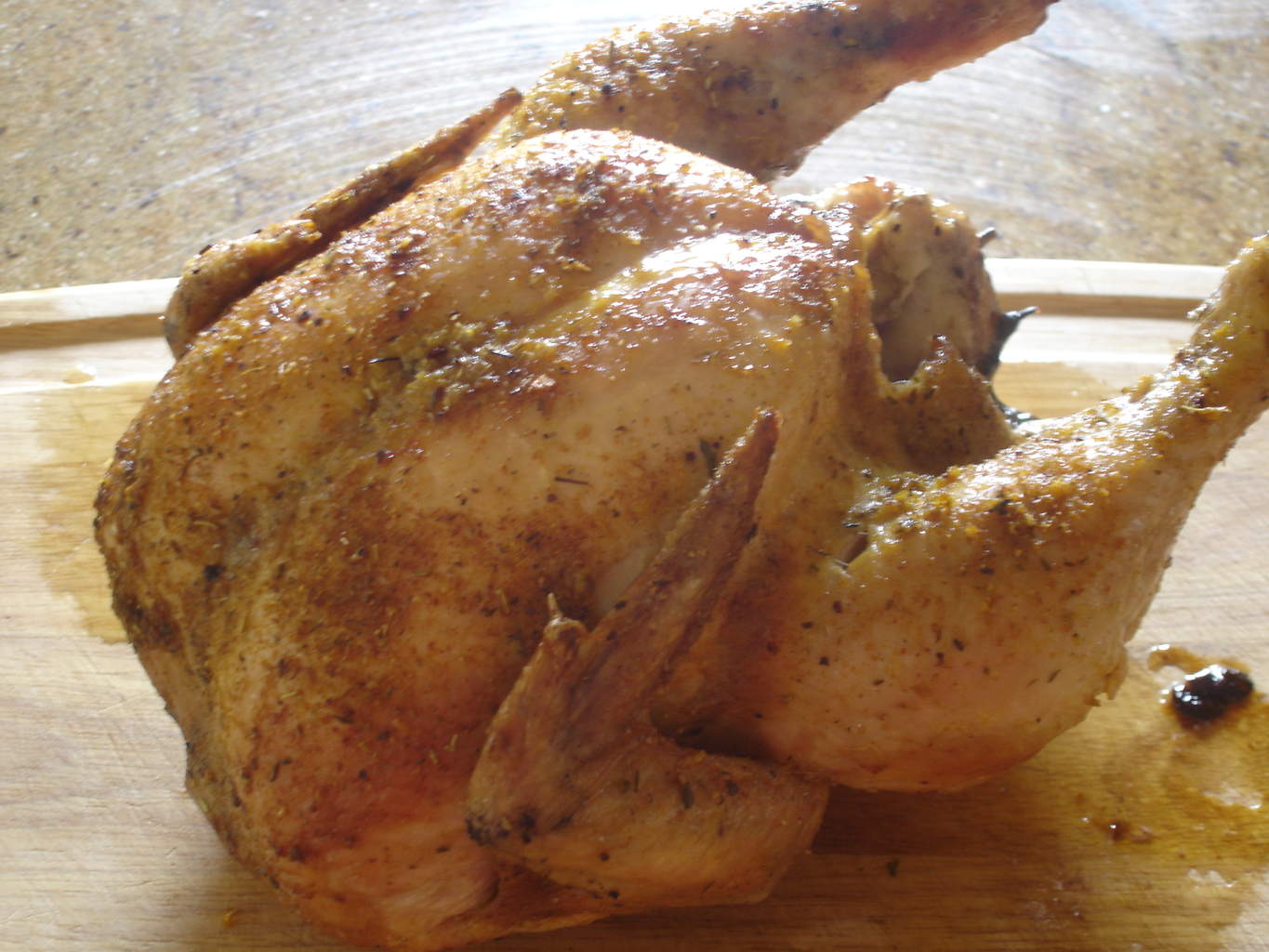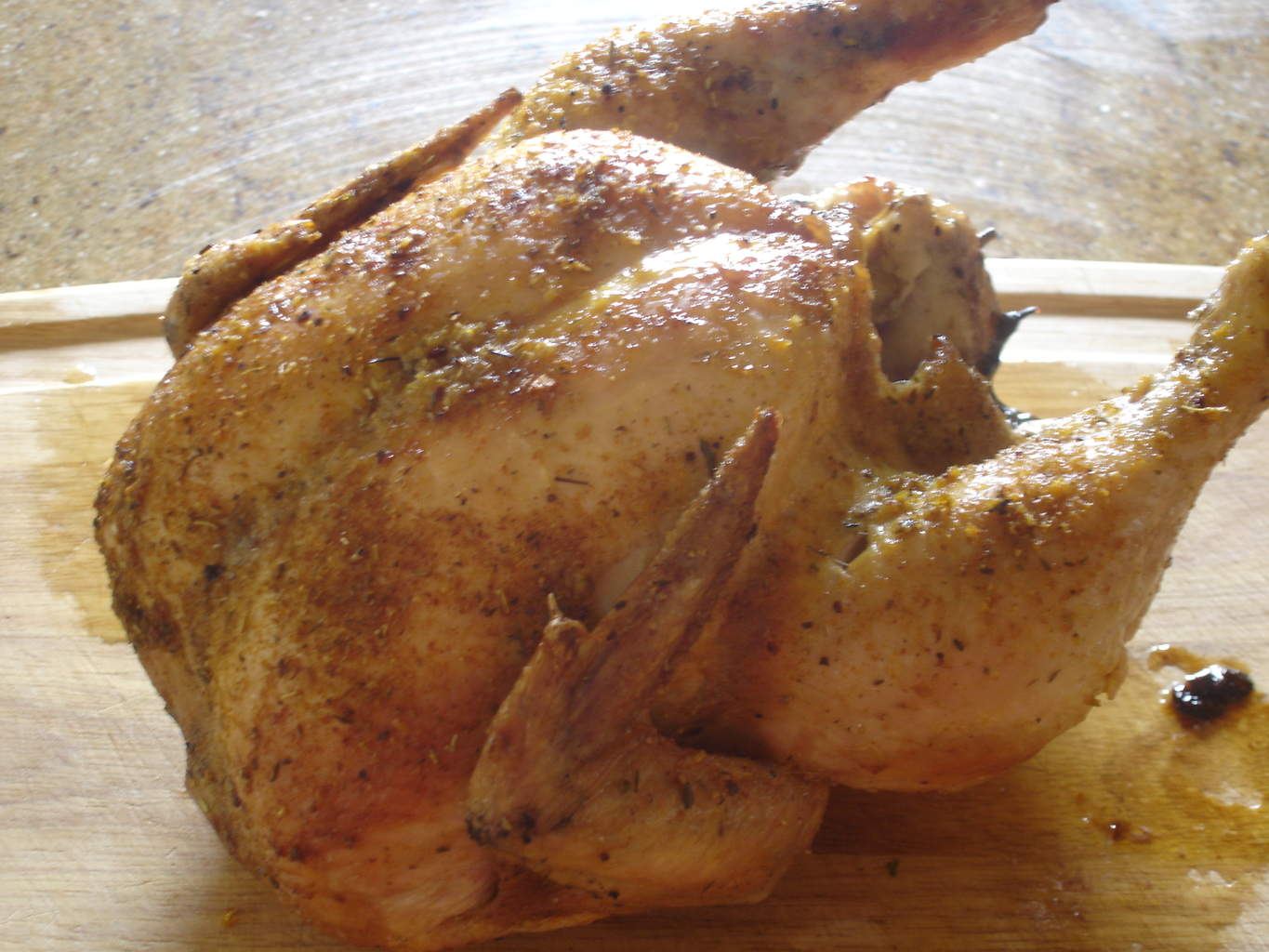 It was truly succulent and delicious. The orange flavor wasn't noticeable. Not having prior experience with this method, I can't comment on whether another type of beverage would have lent more robust flavor. I do plan to experiment and I'll gladly report back.