This post received a fresh coat of paint and looks so much better! Check it out by clicking here.
If any of you out there have never heard of a Sloppy Joe sandwich, please raise your hand. I would like to meet you. Sloppy Joes are about as American as apple pie and hamburgers. The history of the origin is debated. Some credit Sloppy Joe's bar in Key West, FL while others believe the creator was a cook named Joe in Iowa who made the first Sloppy Joe as a variation of a loose meat sandwich. In any case, you can bet your bottom dollar that somebody somewhere in the United States of America created this sandwich. And a mighty good creation is was. People all across the country love it.
The original Sloppy Joe was simply browned ground beef, onions and a tomato/BBQ type sauce served on a hamburger bun. I came up with a more "Southernized" version taking some inspiration from one my favorite dishes, next to fried okra, that Granny would make for me. In addition to the ground beef, I added some ground pork sausage. You start adding pork and we are talking about some genuine Southerness. Instead of a hamburger bun, I serve it on what's known in the South as "light" bread which is sliced white bread.
The combination of the lean ground beef and the premium ground pork sausage was just as good in this recipe as in the Smothered Hamburger and Sausage Patties that Granny used to make. The sausage isn't overpowering and brings such a nice familiar flavor to this dish. I could fall in love with it. Maybe I already have.
Y'all come see us!
Two-Meat Sloppy Joes
Quick, easy and made with kitchen and pantry staples. This dish is perfect for a busy weeknight meal. Serve with dill pickles, Sweet Potato Oven Fries and Sweet Coleslaw.
2 medium sweet onions, diced
2 medium sweet peppers, diced
2 cloves garlic, minced
1 tablespoon olive oil (or enough to cover the bottom of your pan)
1/2 teaspoon 4-1-1 seasoning
1 pound lean ground beef (93/7 ratio)
1 pound premium ground pork sausage (I used Jimmy Dean original)
1 cup ketchup
1/2 cup BBQ sauce (commercially prepared or your favorite homemade)
1/2 cup chili sauce
1 tablespoon apple cider vinegar
1 tablespoon Worcestershire sauce
1 tablespoon honey
Onions, peppers and garlic. Reporting for duty.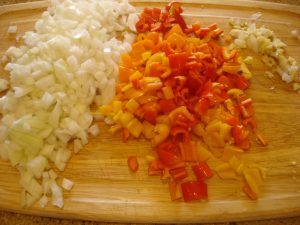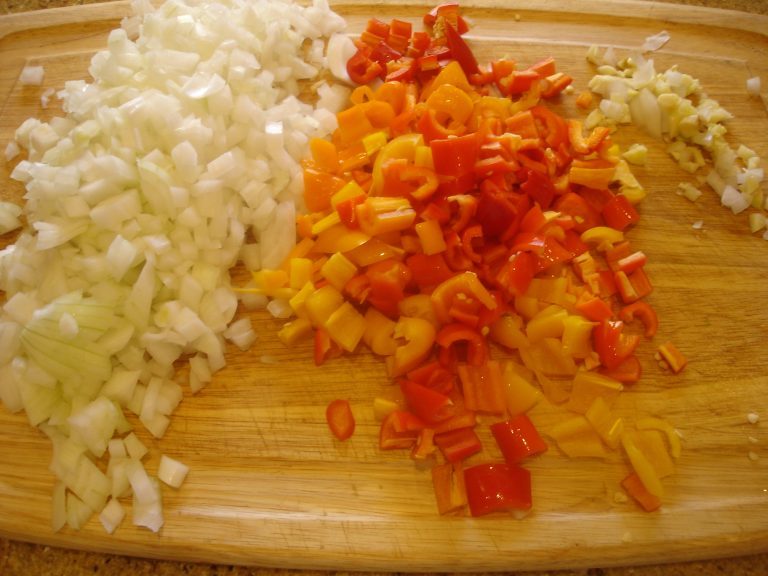 Heat a pan to medium high. Add olive oil, onions, peppers and garlic. Cook for 10 minutes or until vegetables are soft, not browned. Add ground beef and sausage and stir to break up. Cook until the meats are brown and no longer pink. Drain.
This is a live cooking shot. Steamy.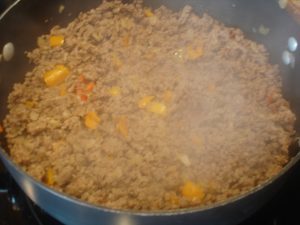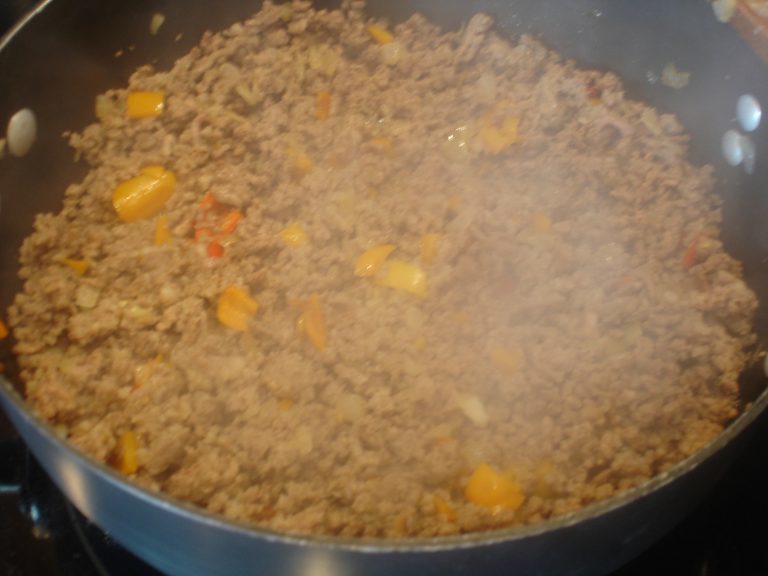 Mix together the remaining ingredients to make the sauce. Pour over meat and stir. Cover, reduce heat to medium low and simmer for 10 minutes. Uncover, stir and serve on bread.