Pigs have a history in the South that predates the Revolutionary War. Being low maintenance as well as a convenient and efficient food source made them a favored livestock choice. Virtually all parts of the pig, except the squeal as the popular saying goes, could be used. They didn't require as much room as cows and if the farmer couldn't supply food to them, they could be turned out into the woods to forage and then be caught when it was time to butcher. The meat was either eaten fresh or cured for later consumption. Prior to refrigeration, the hog butcher was done at the first frost which was usually in the late fall or early winter. The hams were cured and smoked which would take several months. The first hams would be ready around Easter. This is the reason that ham is a traditional centerpiece on Southern tables for the Easter celebration. The fat was rendered and became lard which was used for cooking. After the choice pieces were removed, the rest of the hog was ground for sausage meat with the intestines being used for casings to make link sausage. The sausages and bacon would hang in the smokehouse along with the hams.
My Alabama grandparents reminisced about "the hog butcher" or "the hog killin' ". For them, it was a community affair. Neighbors helped neighbors with the butchering and meat preparation. My mother talked about being afraid to go around the smokehouse because it was always so dark inside. I can only imagine how divine the smell was as the wood smoldered for months on end and the meats started to give off some of their drippings. While a guest at Blackberry Farm a few years ago, I was introduced to a term that was new to me: charcuterie (pronounced shar- koo`- ter – ree). This lovely, romantic sounding word means meats that have been preserved. My grandparents called it curin' and smokin' and makin' sausage. Their education was too limited and their language too plain for such a fancy word. You might not want to walk into Bubba's Smokehouse and Lawnmower Repair Shop and ask for charcuterie, either. They might take it the wrong way and misunderstand your intentions. My grandparents preserved meats for no other reason than sheer survival. They never entertained being fancy or trendy. They entertained trying to put enough food on the table to keep everyone alive. I wished they had lived long enough that I could have told them they were experts in the fine art of charcuterie. Oh, to have seen their faces and gauged their reactions! Chances are, Granddaddy would have laughed with his almost silent laugh that made his whole body shake. Granny, on the other hand, would have looked at me stone-faced, ask me to repeat the word, and say, "Shug, I can't even understand what you are a- tryin' to say."
When you have a multi-generational relationship with smoked pork, I think it eventually becomes part of your DNA: hense my propensity for pork barbeque. Fine dining is nice, but nothing beats a good barbeque house in my estimation. Even better than a good barbeque house is smoking the pork at your house. I have been unsuccessful, despite numerous attempts, in getting any of the men in my family interested in cooking smoked pork. They are plenty interested in eating it. So, out of necessity, I have become The Barbeque Maven of the Garvin household. In addition to the deliciousness of the meat, I am rewarded by 5 or 6 hours of the wonderful smell of mesquite and hickory. Actually, I am rewarded with more than 5 or 6 hours worth of the smell because it tends to cling to the inside of my nose and I smell it for days….even weeks! I was meant to a Barbeque Maven. After all, I'm the granddaughter of charcuterie experts. I'm saving you some of the smoked pork, Granny and Granddaddy.
Y'all come see us!
**********
Smoked Boston Butt
When choosing butts to smoke, I strongly prefer bone- in to boneless. The bone gives it more flavor plus acts as a heat conductor. If the meat is cooked well enough, the bone slips out easily so you don't have to worry about carving around it. For this particular Barbequeland adventure, I picked one 3 pound butt and a 4 pound butt. The night before, I rubbed the butts down really well with a dry rub made of one part brown sugar: one part kosher salt: 1/2 part Homemade Taco Seasoning. For meats that require a much shorter cooking time, such as baby back ribs, I make a rub out of half and half brown sugar and Homemade Taco Seasoning. I added salt to this preparation for some extra flavor and moisture for the prolonged cooking process. Wrap tightly in plastic wrap, place on a tray and store in the refrigerator overnight. The next day, remove excess rub before cooking.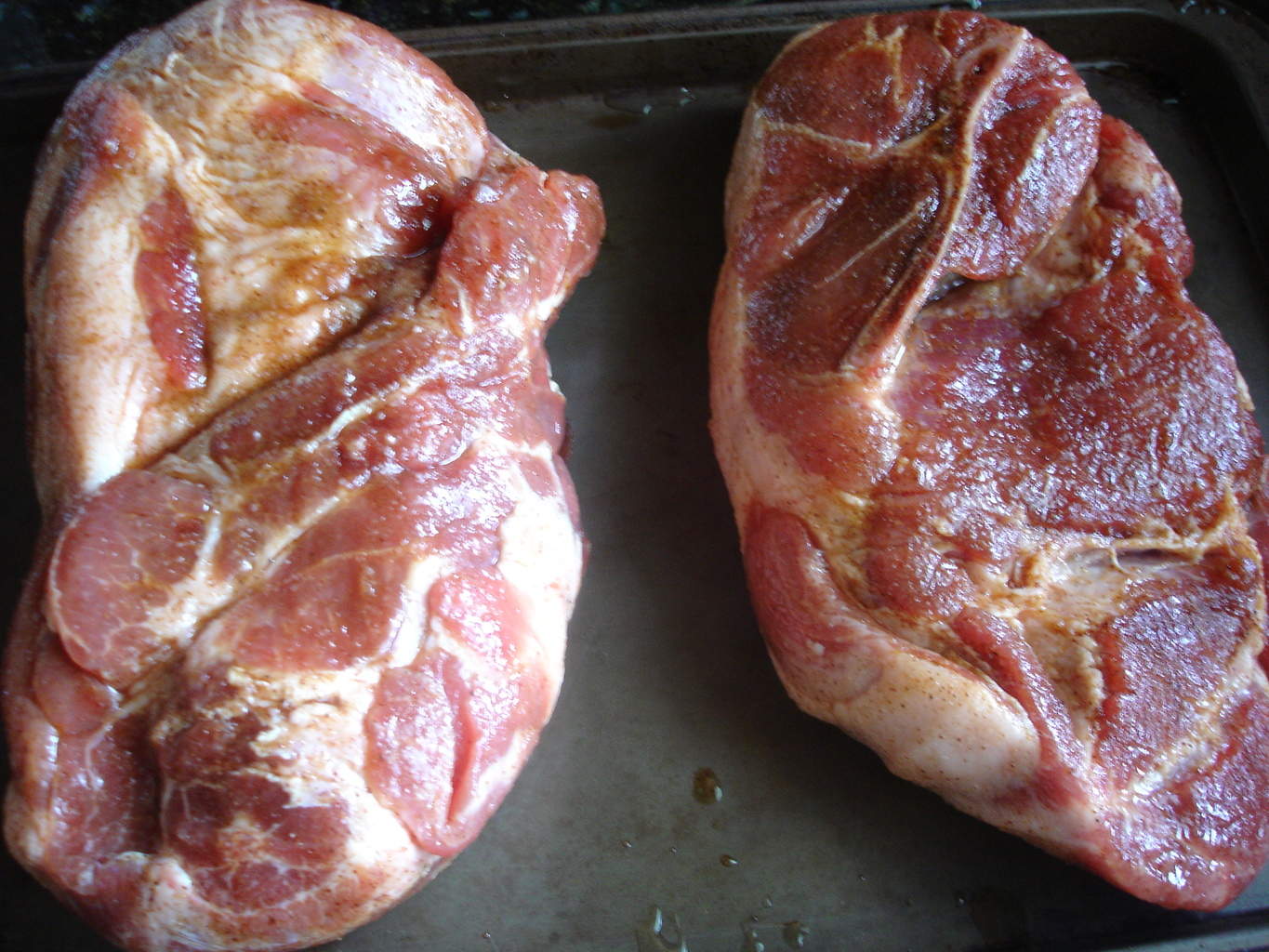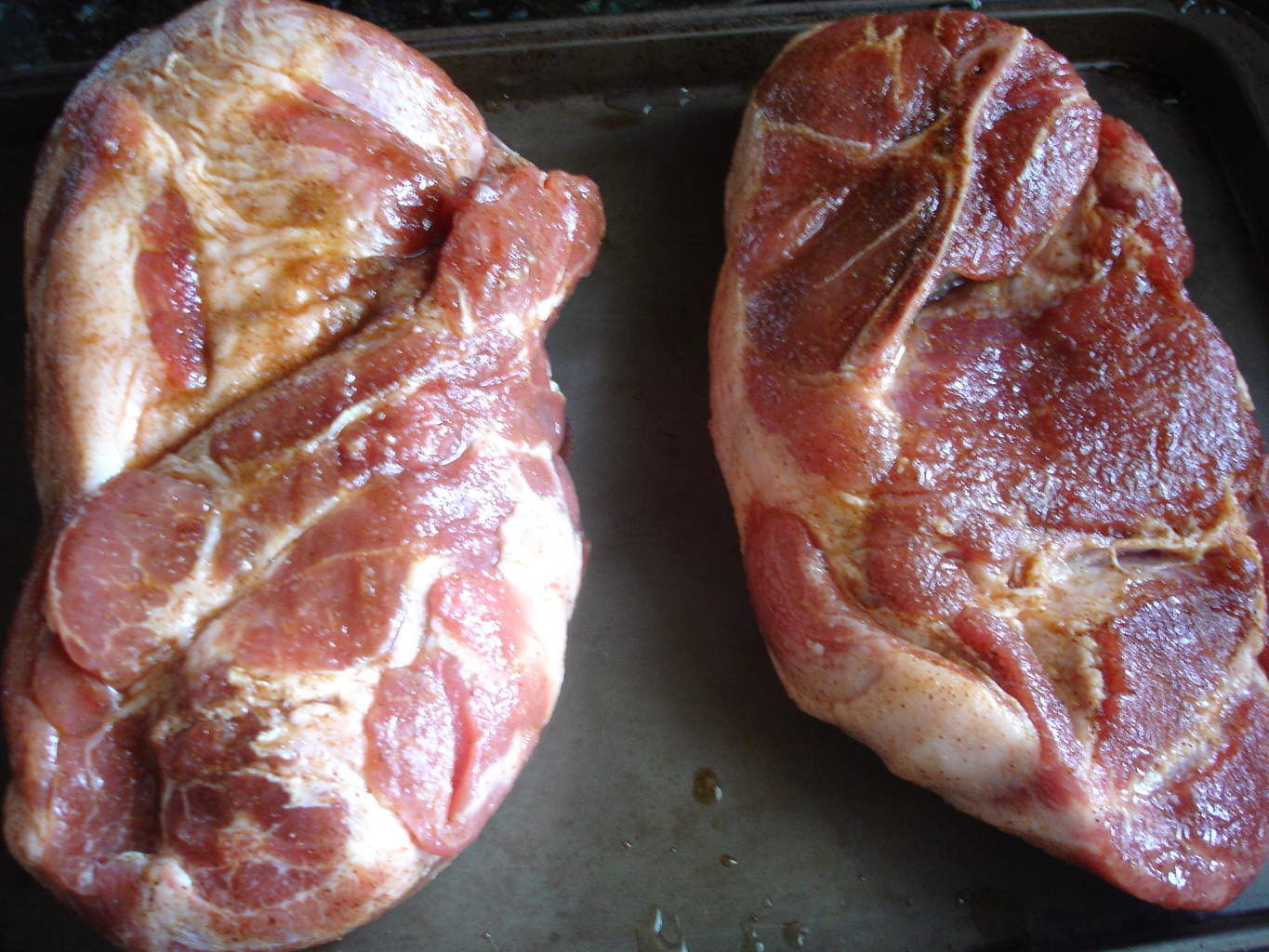 I don't own a smoker so I use my three burner gas grill. One section gets heated and other two remain off. For low and slow cooking, is necessary to cook the meat with indirect heat otherwise you risk overcooking and drying out the meat. There's nothing magical about dried up pork. I take the grate off the burner that I'm going to have as my direct heat source and put my hickory chunks and mesquite chips, which have been soaked in water for 30 minutes, directly on the little silver thingy. I have no idea what it's called. I'm a Barbeque Maven, not an engineer. I keep the heat on high until I can get a good smoke going. Have plenty of chips on hand. You will burn through them rather quickly. I only used 5 or 6 mesquite chunks but I used a whole bag of hickory chips.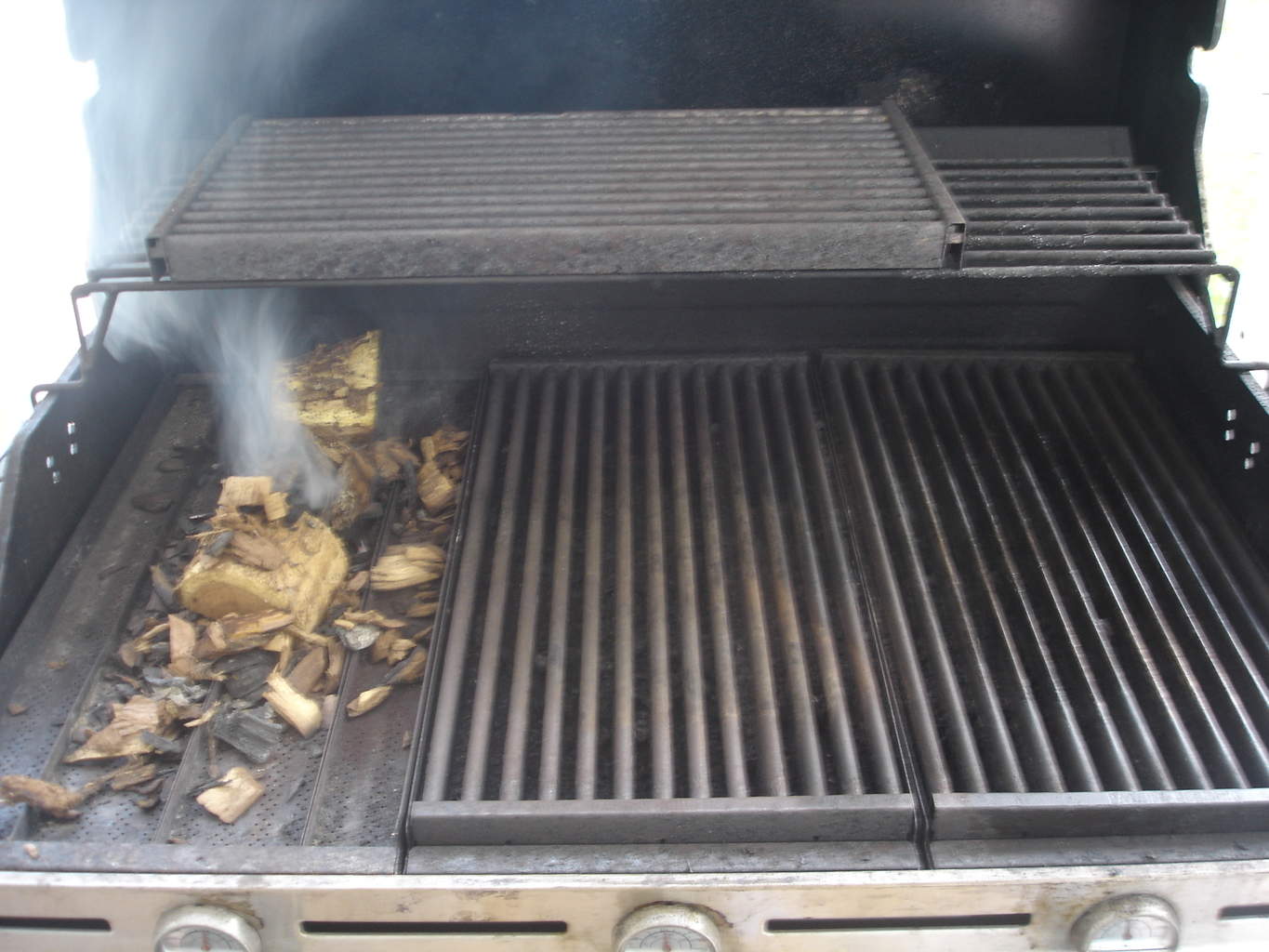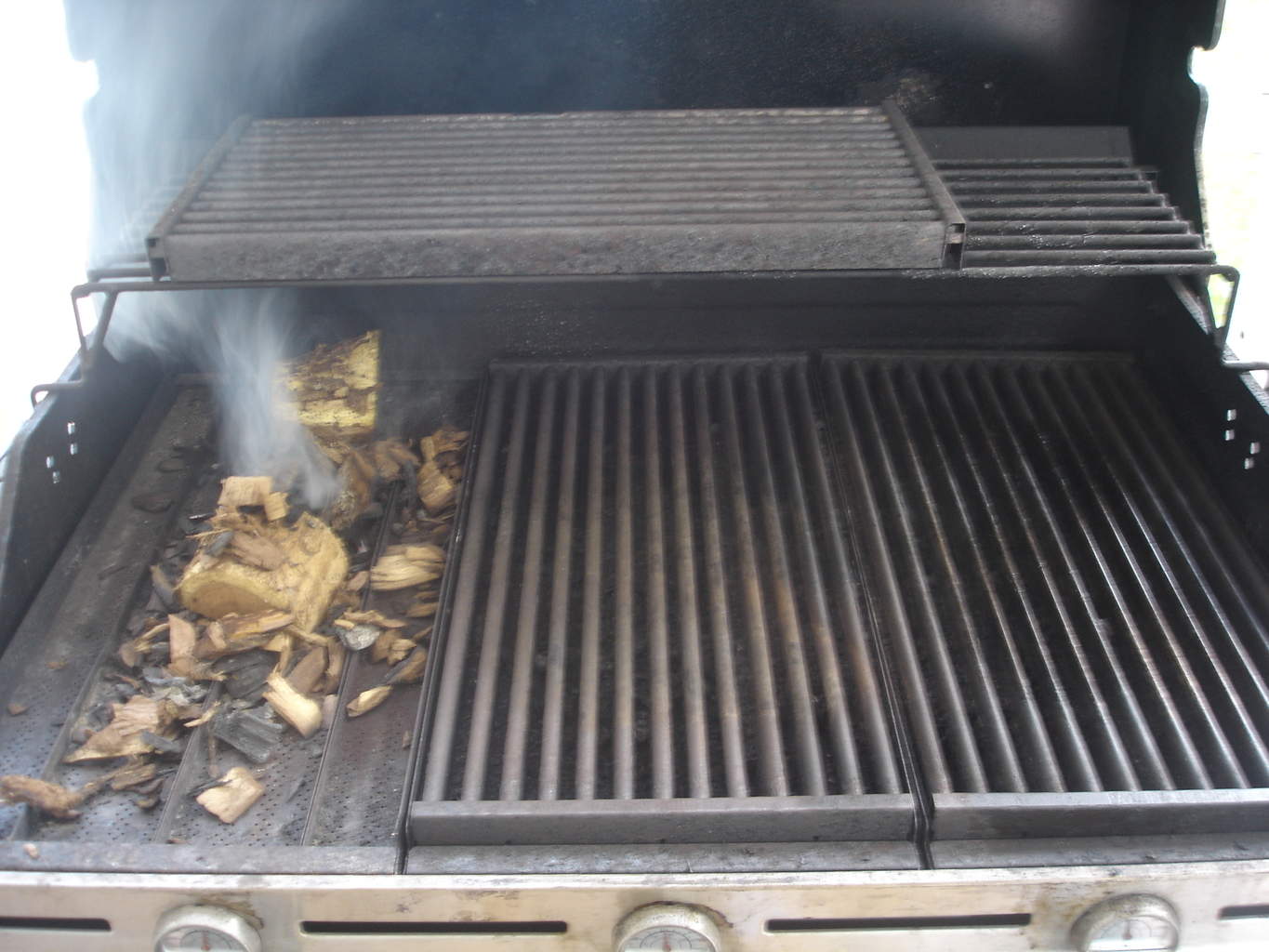 Once I was satisfied with the amount of smoke that was produced, I lowered the heat to medium and place the pork on the far burner, turned it a quarter turn every hour and fipped it over at 3 hours. I continued turning a quarter turn every hour until the meat was done.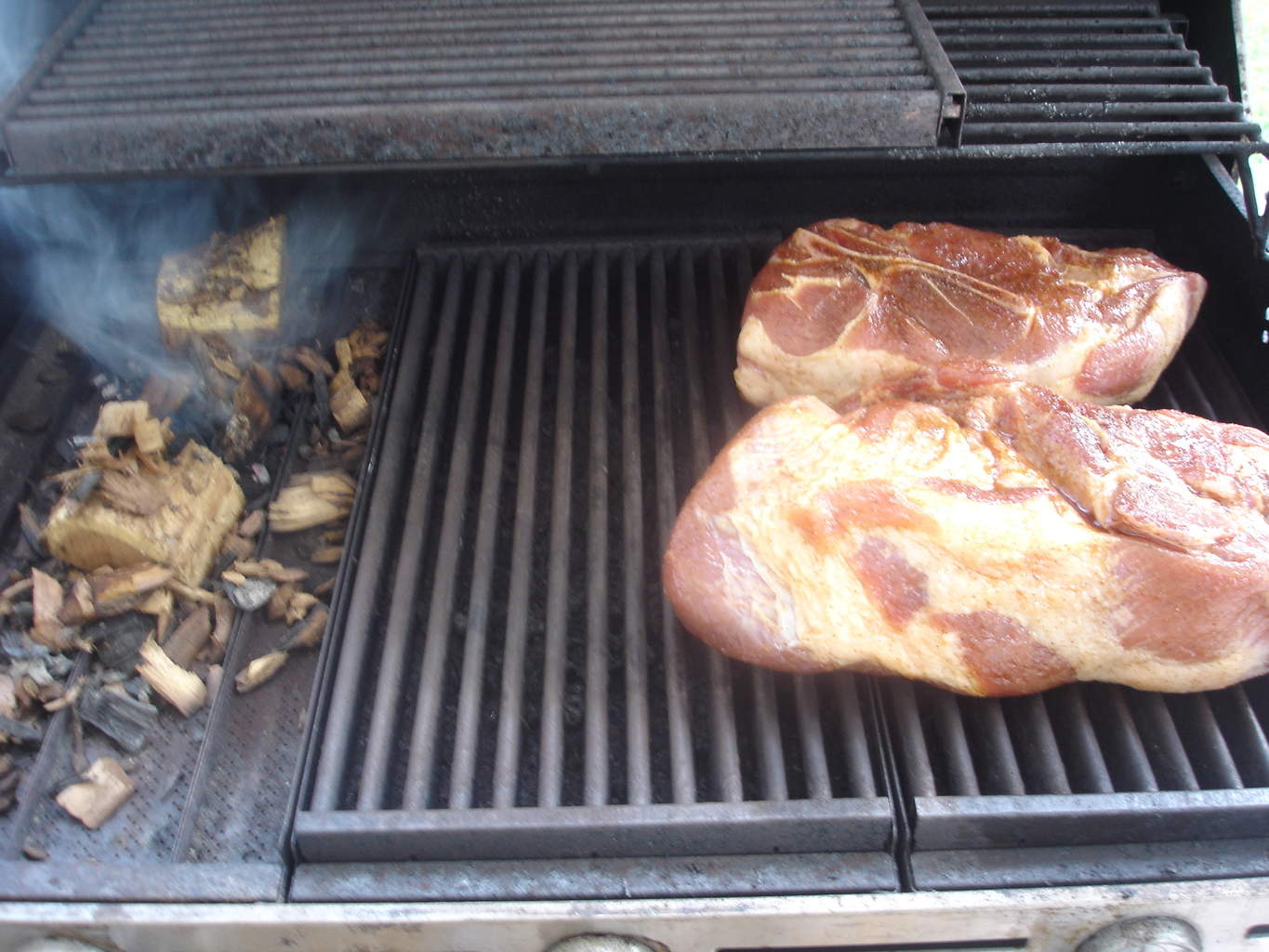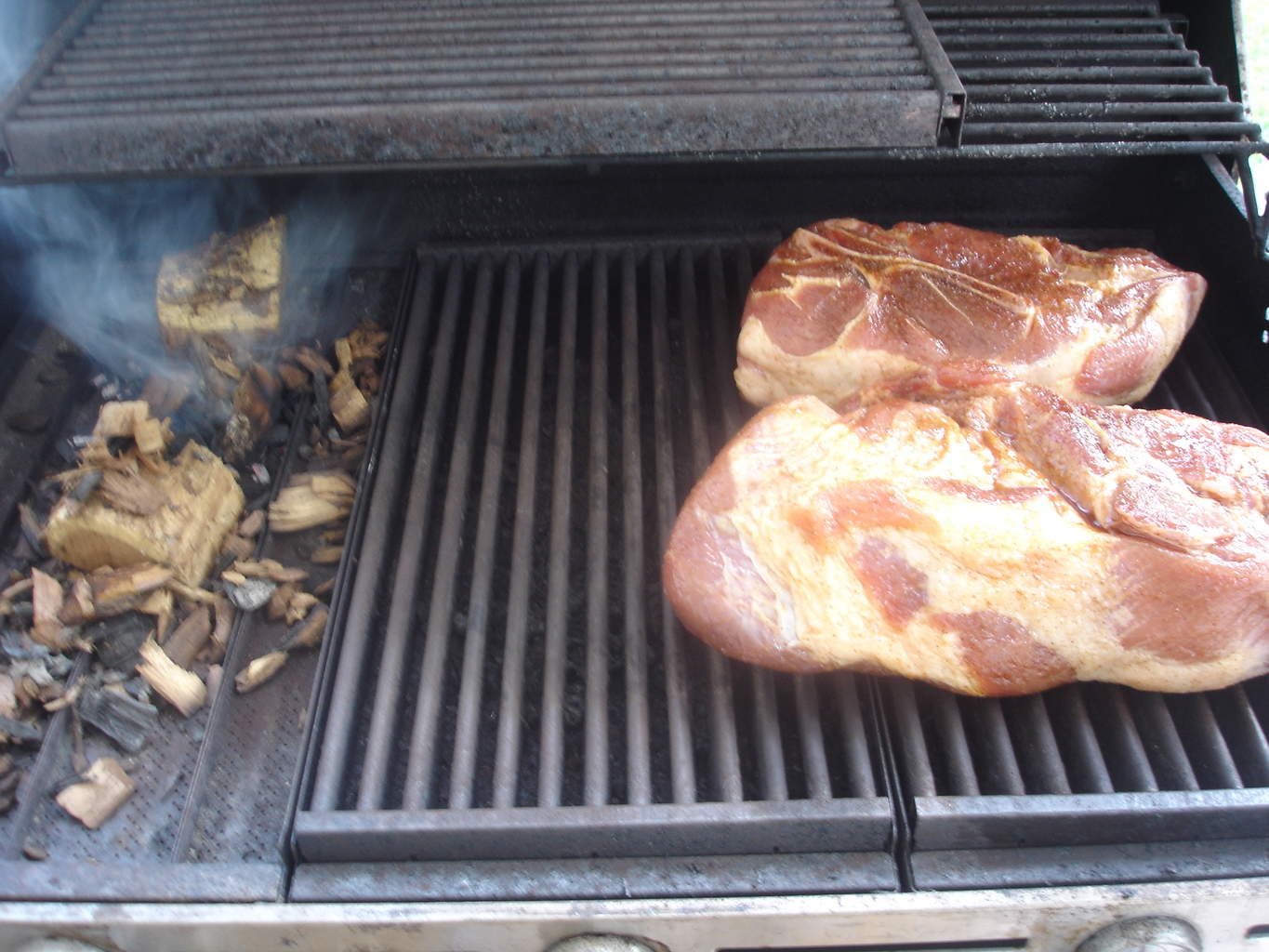 Maintaining the desired temperature is a bit of a challenge. The experts recommend 225 degrees. I had a difficult time maintaining a proper smoke at that low of a temperature and had to keep it around 325 degrees on the direct heat burner which made it about 300 on the indirect burner. That's the compromise I had to make in order to use my grill for this process. You will need to make sure that you have a good smoke going at all times, by adding wood as needed , while keeping an eye on your temperature. At times, I had to turn the burner down as low as it would go because the heat was too high. As soon as I started loosing the smoke, I would turn it back up. Because the pork was cooking at a higher temperature than recommended, I made up a basting liquid of 3 parts Luzianne sweet tea and 1 part soy sauce. The sweet salty combination added more flavor and the tannic acid in the tea help tenderize the meat. I put it in a spray bottle and used it often. You can't spray too much.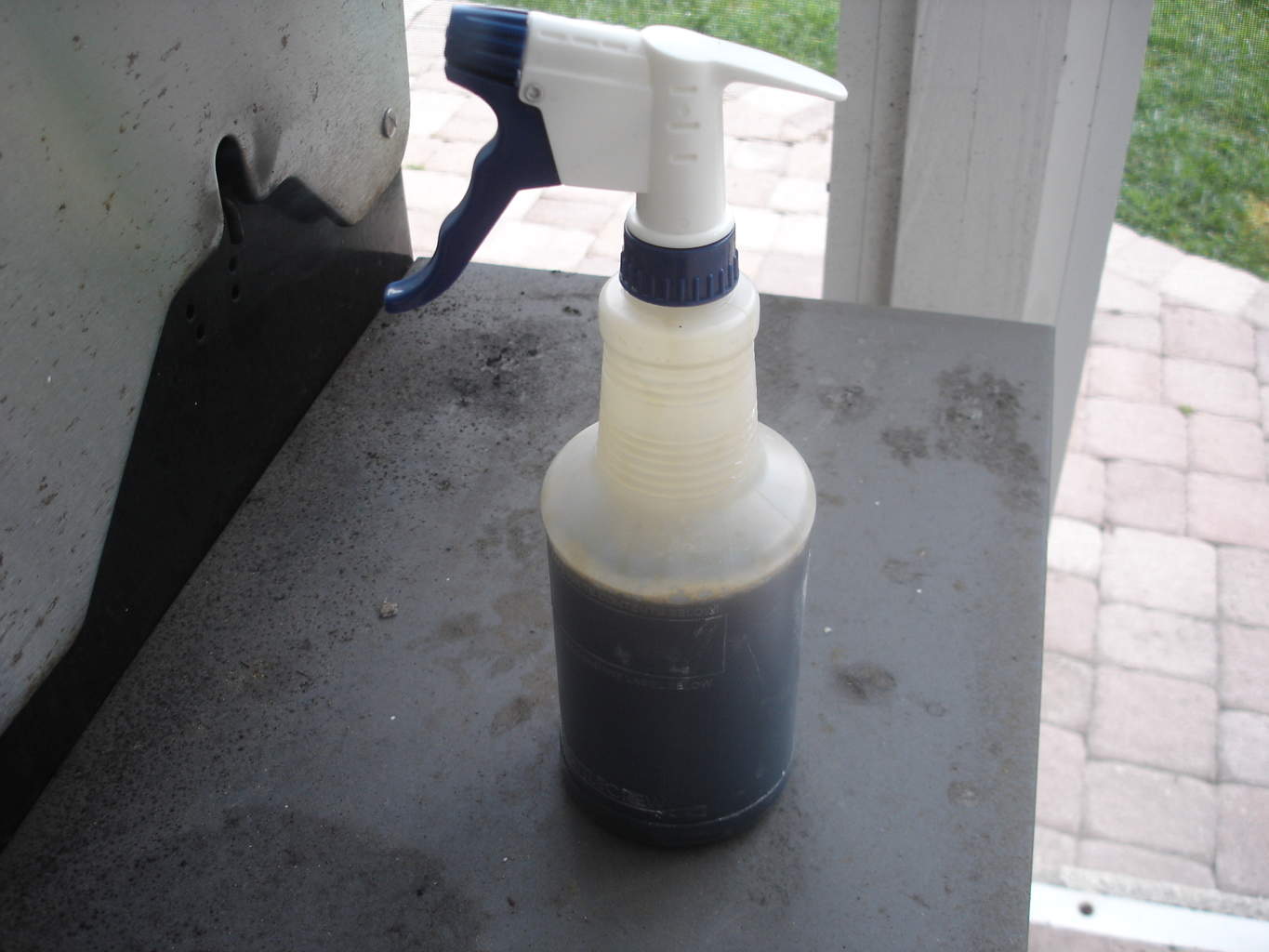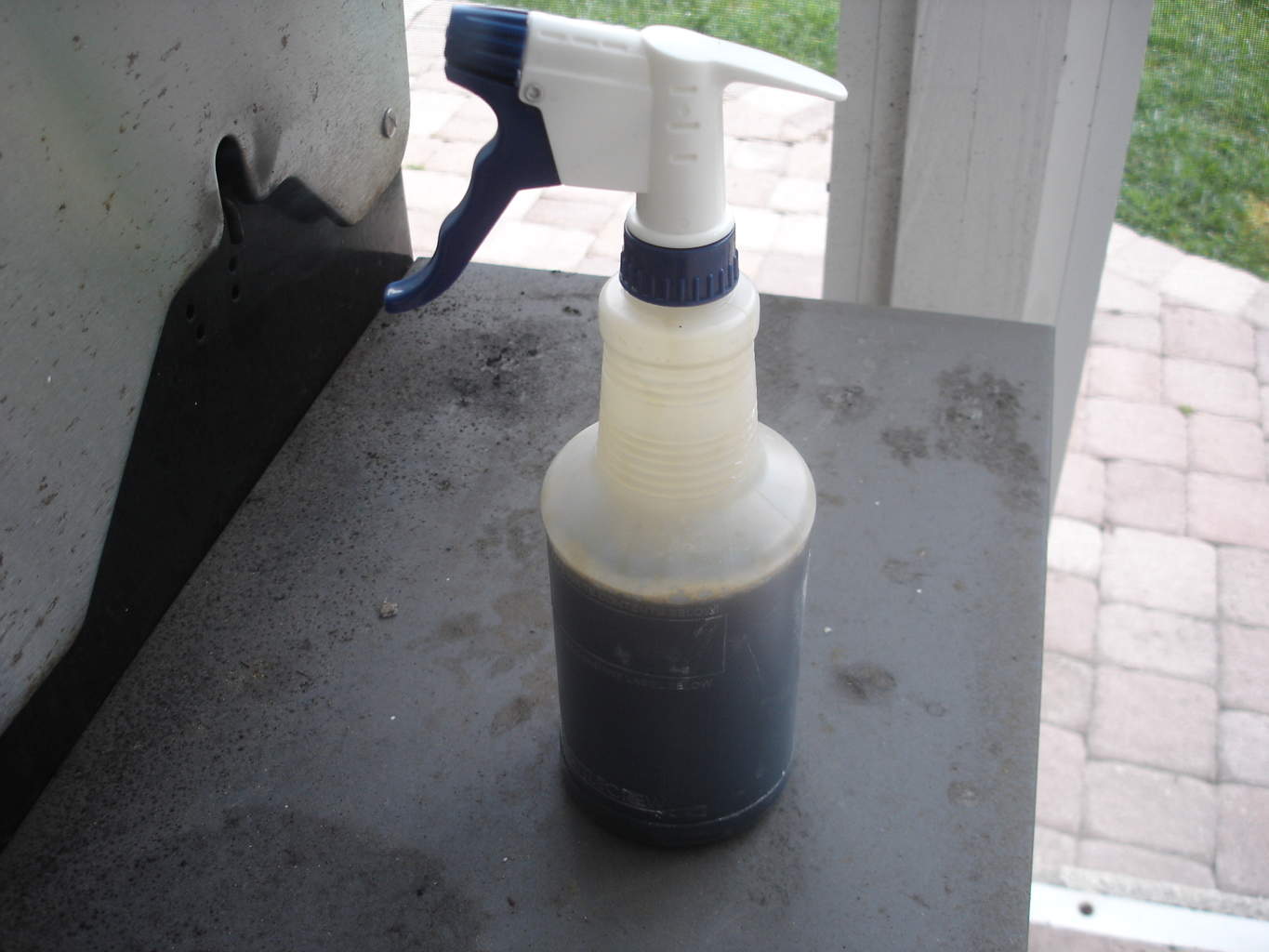 Here we are at 3 hours and ready for the flip.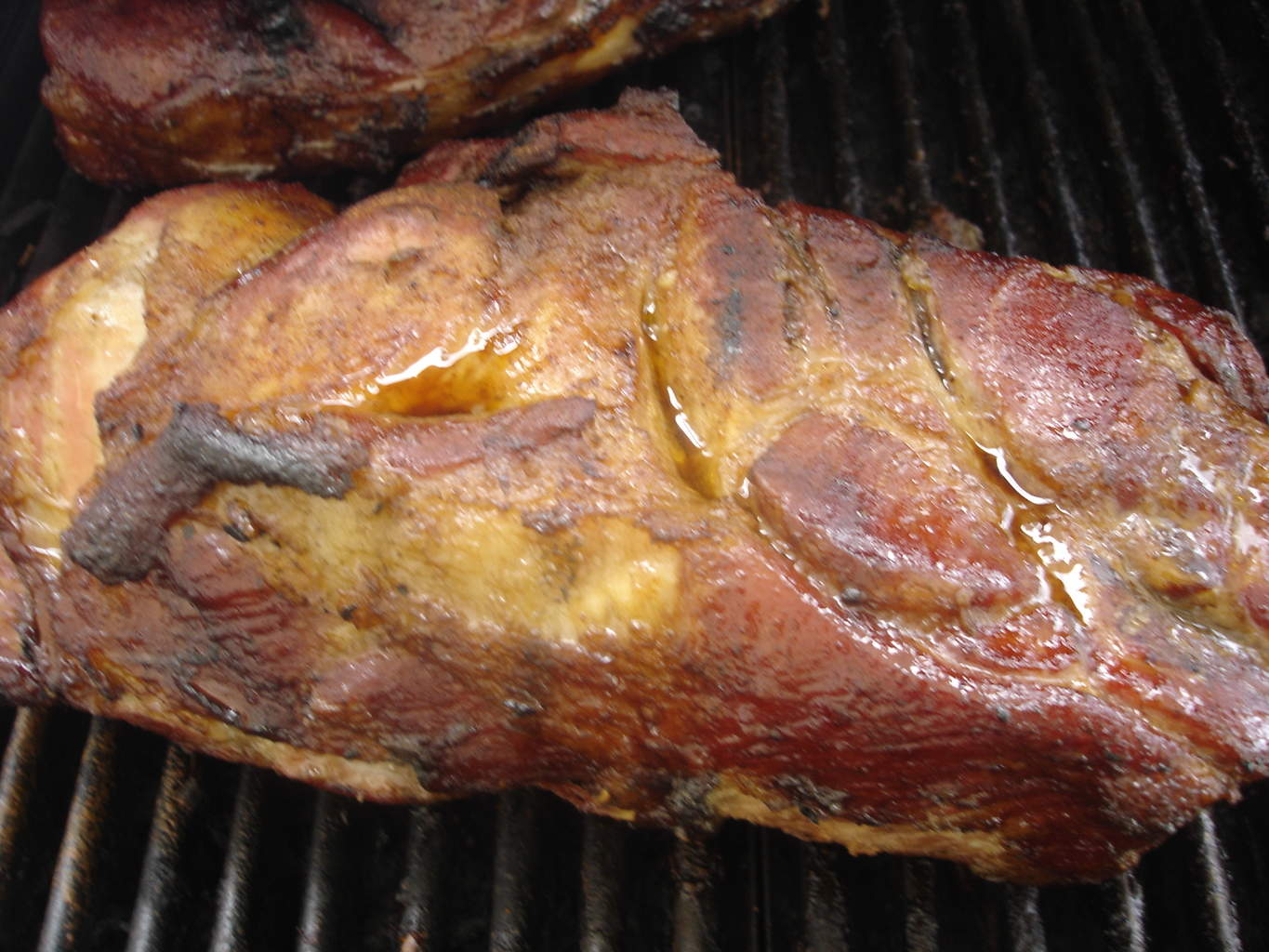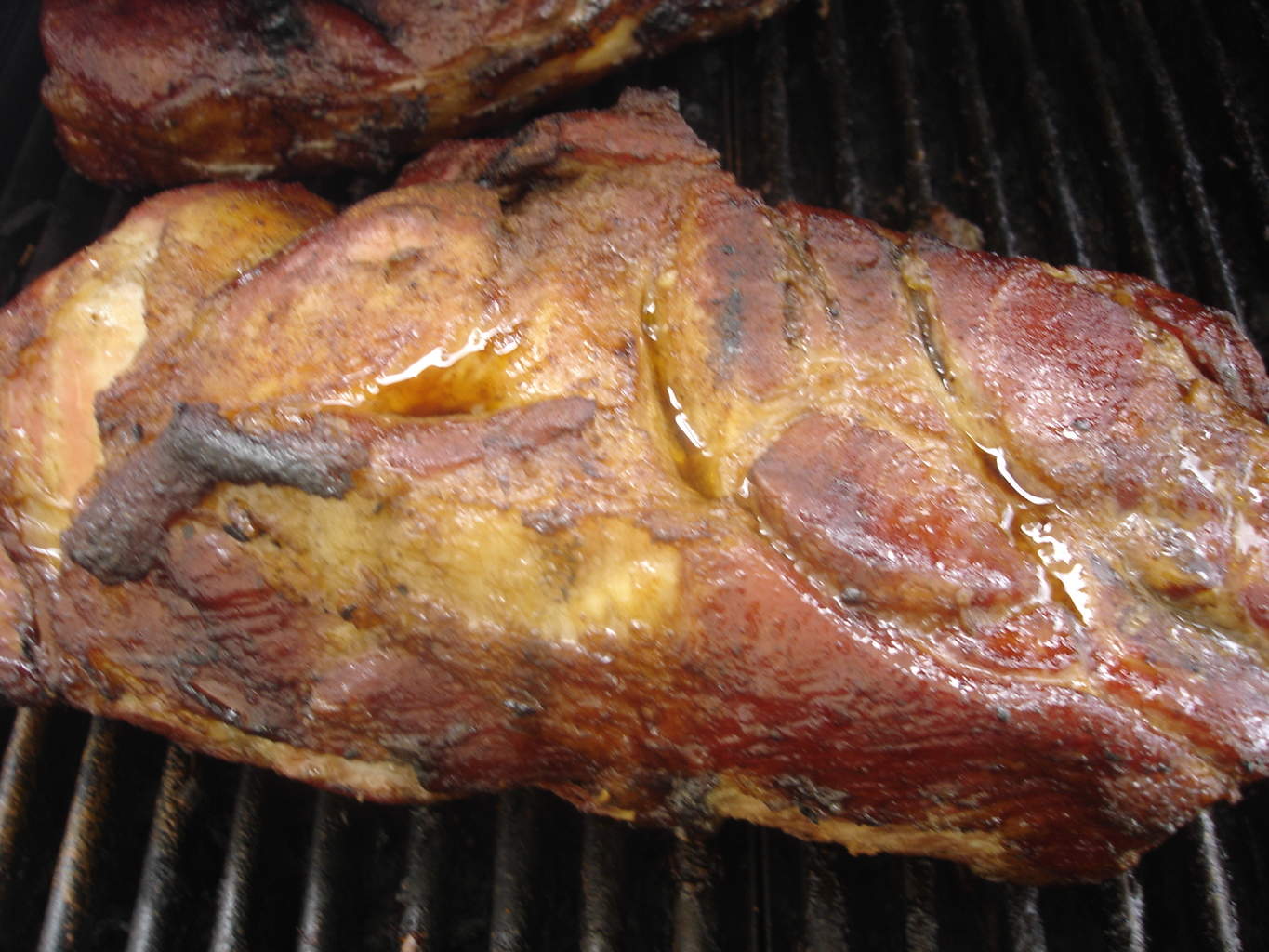 For pulled pork, you want to reach an internal temperature of 190 degrees so the collagen will melt making the meat extremely tender. I removed the butt at 185 degrees, wrapped securely in foil and let it remain for at least one hour. The three pound butt cooked in 5 hours and it took 6 for the 4 pound to reach 185 degrees. If it's done properly, the bone will easily pull away. Drag a fork across the grain of the meat for pulled pork. If you are finding that it's not shredding easily, just try pulling it apart with your hands. There's nothing wrong with slicing it, either. We just prefer it pulled.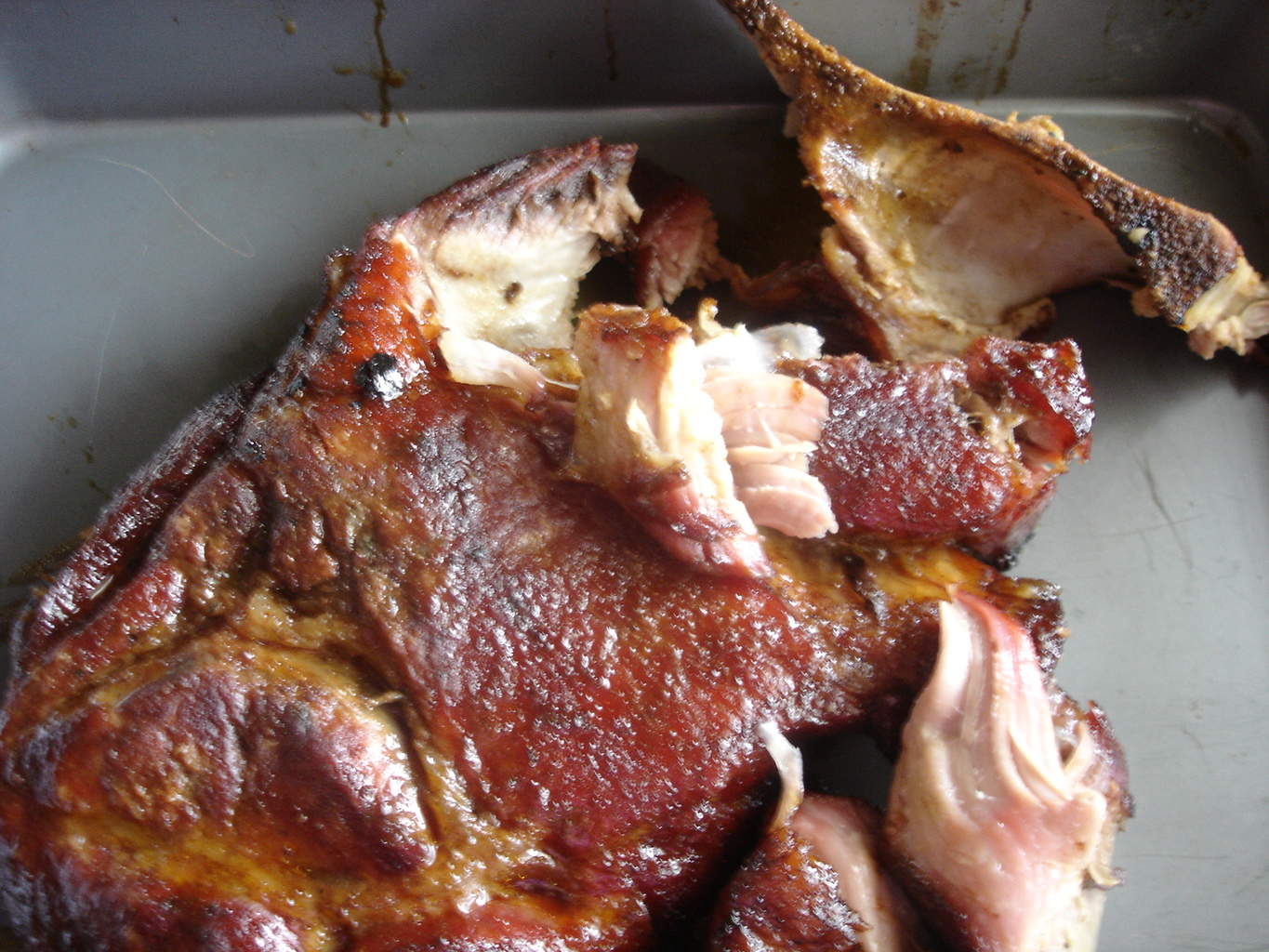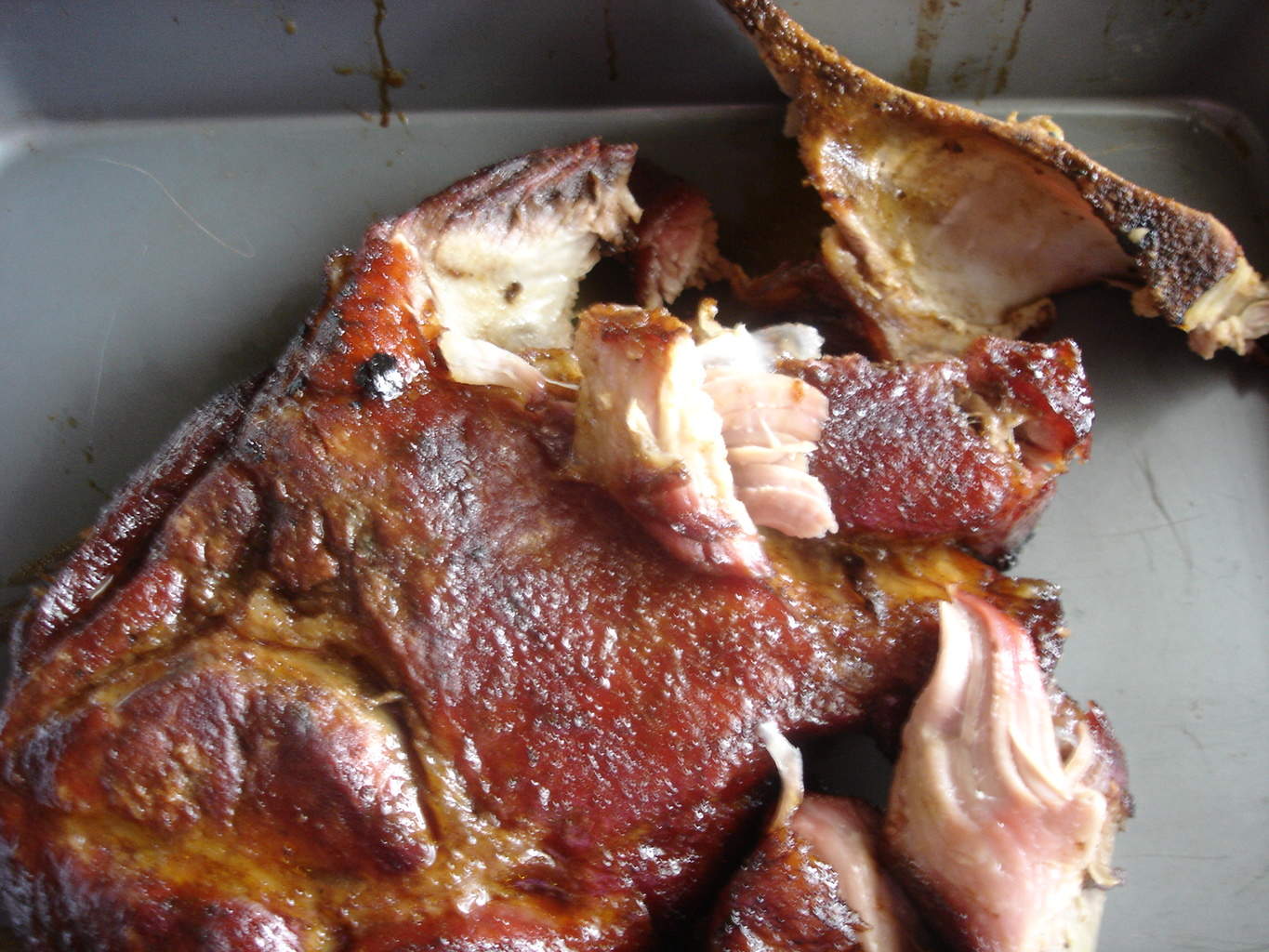 Yes ma'am! The Barbeque Maven got it right!