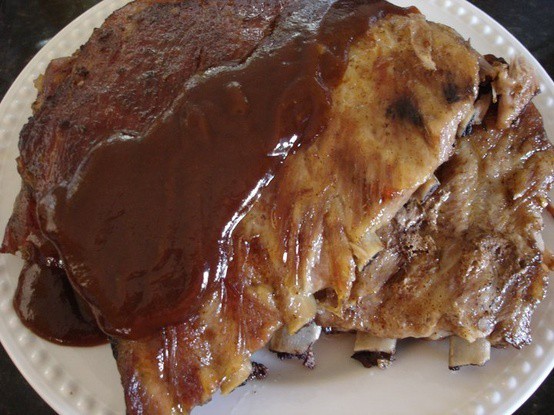 Oven BBQ Ribs
Adapted from Mary Mac's Tea Room
This is perfect for Sunday Dinner. You throw those puppies in the oven and don't worry about them for 3 1/2 or 4 hours.
Mix up a rub that's equal parts Taco Seasoning and Rub and brown sugar. Or, use any other seasoning mix that you prefer. Since these are being cooked inside, I think the smokiness of my seasoning mix adds to the flavor. Rub the ribs completely and let rest for at least a few hours or overnight in the refrigerator. If you let them rest overnight in the refrigerator, I would suggest wrapping them in plastic wrap.
2 slabs St. Louis Style ribs
seasoning mix
2 cups water
1 teaspoon liquid smoke
Rub ribs with seasoning.
Add water and liquid smoke to a large pan. I used an oversized cast iron Dutch oven. Place in ribs bone side down. Cover securely. Cook for 3 1/2 to 4 hours on 350 degrees or until they are falling off the bone tender. If I had more time, I would have taken the ribs out of the Dutch oven when done, lay them a large cookie sheet, spread bar-be-que sauce on the and back for 10 to 15 minutes to bake the sauce into them.
Serve with Bar-b-que sauce