Carrots and cabbage are ready to be harvested from my backyard garden. Sparkler radishes are ready, too. In true farm to table fashion, I plan my menu around the day's harvest. Corned beef, cabbage, carrots and fresh radishes appealed to me. Staying consistent with the theme of Syrup and Biscuits, I needed to convey a story that related to the dish. So, I focused on the corned beef. Focus. Focus. Nothing's coming to me. Corned beef is something I have eaten all my life. Why isn't a story coming to mind? Consideration was given to a change of menu. But, I just kept going back to my original plans: corned beef, cabbage, carrots and fresh radishes. Cabbage, carrots and radishes from my garden. Fresh picked in the morning for dinner that evening. Finally, it became clear to me that the story should be about the homegrown vegetables more than the corned beef. As previously stated, Syrup and Biscuits is about finding goodness in people, food and memories. I needn't look any further for that goodness than my backyard garden.
My grandparents taught me an appreciation of gardening and the beauty of being self-sustaining. They farmed early in their life. After their farm life was over, they always made sure they had a garden plot. Sometimes it would simply mean planting a few tomatoes or pepper plants in their existing flower beds. With meticulous care, the little garden would produce. I watched as my Grandaddy proudly harvested what was ready. He didn't have to say anything for me to understand how important this was to he and Granny. Digging in the dirt, planting vegetables and picking them is the best kind of goodness. It's simple, honest and sustaining goodness. I find myself repeating the actions of my grandparents in so many ways. Not only do I have the love gardening, I can't walk out my door without going to my garden plot, just like my grandparents. I find that I'm drawn there. Maybe it's the connection that I feel with my grandparents. Maybe it's the enjoyment of seeing the product of my hard work. More than likely, it's both of those things plus goodness. People look for goodness and are drawn to it just like I'm drawn to my garden. I'm reminded of that every time I walk out my back door.
Y'all come see us.
*******************************************************************************
Corned Beef Brisket with Carrots and Cabbage
First, the garden harvest.
Cabbage. Fresh!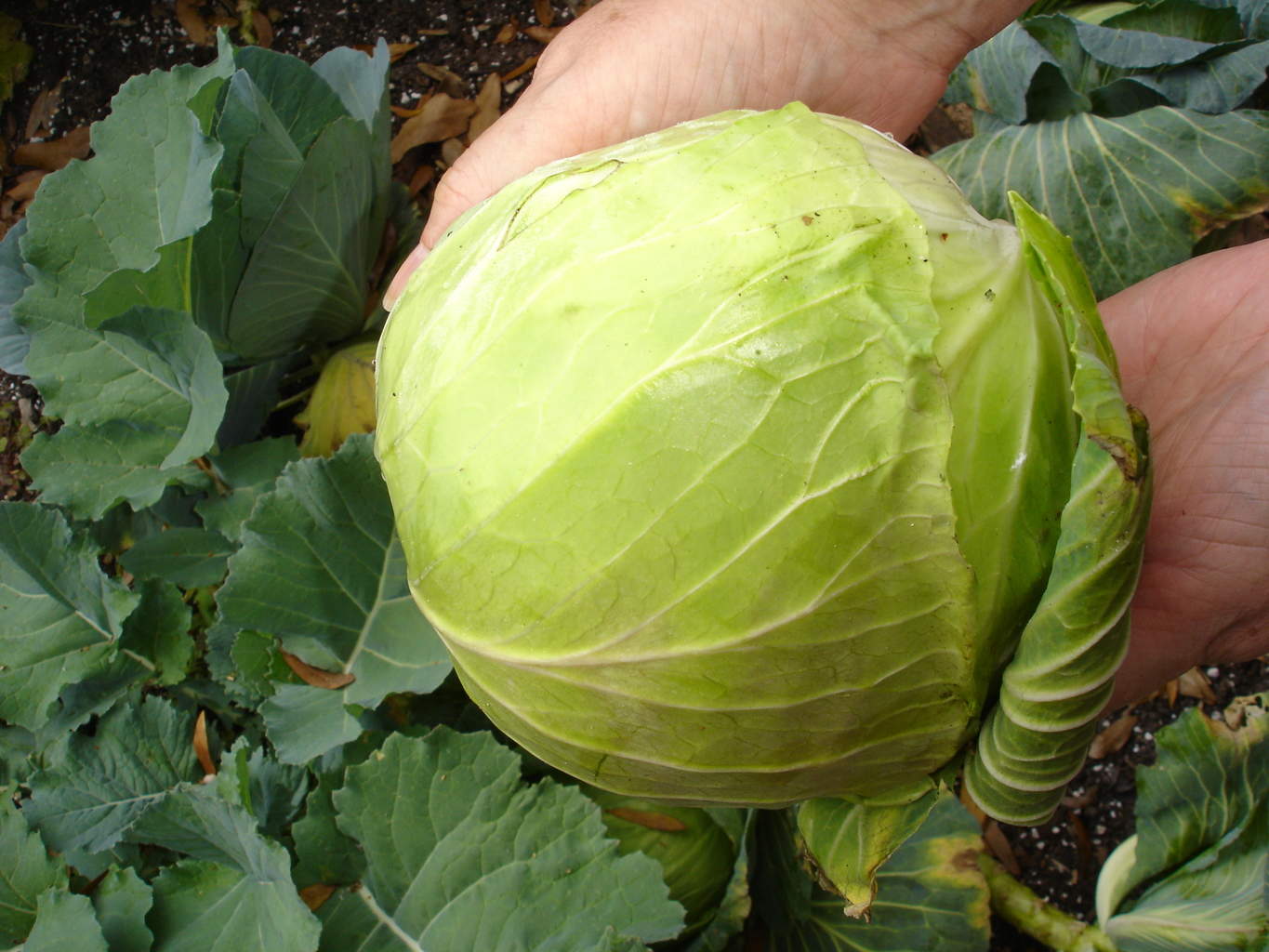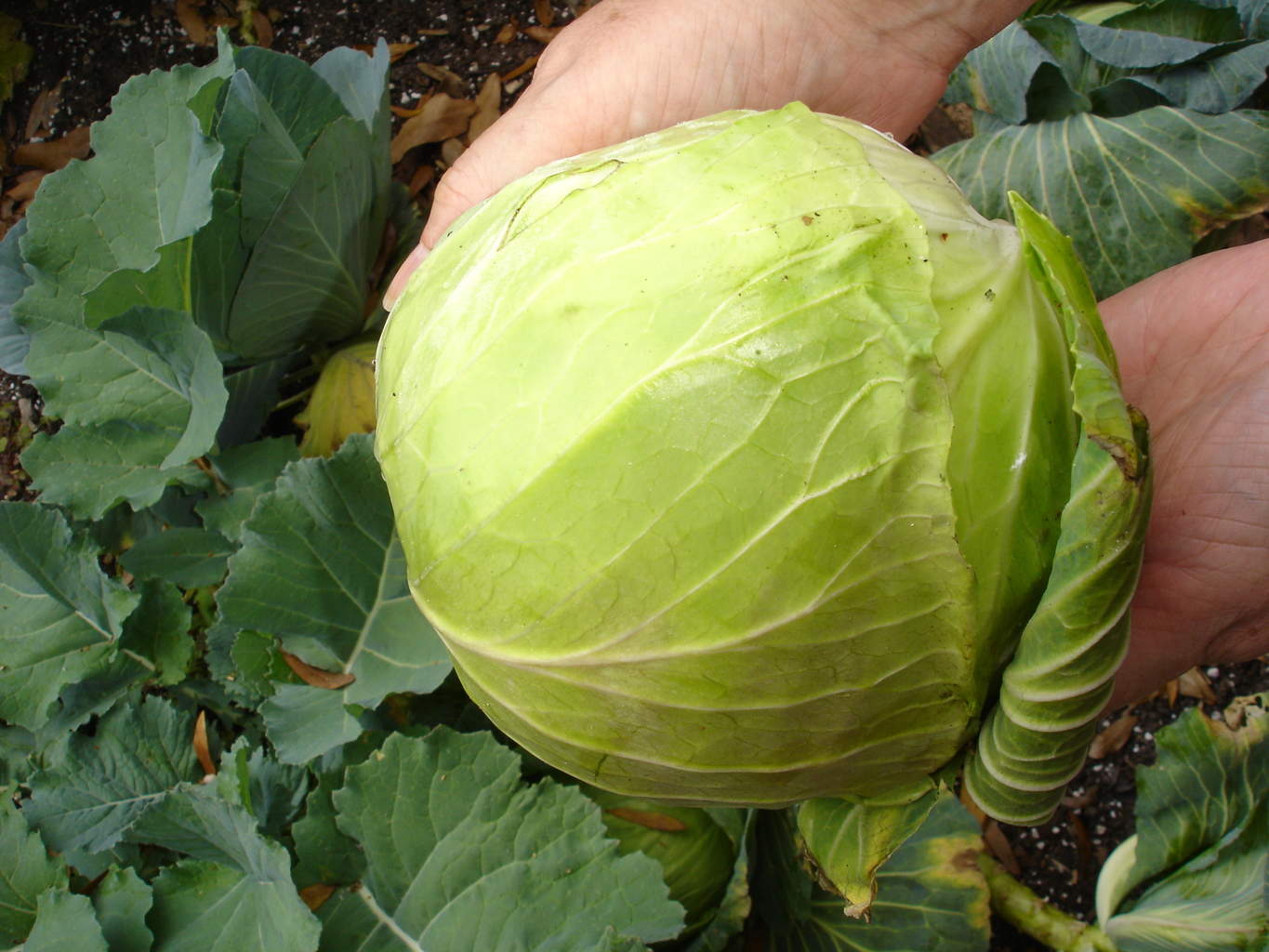 Carrots. Fresh!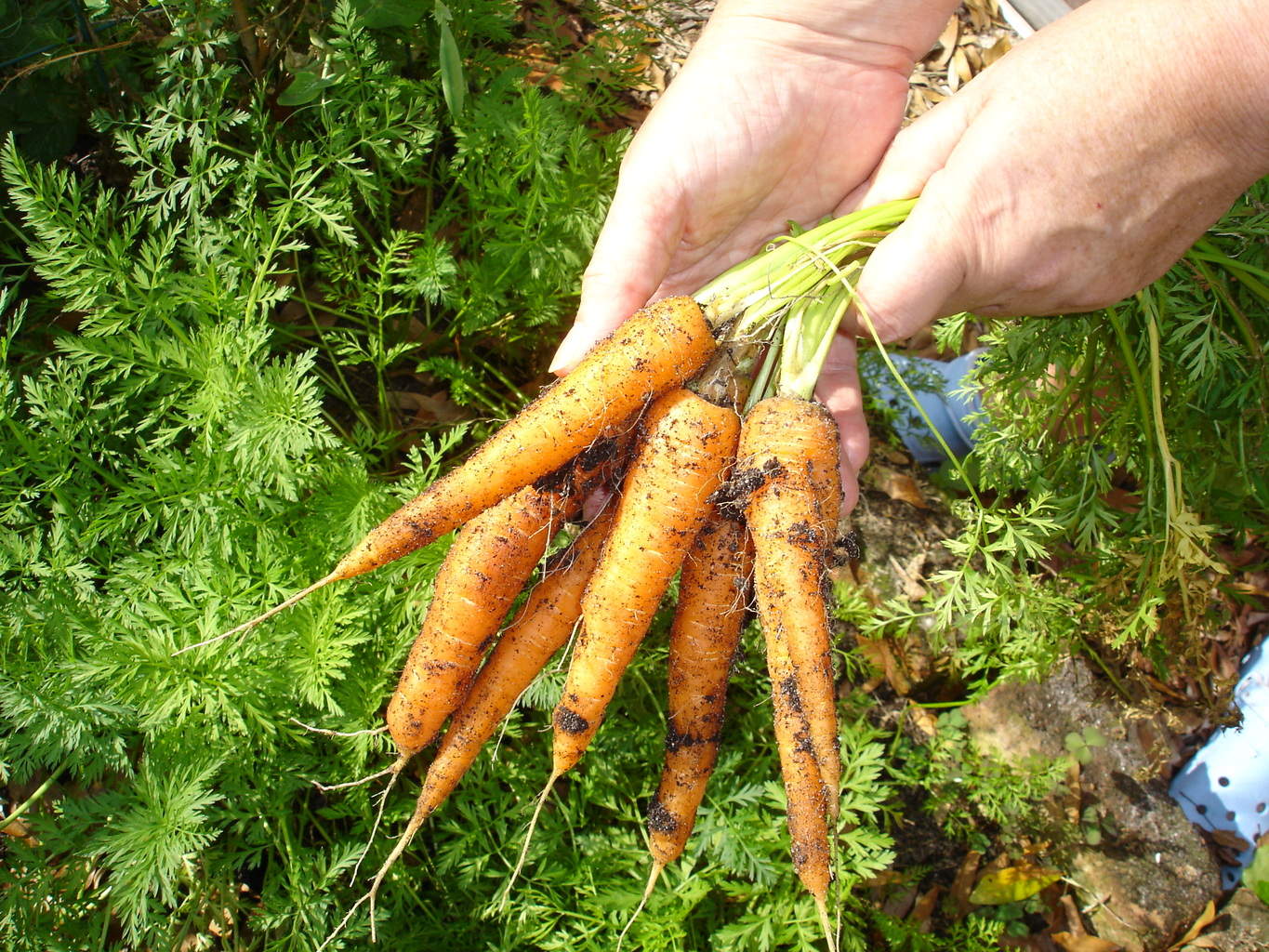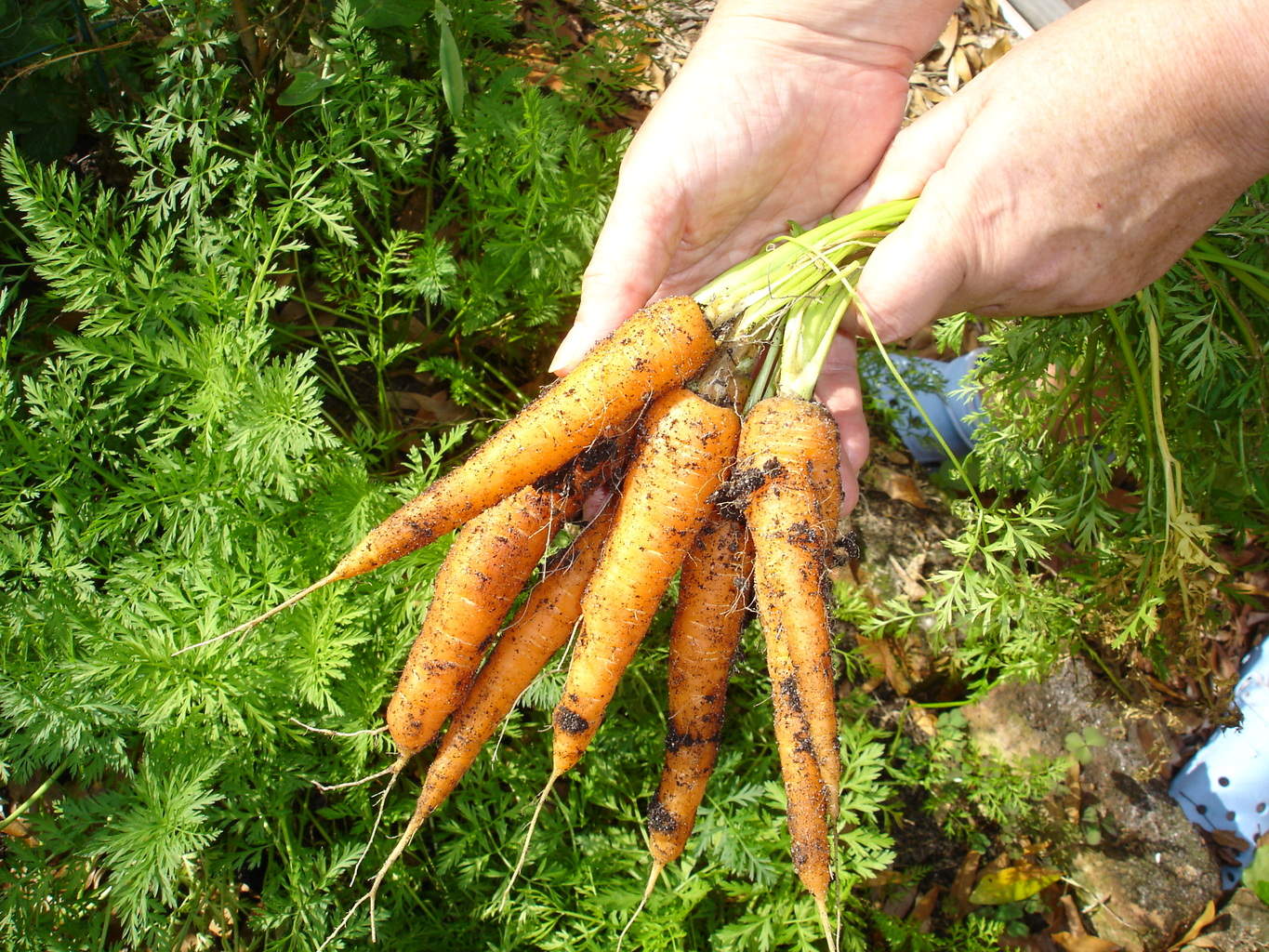 Radishes. Fresh!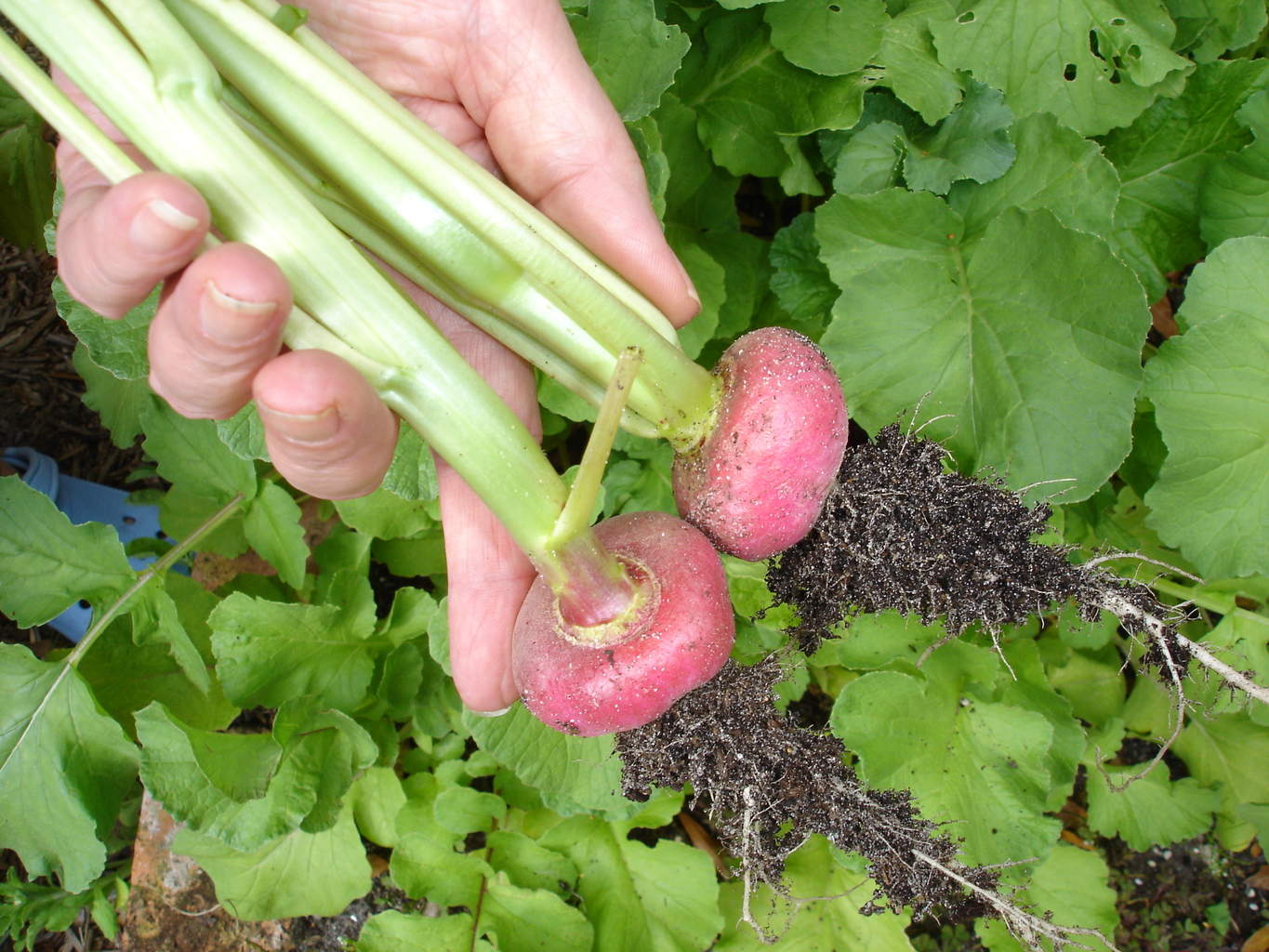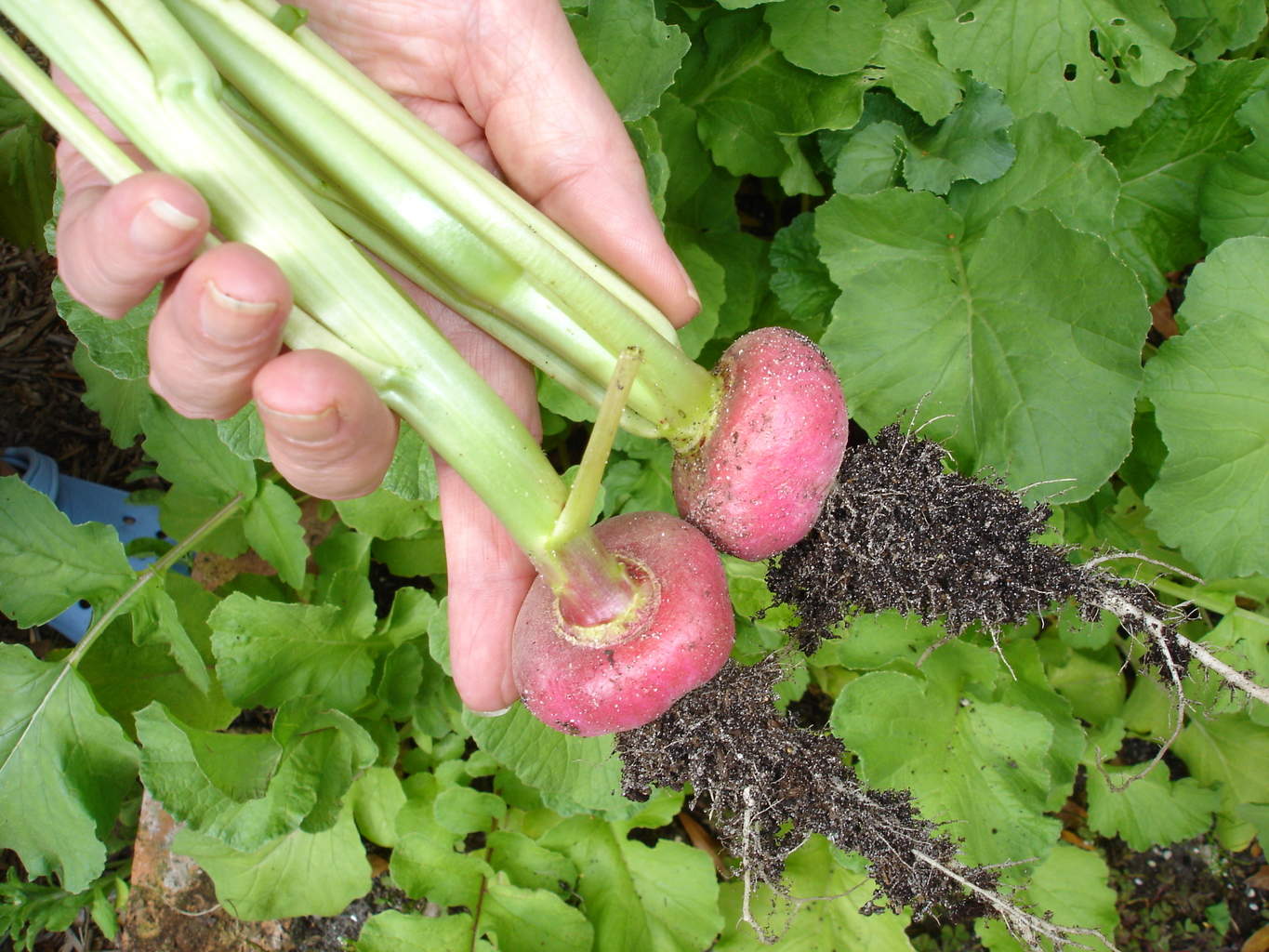 Now, for the corned beef. Rinse and place in a large pot. I add the little spice packet plus a couple of cloves and two oranges. Do not add any additional salt. This cut of meat is salt cured.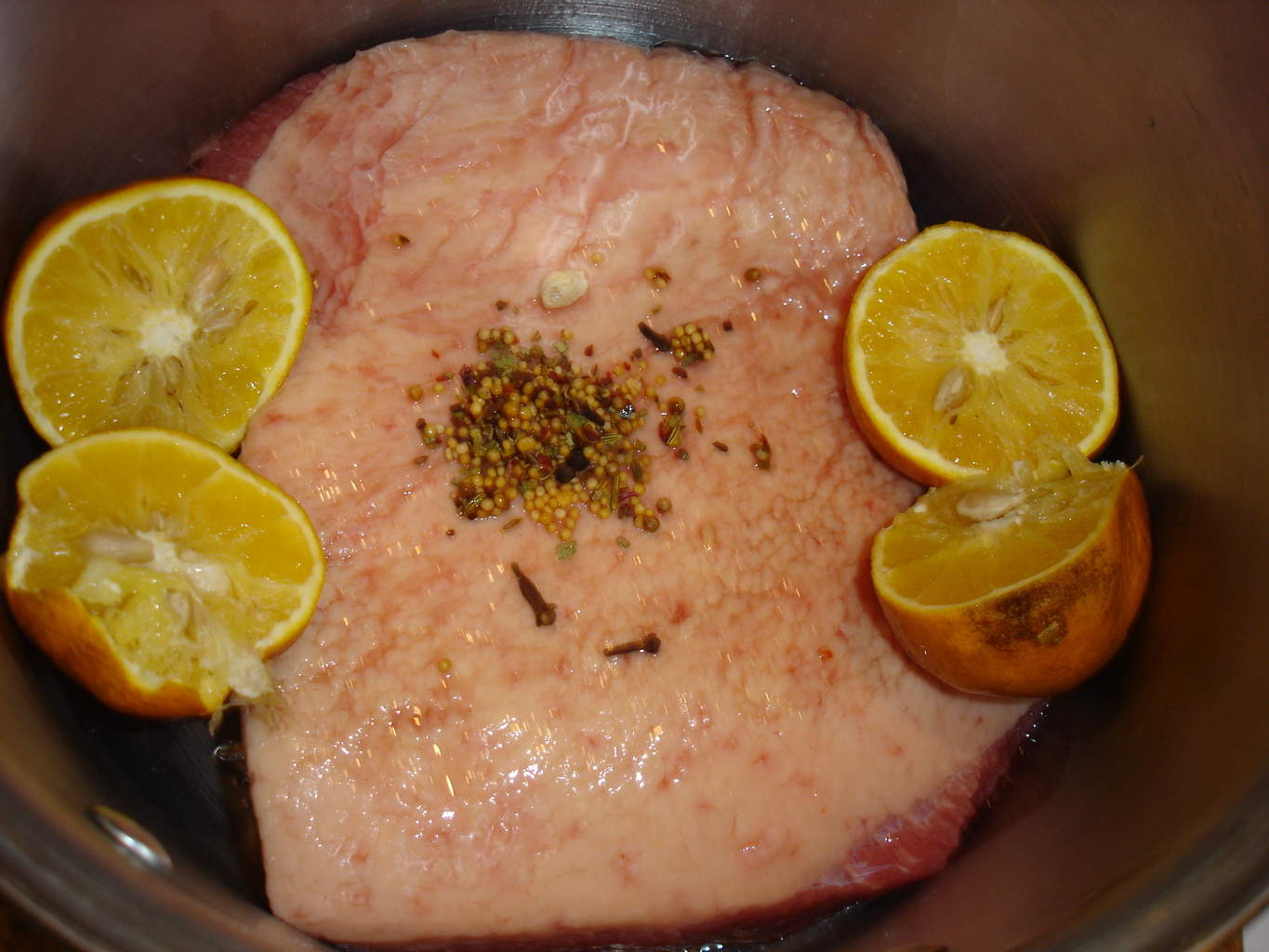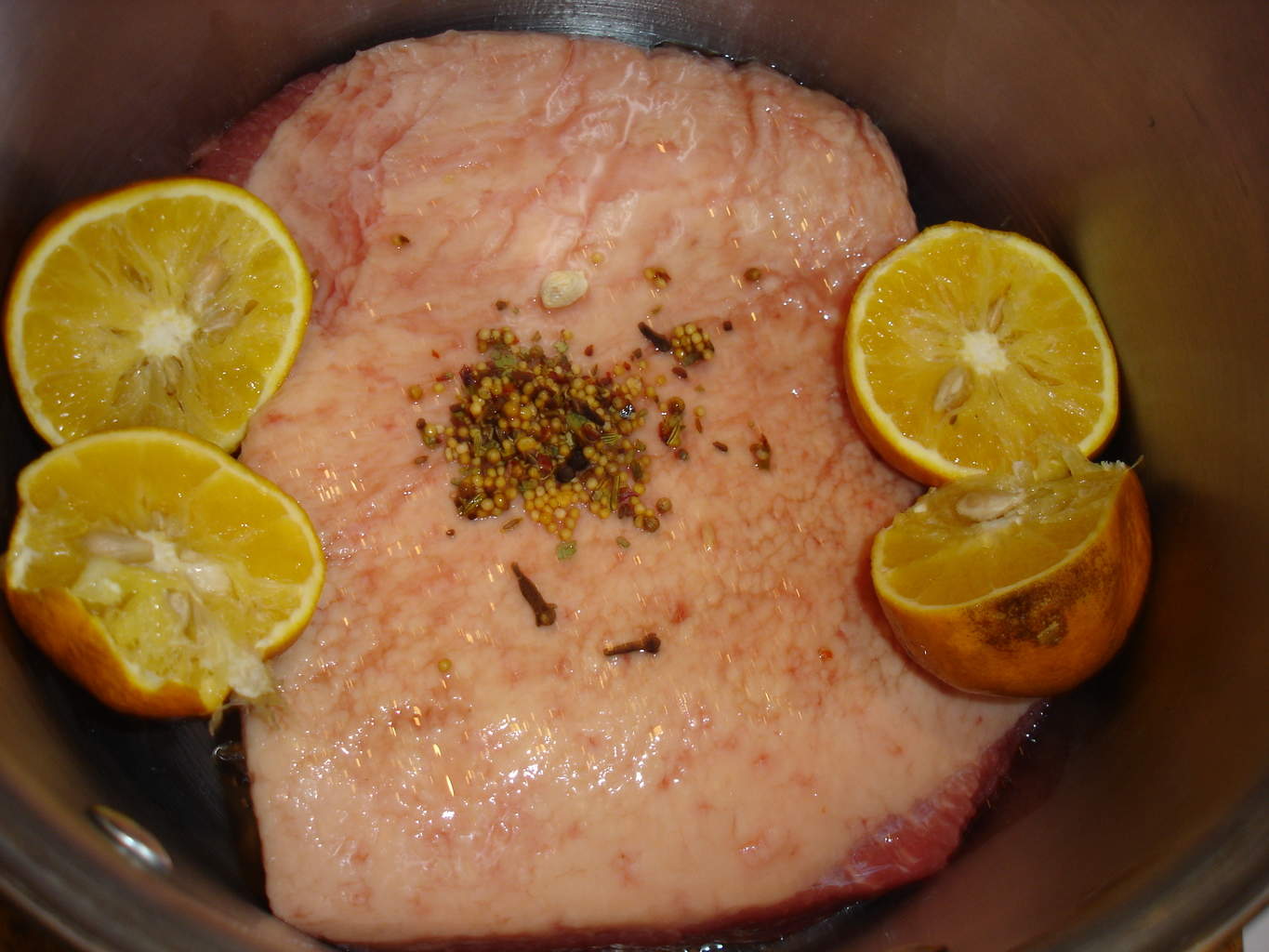 Cover with water and then cook the tarnation out of it. Simmer covered on top of the stove for 3 to 4 hours until it's perfectly tender.
I cleaned and quartered the cabbage and placed it in the pot with the corned beef after the beef was done. You can thrown the carrots in the same pot and even add potatoes, if you would like. I decided to roast the carrots because they are so tender and sweet. So I cleaned and cut the carrots in fourths, drizzled on olive oil, add sea salt and roasted them at 400 degrees for about 30 minutes until they were tender and starting to brown.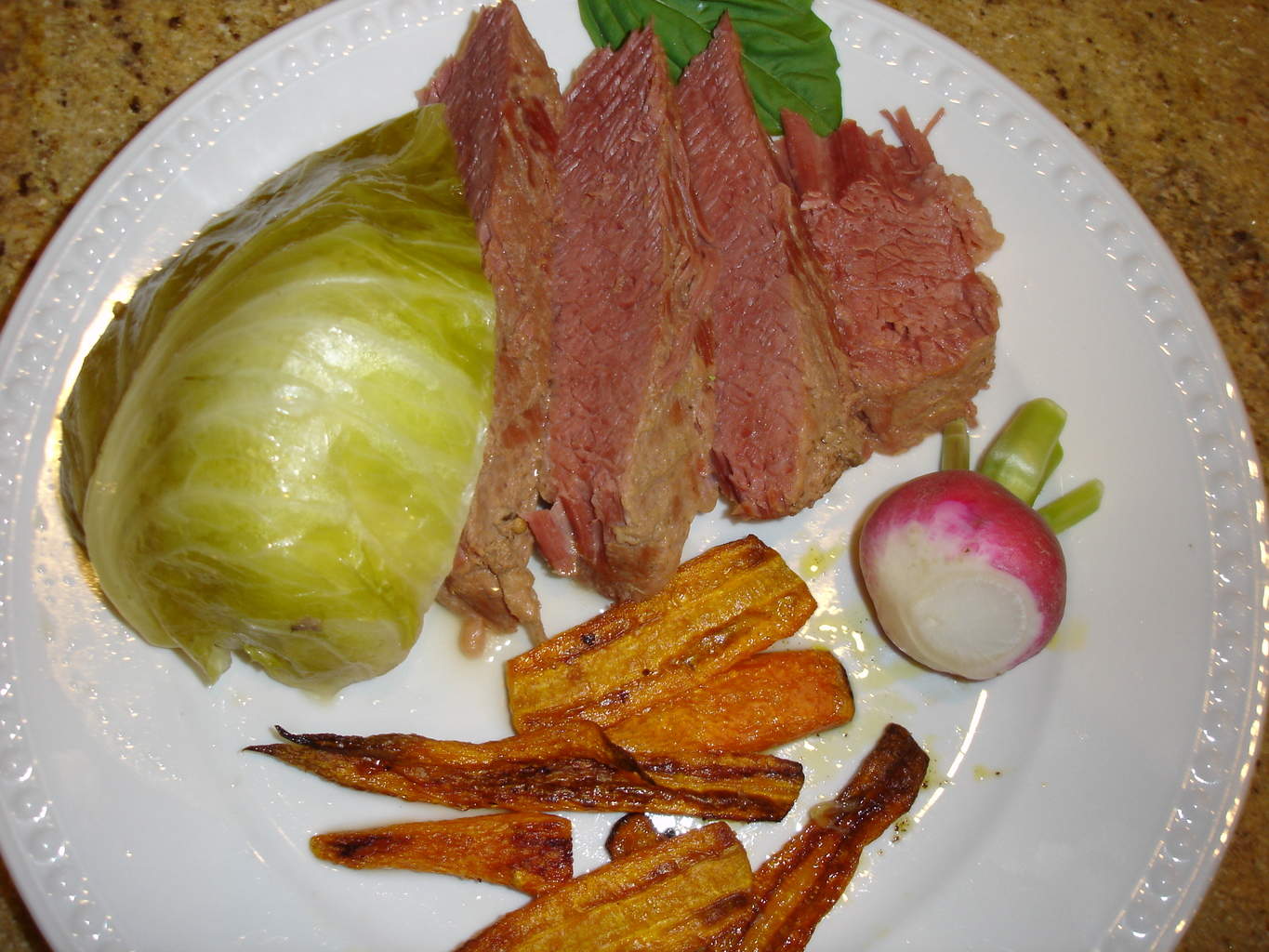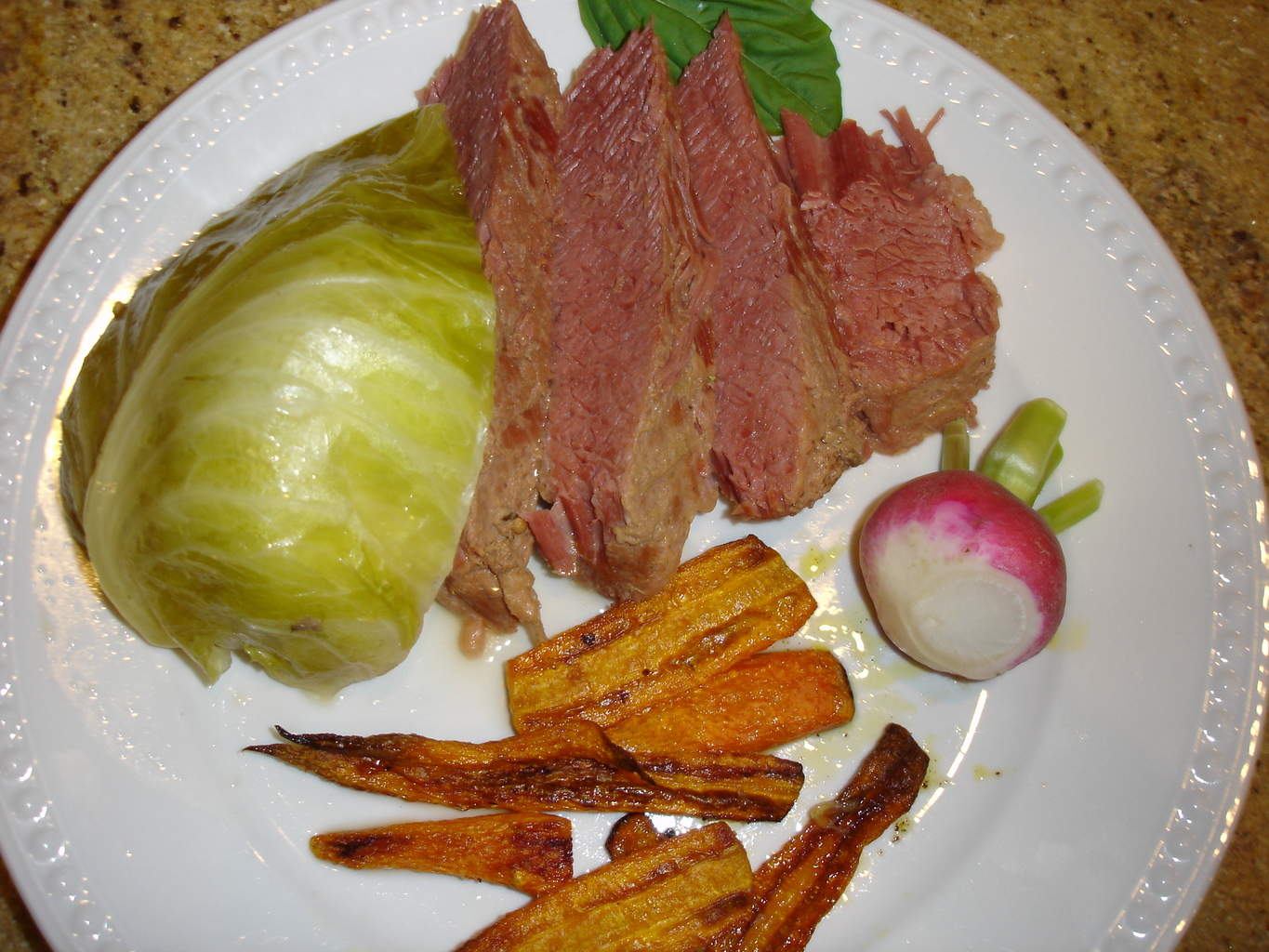 A note about corned beef: if you are cooking corned beef for sandwiches and you want it sliced thin, place it in the refrigerator whole and let it cool thoroughly before slicing.
1 corned beef brisket with seasoning packet
2 oranges, halved
2 cloves
1 head of cabbage, quartered
6 carrots
Rinse corned beef brisket and place in large pot. Add oranges, seasoning packet and cloves. Cover with water and cover. Simmer for 3 to 4 hours until tender. After beef is done, add cabbage and carrots to pot. Cook until tender. If carrots are large, cut into pieces before adding to pot so cabbage and carrots will cook in the same amount of time. Remove from pot. Slice corned beef and serve with vegetables.