For an updated post with MUCH better photos PLUS a video, please click here.
Green Beans and New Potatoes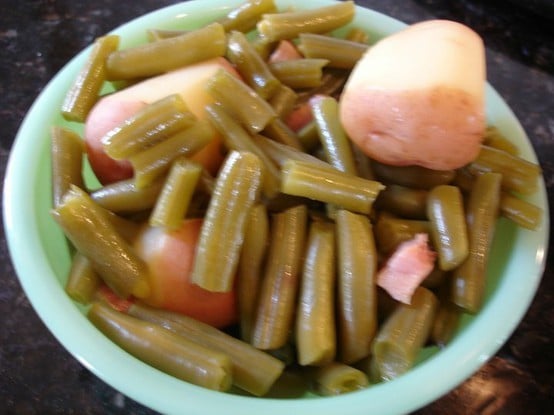 Green beans are one of my favorite vegetables. I love to grow them and eat them. This dish would do any holiday table proud and be just as comfortable sitting on a casual Sunday night table. I have a bias against frozen green beans, though, I must confess. Most vegetables hold up just fine to freezing. As much as love Mr. and Mrs. Green Bean, I simple don't like the texture of the frozen version. But that's just me. In some ways, I guess I'm spoiled because I have easy access to fresh green beans most of the year. I suppose if I lived in some remote area where that wasn't the case, I might change my mind and learn to love the frozen ones. On second thought, I will never live in a remote area where I can't get fresh green beans. I have set my priorities.
4 to 6 oz. diced ham
2 lbs fresh green beans, trimmed and snapped
1 lb new potatoes, cleaned
1/2 half of a sweet onion
salt to taste
Add ham to a hot pan and cook until they start to brown. Add water (or stock) to the pot and stir to make sure all the browned bits juices in the bottom of the pan are mixed in with the cooking liquid. This is a critical step because you willl be missing out on a lot of good ham flavor by leaving that in the bottom of the pan.
Brown ham and stir in cooking liquid.
Add green beans and potatoes to pot. Cover with cooking liquid.
Throw in a piece of an onion. This is about a half of a sweet onion.
Add salt to taste, cover and simmer for about 30 minutes or until the vegetable are done to your liking. Southerners are bad about cooking the vegetables until they are done……and then 30 minutes more!