Bio: Jackie Garvin lives in Valrico, FL with her husband, Sam, and Basset Hound, Belle, both of whom are fed regularly. She is the author of the popular Southern food blog, Syrup and Biscuits (syrupandbiscuits.com) and the cookbook, Biscuits: Sweet and Savory Southern Recipes for the All-American Kitchen (May, 2015, Skyhorse Publishing). She doesn't just cook Southern food and write about it, she grows and eats it, too!
Excerpt: The culinary elite cast aspersions on Southern food claiming it's simple-minded, unimaginative and always fried. Our mamas and grannies had no part in deciding who should be crowned Culinary Elite.
Snubbing Southern cuisine for fried foods is culinary elitism at its finest. Please identify a cuisine that never uses frying as a cooking method. I'll just sit here and mind my business while you think.
I'm still waiting.
Those deep-fried abominations found at carnivals and fairs, such as Twinkies, Snickers, butter, etc. have nothing to do with Southern fare. Somehow, we got blamed for all that. We're not any responsible for the creation those high-fat, deep-fried, hips-enlarging carnival foods than we are for the creation of carnivals.
Now for a lesson in Southern vernacular. Sometimes when we say fried, we're not talking about deep-fried. In fact, most of the time we're not talking about deep-fried. As in the case of Fried Apples, fried is synonymous with sauteed. Sauteed is considered more desirable than fried when , in most cases, it's the same dad-gum thing. I've never heard a single soul slam the French because they saute entirely too much of their food.
Well, Fried Apples are mighty good. Sauteed Apples are good, too. They're one in the same. We fry them at our house.
Fried Apples
yield: 4 to 6 servings
I leave the apple slices a little on the large side because I want apples cooked in this manner to be somewhat toothsome. Apples tend to fall apart easily when cooked. Slices cut larger will hold up to this cooking method without turning to applesauce. Test the apples for doneness and stop cooking when they reach your desired level of doneness. Fresh lemon juice can be substituted for apple cider vinegar. I used Honey Crisp apples that were gifted to us. Granny Smith is another good variety to use in this recipe. Serve for breakfast or along side a pork dish for supper.
1/4 cup unsalted butter
1/2 cup firmly packed brown sugar
1 tablespoon apple cider vinegar
1 teaspoon ground cinnamon, heaping
5 to 6 cooking apples, peeled, cored and sliced in eights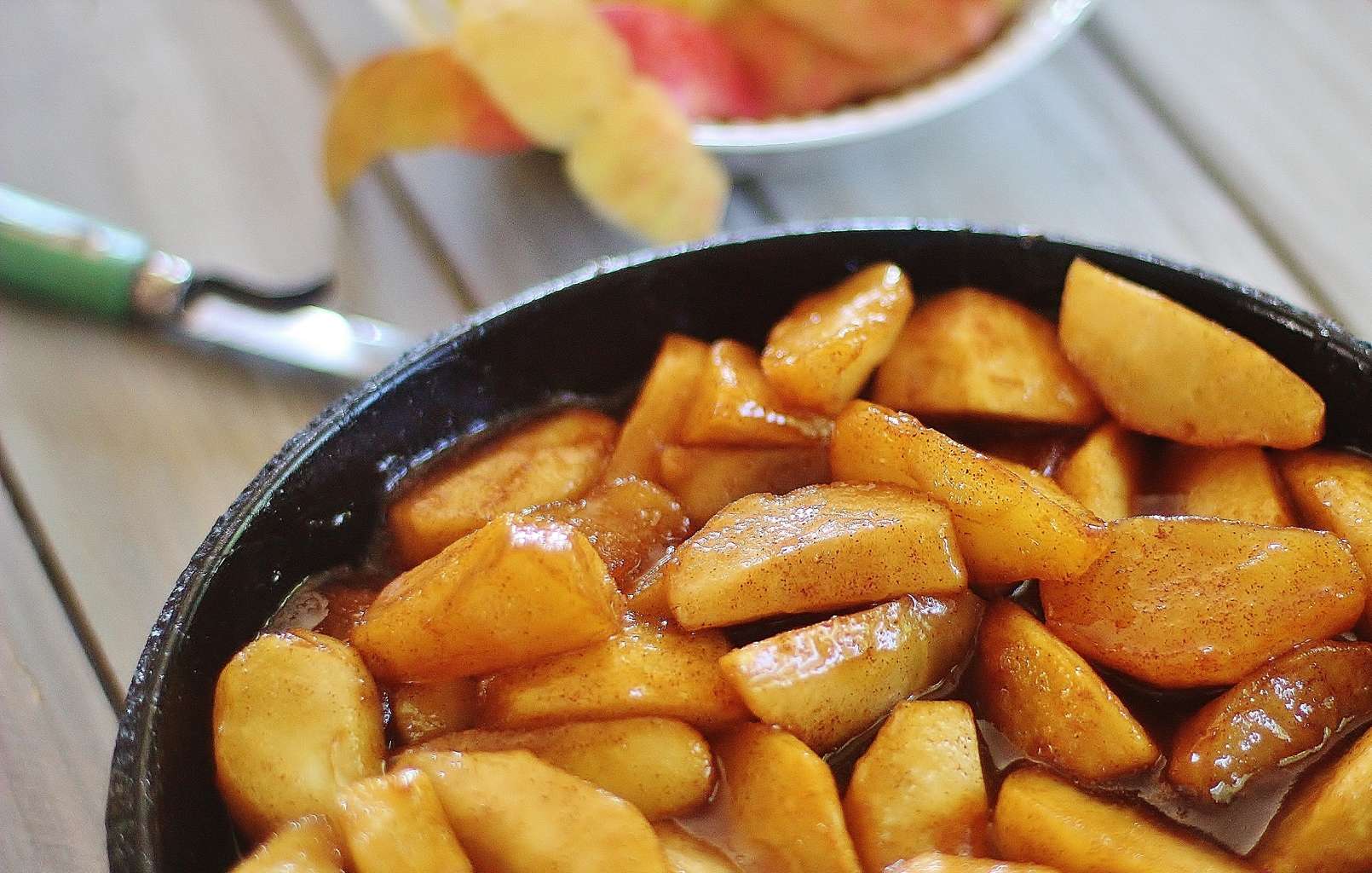 Add butter, brown sugar and cinnamon to a large cast iron skillet on medium heat. Cook, stirring occasionally, until butter and sugar have melted. Add apple cider vinegar and stir.
Add apples to skillet and gently fold to coat with sugar mixture. Cook, stirring occasionally, until apples are tender. Take care when stirring that you don't break the apples. Use a gently folding action.
Serve warm.